Kiermaier hopes to return soon from wrist issue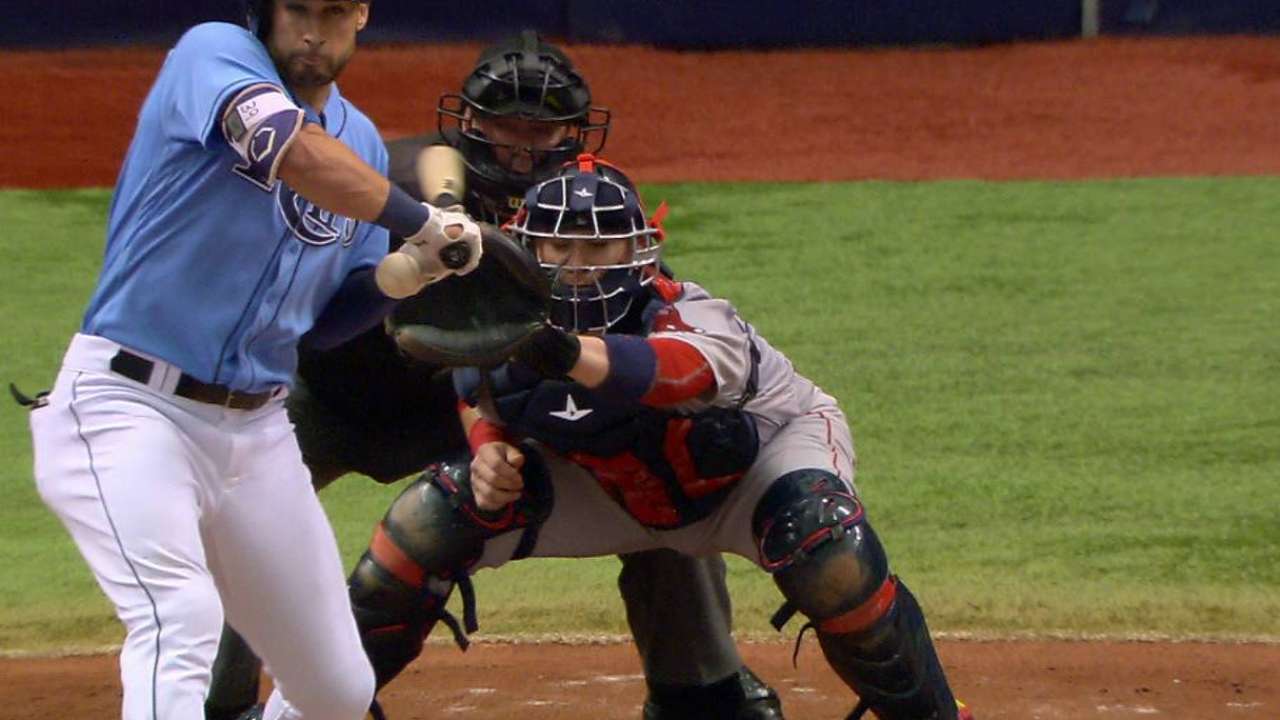 CHICAGO -- Rays center fielder Kevin Kiermaier wasn't in the starting lineup against the White Sox on Monday night due to a bruised left wrist, but the Gold Glove Award winner hopes to be back in the lineup on Tuesday.
"Right now, I wasn't expecting it to feel like it did today," Kiermaier said. "Even though it got me pretty good yesterday. And the hand area is a pretty sensitive area. I wasn't too thrilled with how I felt this morning. And not a whole lot has changed. Hopefully as time goes on it will progress."
Kiermaier left Sunday's game against the Red Sox after getting hit by a pitch on the wrist by Boston starter Eduardo Rodriguez. X-rays were negative, leaving Kiermaier on day-to-day status.
The injury progressed "a little bit, but still pretty stiff right now," Kiermaier said. "Keep trying to get some treatment and get it a little more loose. I haven't done too much with the bat today, and it's not feeling up to par. Just keep letting time take care of everything and some treatment to get me going."
Worth noting
• Alexei Ramirez, who hails from Cuba, chose not to speak to reporters on Sunday about the death of Jose Fernandez. Monday, he did talk about his countryman.
"I got to the stadium yesterday and I saw [the news] on the TV and I couldn't believe it," said Ramirez through Rays translator George Pappas. "I kept thinking to myself why him, why him? The more you see it on TV it kind of becomes a bit more real.
"Being another Cuban player, myself a Cuban player, we all left our home to come here and to find success and a new life and to pursue our dreams here. And it's just something that really hits home obviously. It's really a sad thing. And so I think about his family and everything that he gave up to come here and everything he was chasing here. Difficult thing to come to grips with."
The Rays planned to have a No. 16 jersey on display in their dugout Monday night to honor Fernandez.
• Shortstop Matt Duffy (Achilles surgery) is said to be doing well. He is scheduled to have his post-surgery visit in Charlotte on Tuesday, having had the procedure earlier this month on Sept. 9.
• Outfielder Steven Souza Jr. (left hip surgery) has already started his rehab.
Bill Chastain has covered the Rays for MLB.com since 2005. This story was not subject to the approval of Major League Baseball or its clubs.