Eaton hopes for return to lineup on Tuesday
White Sox outfielder crashed into wall Friday against Indians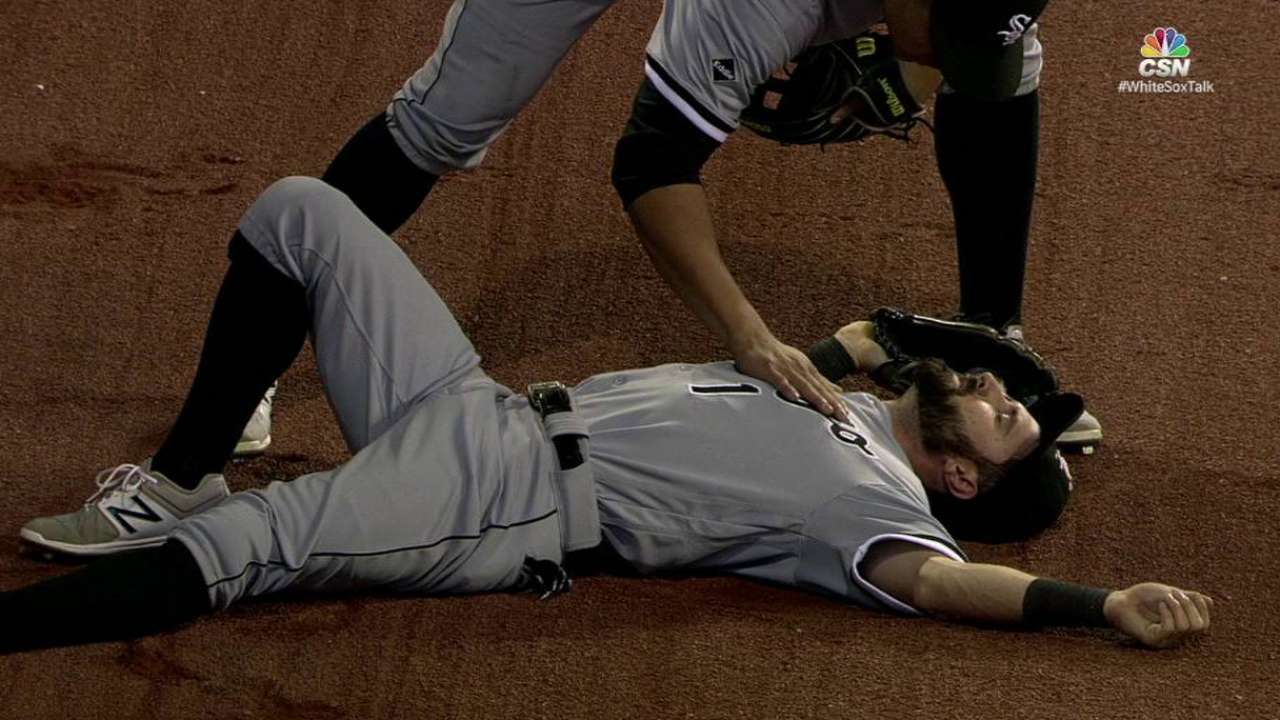 CHICAGO -- Adam Eaton felt better Monday after crashing into the center-field wall in Cleveland on Friday, taking extra bases away from Roberto Perez with his great catch.
"I can't speak for Robin, but I think the main reason I'm not playing today is because of [Drew] Smyly, a good lefty," Eaton said. "But I hope to be in there tomorrow. I'm going to test the body parts today. Individually, I want to play until the end and finish strong. That's kind of my outlook as of right now."
Eaton's right hip became his greatest issue, with that connecting first with the wall and then followed by a whiplash sort of jolt..
"One of my buddies in Michigan said it looked epic. I told him it didn't feel epic," Eaton said. "You put your body on the line every day and some things look cooler than others, maybe diving into third base or running a catcher over or running into a wall.
"It may look cool, but you definitely pay for it in the long run, the day after and years after. As I've said the last couple days, it's how I play and I'm proud to play that way. I hope a little kid at home sees it, that it is cool to make a catch for your team and take a double away, and they want to do that, of course not getting hurt by any stretch of the imagination."
White Sox manager Robin Ventura wouldn't commit to a return date for Eaton or second baseman Tyler Saladino, who is battling a bad back.
Abreu, Ventura on Cubs, palyoffs
For a third straight season as part of the White Sox, Jose Abreu will not be taking part in the postseason. But the White Sox falling short won't stop their first baseman from watching the playoffs as a sort of educational experience.
"I'm a baseball fan," Abreu said through interpreter Billy Russo. "I like to watch every single game during the postseason and see things that probably I can take from those games to try to apply or try to motivate me for next season."
The Cubs enter the postseason with Major League Baseball's best record. Most Chicago baseball fans root for either the North Side or South Side representative and don't change their allegiance even in the postseason. But Abreu and Ventura certainly won't be rooting against their National League rival.
"They have a very good team, and I wish them the best," Abreu said. "They can make good things because they have the kind of players, the kind of group that can accomplish good things. I think they have showed that during the season."
"You want the city to have some enjoyment and have some fun," Ventura said. "Whether I'm rooting for them or not is not going to change the outcome."
Ross earns plaudits
Ventura tipped his cap to Cubs catcher David Ross, the only man to ever catch Ventura in a big league game, and the same player who received a handful of standing ovations in his final regular season game at Wrigley Field Sunday night.
"He's a different guy, and he's earned that," Ventura said. "They wouldn't do that if he didn't deserve it. Inside their clubhouse, that's probably where it comes from, and then it exudes outside, spills over outside."
Scott Merkin has covered the White Sox for MLB.com since 2003. Read his blog, Merk's Works, follow him on Twitter @scottmerkin, on Facebook and listen to his podcast. This story was not subject to the approval of Major League Baseball or its clubs.