Culberson, Vin give LA a 'storybook ending'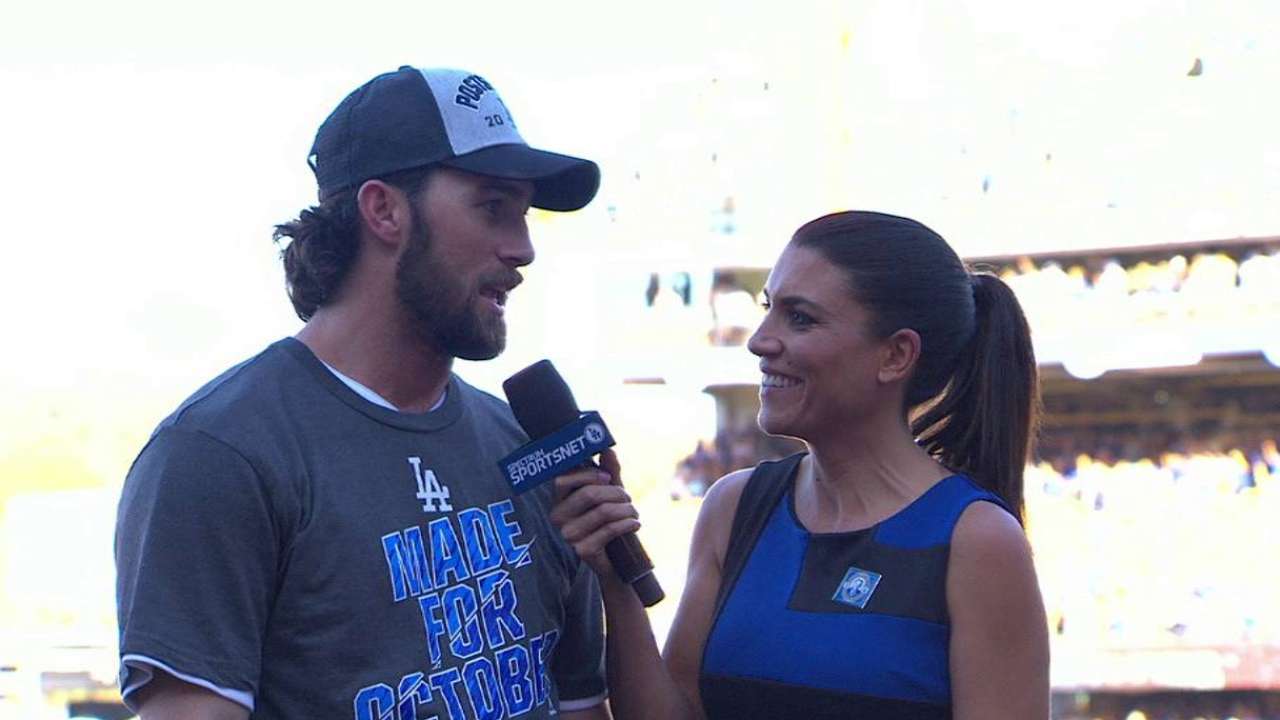 LOS ANGELES -- On a team with more than 15 current and former All-Stars, it was the non-roster player invited to Spring Training who delivered the game-winning home run and delivered that perfect moment to Dodger Stadium on Sunday.
Charlie Culberson hit a 10th-inning homer to hand the Dodgers a 4-3, walk-off win, the National League West title, and a result that Vin Scully's final home broadcast deserved.
• Get official NL West champs gear
Once the dugout was cleared and Culberson was sufficiently mobbed, manager Dave Roberts turned to the legendary broadcaster and yelled, "Vin, we love you and this is for you, my friend!"
Scully mimed a hug, addressed the crowd with his usual graciousness, and ended his time at Dodger Stadium with a rendition of "The Wind Beneath My Wings."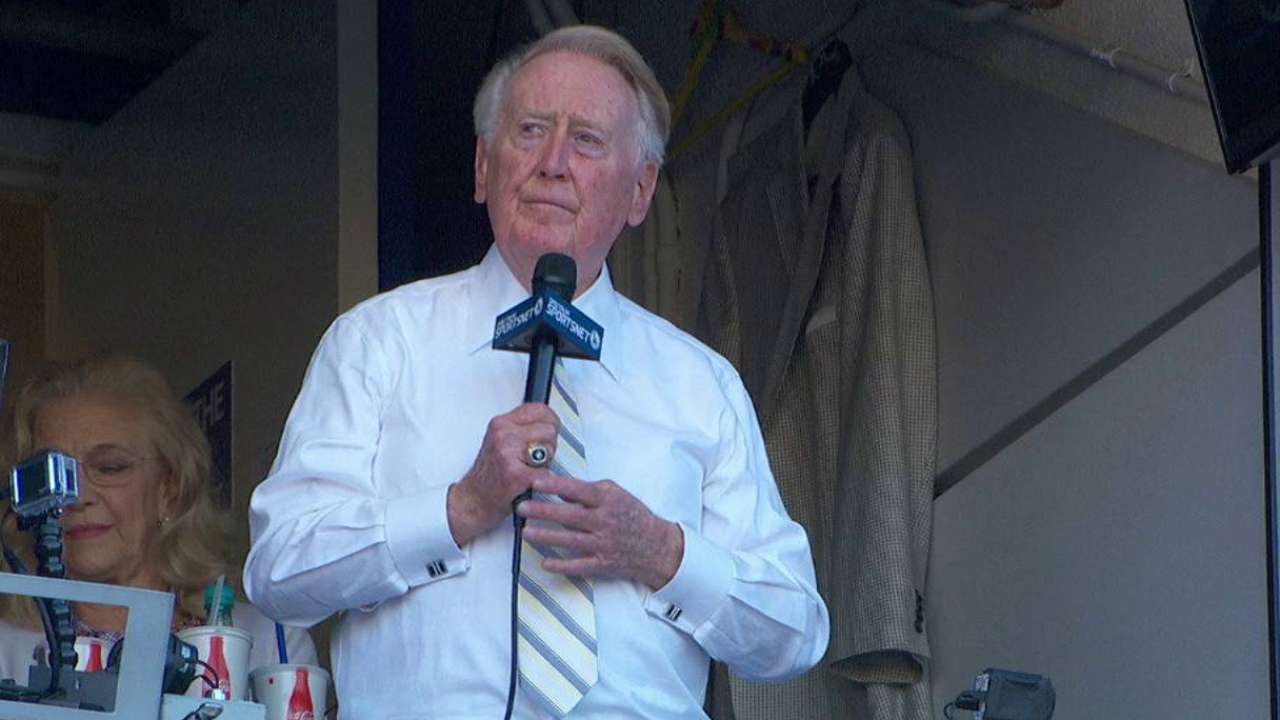 And just when the moment couldn't get any sweeter, the crowd any happier and the story any more classic, Culberson announced that he and his wife are expecting a child. That is how to clinch a division.
The Dodgers clinched the Nl West for a fourth straight year and the champagne-soaked celebrations ensued as the team celebrated winning a race that had been run on a treadmill of injuries. The backup shortstop, the man who had more demotions to the Minors than home runs this season, was the star.
"I honestly don't know how to describe the feeling yet. Best hit I've ever hit in my life, best moment in my baseball career," Culberson said. "This my first year being a Dodger and I feel like family here. The guys here are unreal, the coaches, the fans, I feel like I belong."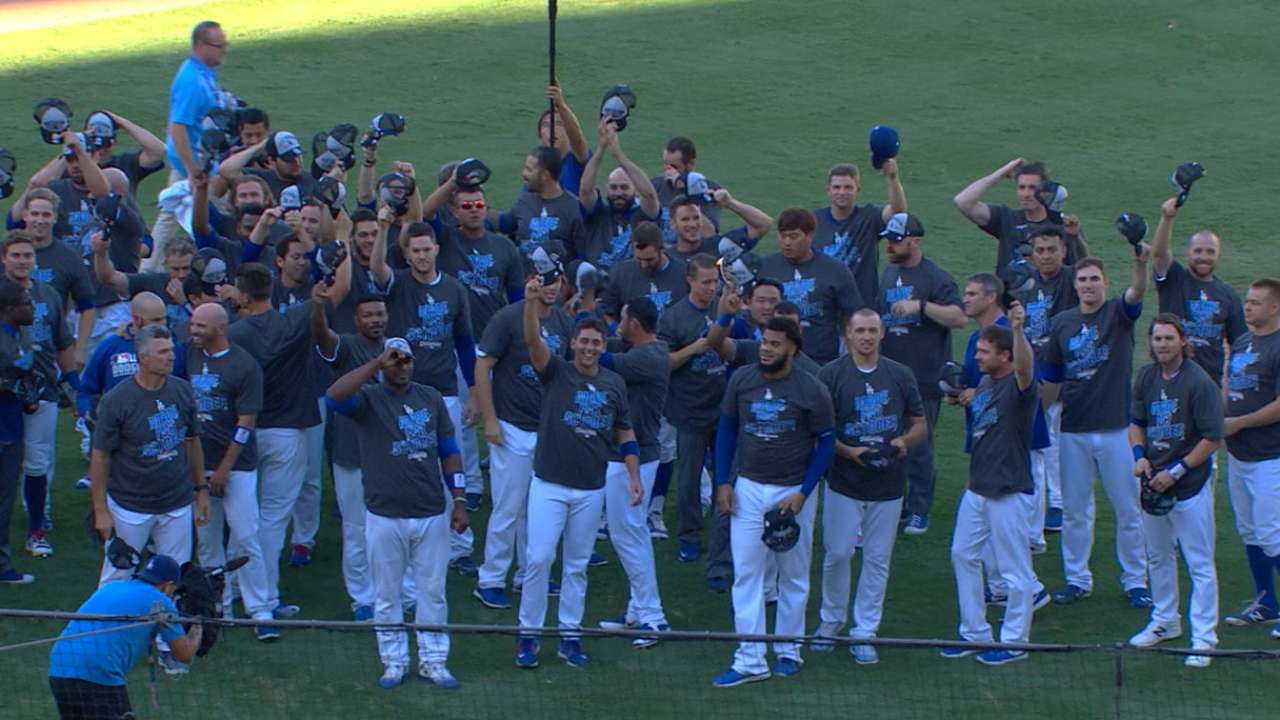 Culberson couldn't take an interview without a drink being poured over him interrupting at least once. Such was the fallout of the greatest moment of his career, but not the greatest of his life, as he told Roberts.
"I embraced him earlier, and he said that outside of having a baby, that's the biggest moment of his life. I love Charlie!" Roberts said.
The glory wasn't reserved for just Culberson, though.
Corey Seager, whose game-tying home run in the bottom of the ninth reached 112.2 mph, according to Statcast™, harder than any of the 25 others he's hit in a season that will land him squarely in the MVP voting. It was his third hit of the day that also included a clutch triple in the fifth inning.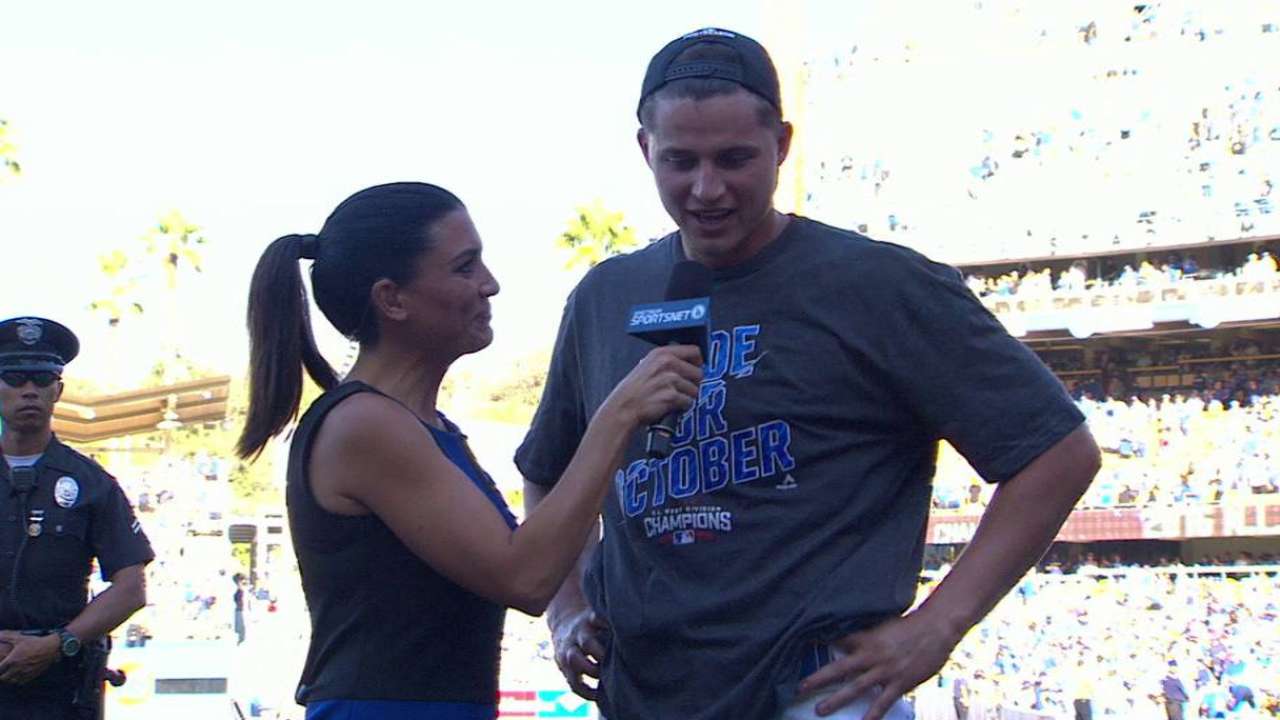 Seager even threw in a highlight with his glove, covering 109 feet and making his third-hardest throw of the season to get DJ LeMahieu in the eighth. The middle infield combined to send Scully off in a fashion deserved of a 67-year career.
"What a storybook ending. Can't wait to go home and get a chance to hear that call of Culberson's homer. Even Seager's homer," Justin Turner said. "I don't know if Charlie knows how special that is, that for the rest of his life, he's going to get to listen to Vin call his walk-off homer in his last game in L.A. What an incredible moment for Charlie, for Vin, and all the rest of us in here.
Culberson might have been the day's most successful underdog, if anyone were to take a peek into what starting pitcher Brandon McCarthy has gone through in the last month.
McCarthy admitted after the game what many had surmised when the right-hander hit the disabled list in August with what the Dodgers called right hip stiffness. He had the yips. For a miserable month he had dealt with something he feared could end his career, but still made it back and allowed two runs in five innings.
"[It's worth it] if this is a continuation and I've got things figured out and I can be a part of this going forward," McCarthy said. "Last month was an ugly, ugly month, but now, it's a beautiful celebration."
Jack Baer is a reporter for MLB.com based in Los Angeles. This story was not subject to the approval of Major League Baseball or its clubs.