Lewis feels great, is unconcerned by rough start
Rangers righty allowed seven runs in just 1 1/3 innings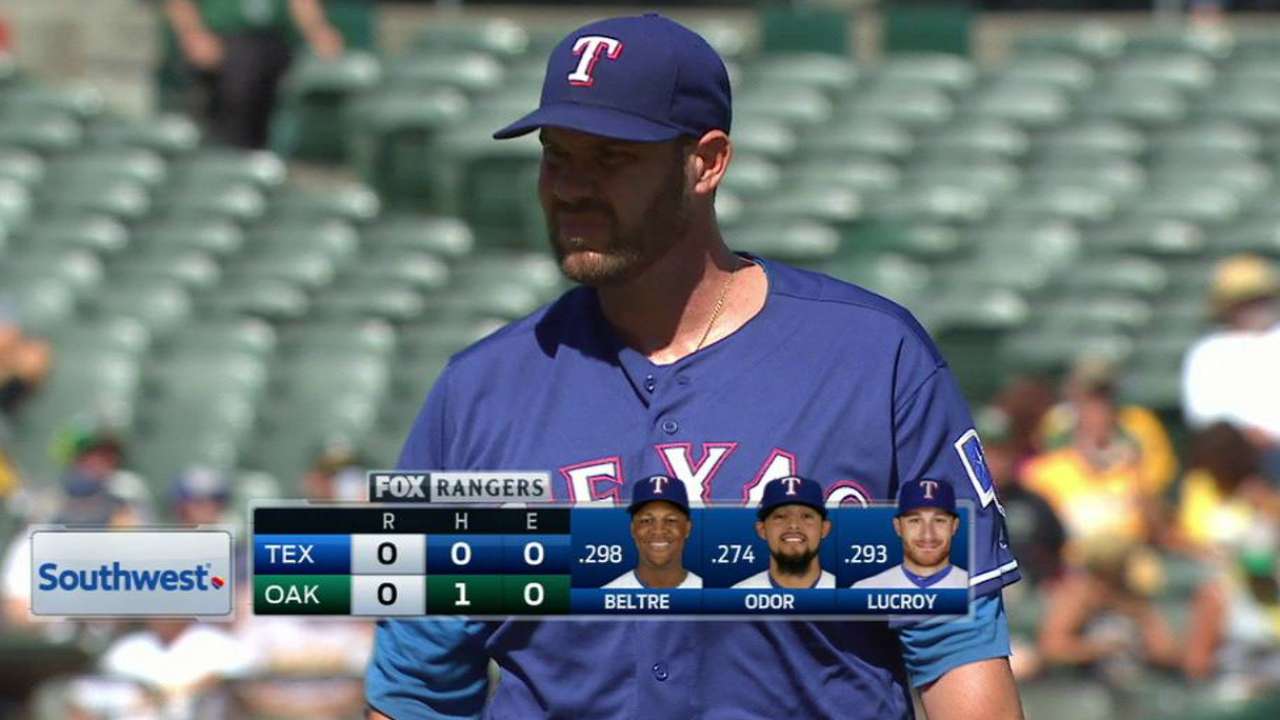 OAKLAND -- Colby Lewis said he felt great. That's all that seemed to matter Sunday afternoon, even if he did equal the shortest outing of his career.
Lewis gave up seven runs in a 7-1 loss to the Athletics on Sunday afternoon. Lewis threw 52 pitches before being pulled after 1 1/3 innings for the third time in his career. The last time was June 11, 2011.
"I felt great," Lewis said. "That's the best I've felt in a long time. I couldn't be more happy with the way my body felt. The results stunk, but that's the way it goes."
All seven runs scored in the second inning.
"It was situation where there wasn't a lot of swing-and-miss for him," Rangers manager Jeff Banister said. "He threw a lot of strikes, we just couldn't get the outs needed to get him out of the inning. There were still a lot of positives. The ball was coming out clean and his arm felt good."
This was Lewis' third start since coming off the disabled list on Sept 11. He missed two months with a strained muscle in the back of his right shoulder and is 0-3 with a 9.75 ERA in those three starts. He was 6-1 with a 3.21 ERA in 15 starts before going on the disabled list.
Right now Lewis is positioned to be the Rangers' third starter in the postseason. He will likely have one more start in the regular season to work on anything he feels necessary. There isn't much.
"How I felt today is what I wanted to accomplish," Lewis said. "My arm felt great and my body felt great. This is how I wanted to feel."
Lewis had some tough luck early in the second inning after a leadoff single by Yonder Alonso. Marcus Semien followed with a high shallow popup down the right-field line. Jared Hoying gave chase and went for a diving catch, only to have the ball pop out of his glove.
"I had it … dove and it kicked out," Hoying said. "I should have had it."
That left runners at the corners and Bruce Maxwell then hit a little flare into shallow left field. This time shortstop Hanser Alberto went after it, but couldn't make a difficult over-the-shoulder catch. The ball landed just beyond him for a single that again left runners at the corners.
Lewis got Brett Eibner to hit a grounder to first baseman Mitch Moreland, who thought about going home but instead took the out at first. That was the last out of the game for Lewis.
He walked Matt Olson and gave up a single to Joey Wendle. Stephen Vogt followed with a three-run double and Ryon Healy brought Lewis' day to an end with a two-run home run.
"We felt that was enough right there," Banister said. "Most importantly he's healthy and the ball is coming out of his hand clean. I'm not concerned."
T.R. Sullivan has covered the Rangers since 1989, and for MLB.com since 2006. Follow him on Twitter @Sullivan_Ranger and listen to his podcast. This story was not subject to the approval of Major League Baseball or its clubs.