Diaz mourns death of childhood friend Fernandez
CHICAGO -- They grew up just doors apart in the Cuban neighborhood of Santa Clara, where, there on Eighth Street or at the sandlot field two miles away, Aledmys Diaz and Jose Fernandez cultivated their love of baseball. The boys were childhood buddies, both taught the game by Diaz's father, Rigoberto, and uncle, Nelson, long before they defected with Major League dreams or shared a clubhouse as National League All-Stars.
On Sunday, Diaz awoke to the jarring news that they'd never play this game together again. Fernandez was killed in a tragic Miami boating accident that also took the lives of two others. He was 24.
While so many mourned the loss of a vibrant Cuban pitcher whose infectious personality touched the lives of so many, Diaz did so with a heavier heart than most.
"He's not taking it well," said Cardinals backup catcher and Cuban-American Brayan Pena. "This is a guy who grew up with him. They spent so much time together during their youth and stuff like that.
"This is something very painful because for Cuban players, he really meant a lot to us. Our community is very small, and for him to dedicate his life and the stuff he did off the field for my community down there in Miami, that says a lot about his character and the type of person he was off the field. It's a tough moment for all of us, but especially for Diaz because of the magnitude of the relationship they had."
Diaz, through a Cardinals spokesperson, declined all media interviews. The emotions were still too raw.
He last saw Fernandez in late July, when the Cardinals made their lone regular-season trip to Miami. It capped a month in which the two spent much time together. They were both named to the NL All-Star team and saw each other during the first weekend after All-Star break in St. Louis, where the Cardinals hosted the Marlins.
During that late July series, they faced each other for the first time as Major Leaguers. Diaz tagged Fernandez for a two-run homer and an RBI double in a Cardinals win.
"That was a lot of fun, trying to compete against my buddy," Diaz said afterward. "He loves competing, and so do I. I just tried to enjoy that moment."
"I love him," Fernandez said after the game. "I love his family."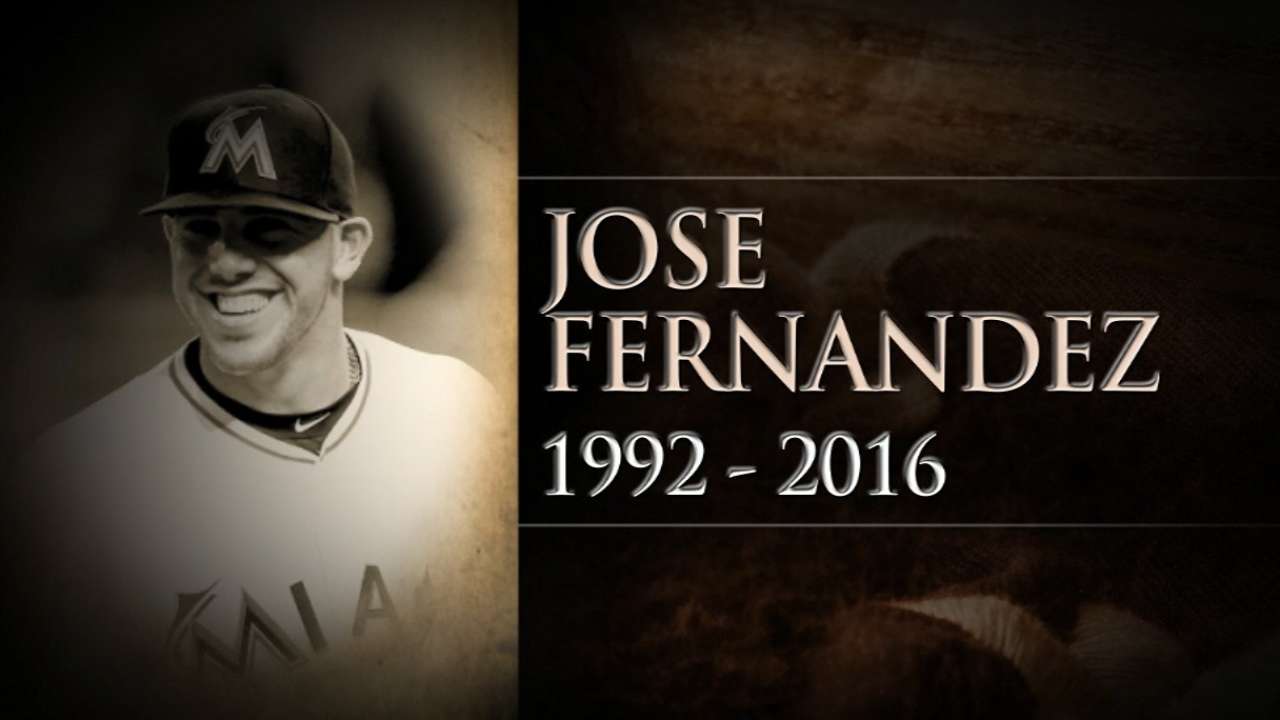 Diaz, a 26-year-old rookie shortstop, went through his normal pregame work at Wrigley Field on Sunday afternoon but did not start in the series finale. Manager Mike Matheny said the day off had been previously scheduled, but added that he would have scratched Diaz from the starting lineup anyway.
"That's a close, close friend," said Matheny, one of many who was in contact with Diaz as soon as news broke on Sunday morning. "He's trying to figure out how to mourn for his friend right now and take all the information in. None of that is easy, and a guy his age hasn't had to do this very many times. He's had to try and feel his way through this."
The organization, Matheny said, will grant Diaz permission to leave and attend Fernandez's funeral, if he wishes to do so. No announcements have been made regarding the timing of the services.
The hurt and shock that the Marlins were dealing with on Sunday is something that the Cardinals understand all too well. It was here in Chicago that their June 22, 2002, game against the Cubs was cancelled after pitcher Darryl Kile was found dead in his hotel room. Matheny was Kile's batterymate at the time.
Five years later, reliever Josh Hancock was killed in an automobile accident following an April home game.
Oscar Taveras and his girlfriend were then killed in an October 2014 car accident in their native Dominican Republic.
"There's a lot of hurt that people are going to have to try and wade through," said Matheny, who reached out to Marlins manager Don Mattingly with condolences. "It is familiar when you see a bunch of kids who've never had to go through it before. It's not easy."
One who has is Carlos Martinez, who started Sunday night for St. Louis. He wears No. 18 to honor his late best friend, Taveras, and grew close to Fernandez in recent years, as well. He had the initials of both men scribbled on his cap, and he inscribed the numbers 16 and 18 on the Wrigley Field mound before he threw his first pitch.
Throughout the day, Martinez posted several photos of Fernandez and him on Instagram, writing the following words beneath one of them:
"You were an insiration [sic] and example for me. When we spoke about our baseball careers....You told me that even at our young age we could be leaders and horses of our respective teams, you tought [sic] me to have fun doing so and said to always be humble...that should never change."
Jenifer Langosch has covered the Cardinals for MLB.com since 2012, and previously covered the Pirates from 2007-11. Read her blog, follow her on Twitter, like her Facebook page and listen to her podcast. This story was not subject to the approval of Major League Baseball or its clubs.