Zimmermann hoping to start next weekend
Tigers righty pitches three innings of relief in place of simulated game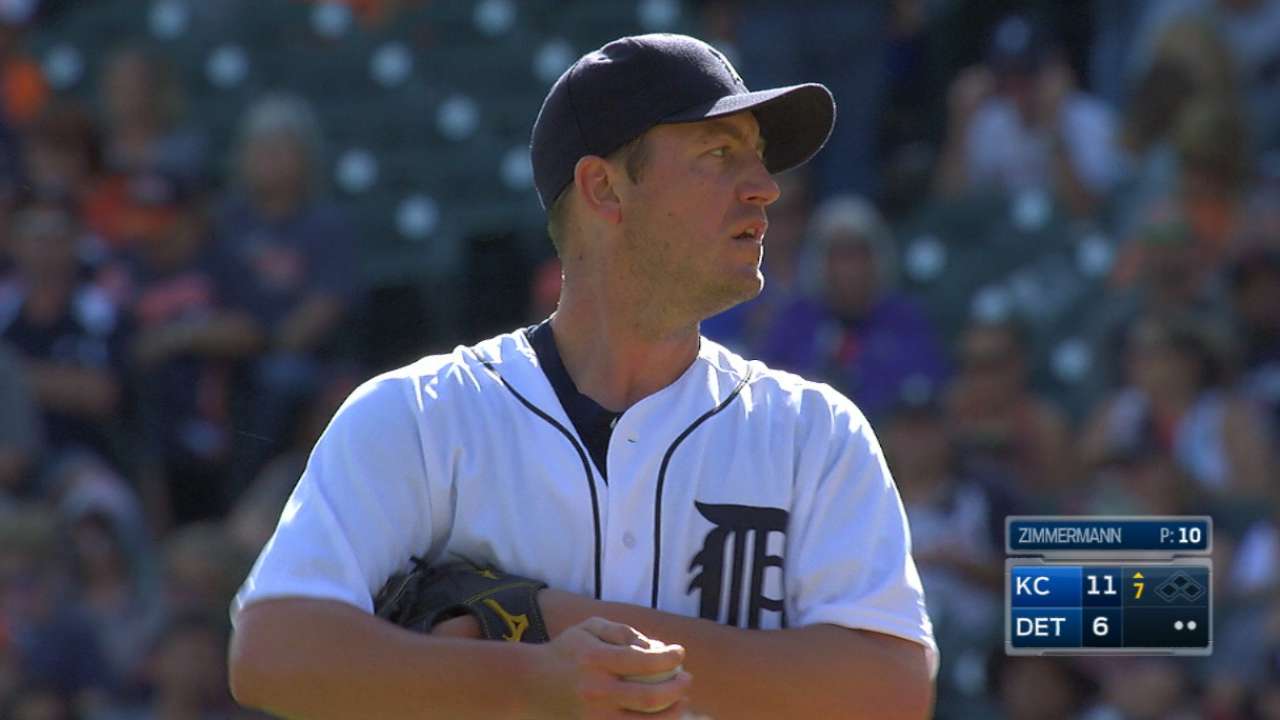 DETROIT -- Jordan Zimmermann was scheduled to throw a simulated game Monday in one last attempt to work his way back into the Tigers' rotation. Instead, he found his way into a real game Sunday, and his three innings of relief could earn him a start in a must-win game in the season's final weekend.
It was an odd turn of events in an odd game, a 12-9 Tigers loss that saw Detroit use four members of its April rotation in relief of Matt Boyd, who didn't join the rotation for good until July. But with the Tigers desperately seeking outs, it was the kind of low-leverage situation worth throwing Zimmerman into.
"It's better than a sim game," manager Brad Ausmus said, "because you can see how hitters are reacting to [his pitches]. We had talked to him a couple of days ago about being available out of the 'pen if it was a lopsided game, getting him in there for a few innings and then we can see how hitters are reacting to his stuff."
Thus, with an 11-6 score after six innings, on came Zimmermann, making just the second relief appearance of his Major League career.
"They gave me a whole inning to get loose [in the bullpen]," Zimmermann said. "I had plenty of time. The adrenaline just starts rushing. That was only my second time coming out of the 'pen, so I was airing it out quick, and throwing a lot of pitches, so I was pretty tired before I even got in the game, and then I had to run in. … That's a whole new ballgame out there."
It did not seem to wear him down. Zimmermann struck out Cheslor Cuthbert and Raul Mondesi on curveballs to begin his outing in a clean seventh, then needed just six pitches in the eighth despite a leadoff double from Whit Merrifield.
A one-out double from Alex Gordon and singles from Alcides Escobar and Mondesi saddled Zimmermann with a run in the ninth as the Royals caught onto his curveball and slider, but with three innings of one-run ball and four strikeouts, he still ended up with the best pitching line of the day on either side.
"He looked real good," catcher Jarrod Saltalamacchia said. "Fastball was real sharp. Curveball was working real good. First time being on the mound in quite some time, so I think he may have got tired the last inning there, but it was still sharp."
Zimmermann threw 35 pitches, 30 for them for strikes, showing much better command than he had in any of the sim games he had thrown over the past couple of weeks.
"It's tough in a sim game when you are facing the same four hitters every inning," he said. "They are trying to get hits and swinging at the first pitch. You can't really set guys up. The best way to get out of something, a little funk or whatever it is, is to go out and face big league hitters."
Whether he'll get a chance to do that in a start is the next question. The Tigers have an open slot Saturday at Atlanta, an opponent Zimmermann knows well from his years with the Nationals. Buck Farmer is scheduled to fill that slot Monday against Cleveland.
Ausmus wouldn't discuss where he'd slot in Zimmermann, but said starting him is an option.
"We'd definitely consider that," Ausmus said.
Said Zimmermann: "It would mean a lot. I've been busting my tail the last couple of months trying to get this figured out. It's been a tough, frustrating year for me. Today was a good day and a step in the right direction. I hope I can get the ball in five days. We'll see."
Jason Beck has covered the Tigers for MLB.com since 2002. Read Beck's Blog, follow him on Twitter @beckjason and listen to his podcast. This story was not subject to the approval of Major League Baseball or its clubs.