Super utility man Merrifield HR shy of cycle
Spelling Hosmer, Royals rookie hits RBI triple in 4-run 1st and makes diving stop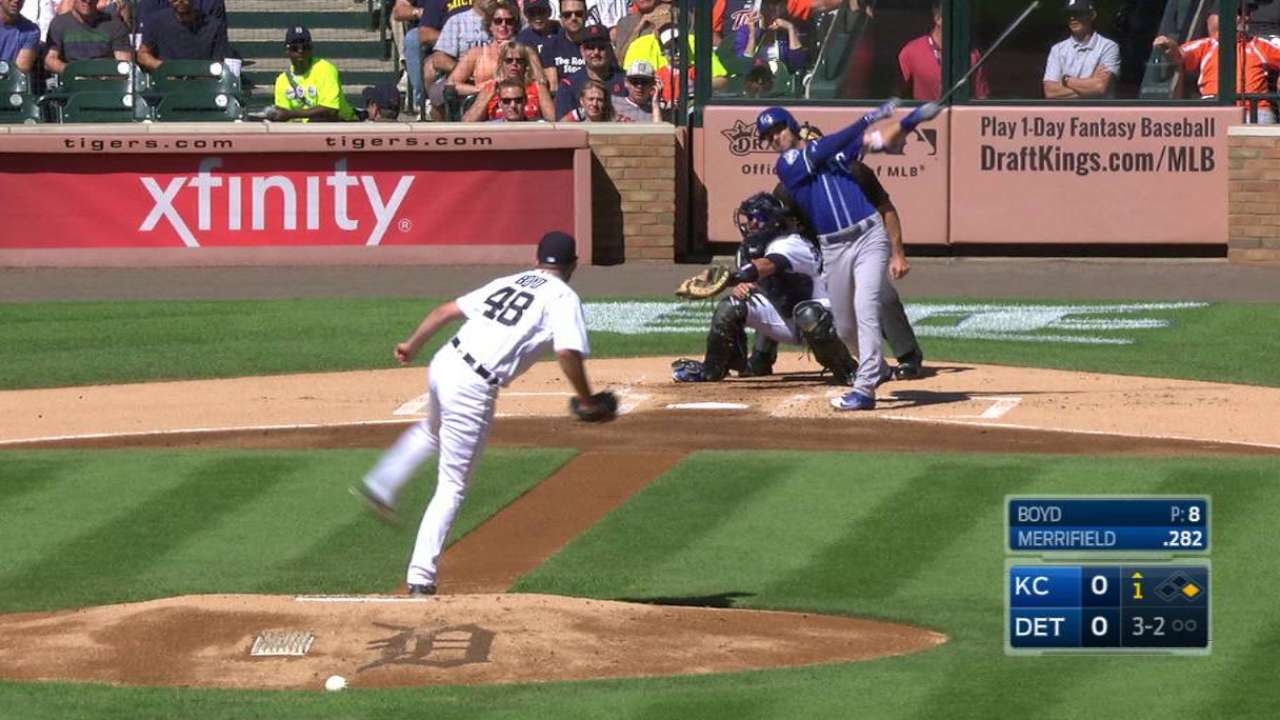 DETROIT -- About two hours before the Royals-Tigers game on Sunday, Royals rookie super utility man Whit Merrifield saw that he would be replacing Gold Glover Eric Hosmer at first base in the lineup.
"We're finally going to get some power at that position," Merrifield joked to a reporter.
Hey, it turns out Merrifield wasn't that far off. He pounded out three hits and nearly hit for the cycle in the Royals' 12-9 win.
Merrifield tripled in the first, and added a single and double later.
"I was hoping Billy [Burns] would get a hit in the ninth so I could get another crack at [the cycle]," Merrifield said.
But the Royals as a team hit for the cycle with their first four hitters, the first time they have done that since 2006 when Joey Gathright doubled, Esteban German singled, Dave DeJesus tripled and Mike Sweeney homered.
"That was cool," Merrifield said. "Billy actually told me before he went to hit that he was going to take a couple of pitches. And then he hit a first-pitch single. He lied.
"Then I got a good pitch to hit. It was a good way to start."
The Royals got four runs in the first and never stopped piling it on, finishing with 19 hits.
"I think whenever you see your first four guys barrel it … hitting is contagious," Merrifield said. "When guys are going well, it's a contagious thing. We put together 19 hits."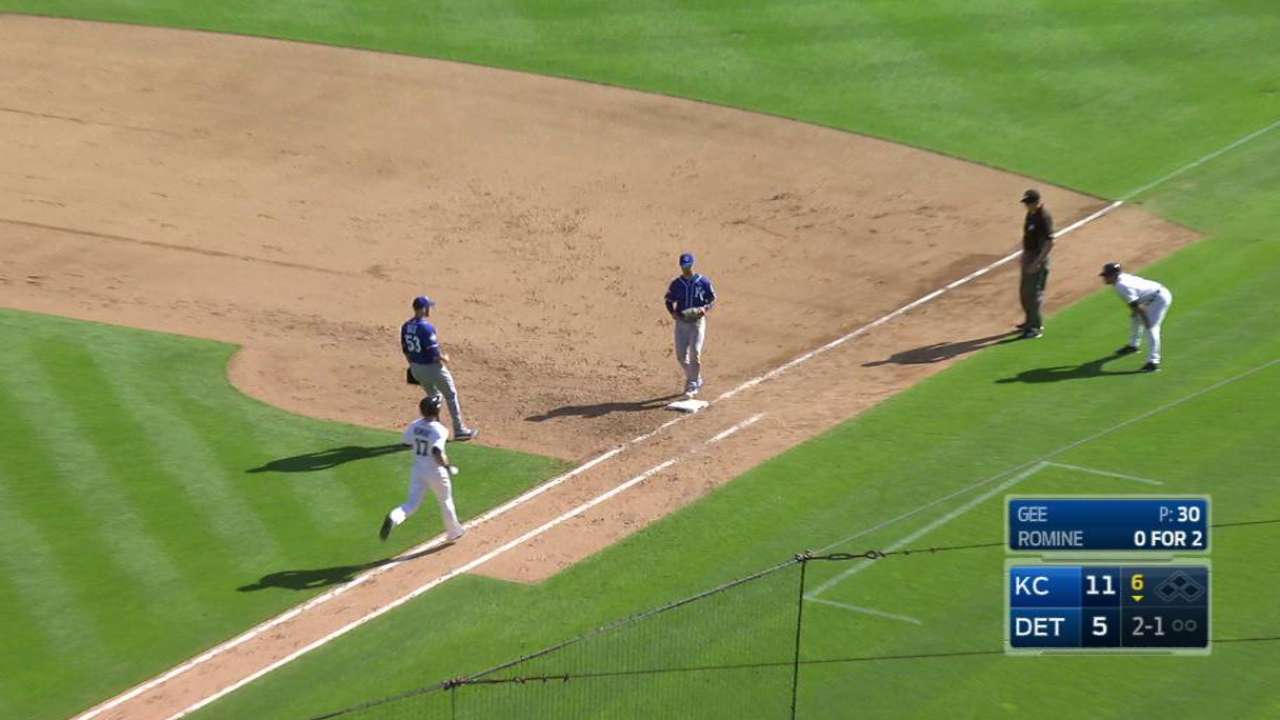 Merrifield also got a lot of enjoyment playing first base. He became the first Royal to play five different positions (second base, third base, first base, left field, right field) since Willie Bloomquist in 2010.
"A lot of people told me early on after I was drafted that I was a Willie Bloomquist type," Merrifield said. "A lot of managers told me. I'm familiar with him. I actually played against him in Spring Training late in his career.
"But yeah, it's always fun to switch up the angles for me. You get to see the ball from a different perspective. I got a couple of balls to field. I didn't get to pick one like Hoz, though."
But Merrifield did get to hit like Hosmer.
"Everyone knows that's why I was there today," Merrifield deadpanned. "Give us a little power and a little defense."
Jeffrey Flanagan has covered the Royals since 1991, and for MLB.com since 2015. Follow him on Twitter @FlannyMLB. This story was not subject to the approval of Major League Baseball or its clubs.