Thompson 'thrilled' with opportunity, progress
Phils rookie done for season, but hopes to earn rotation spot in Spring Training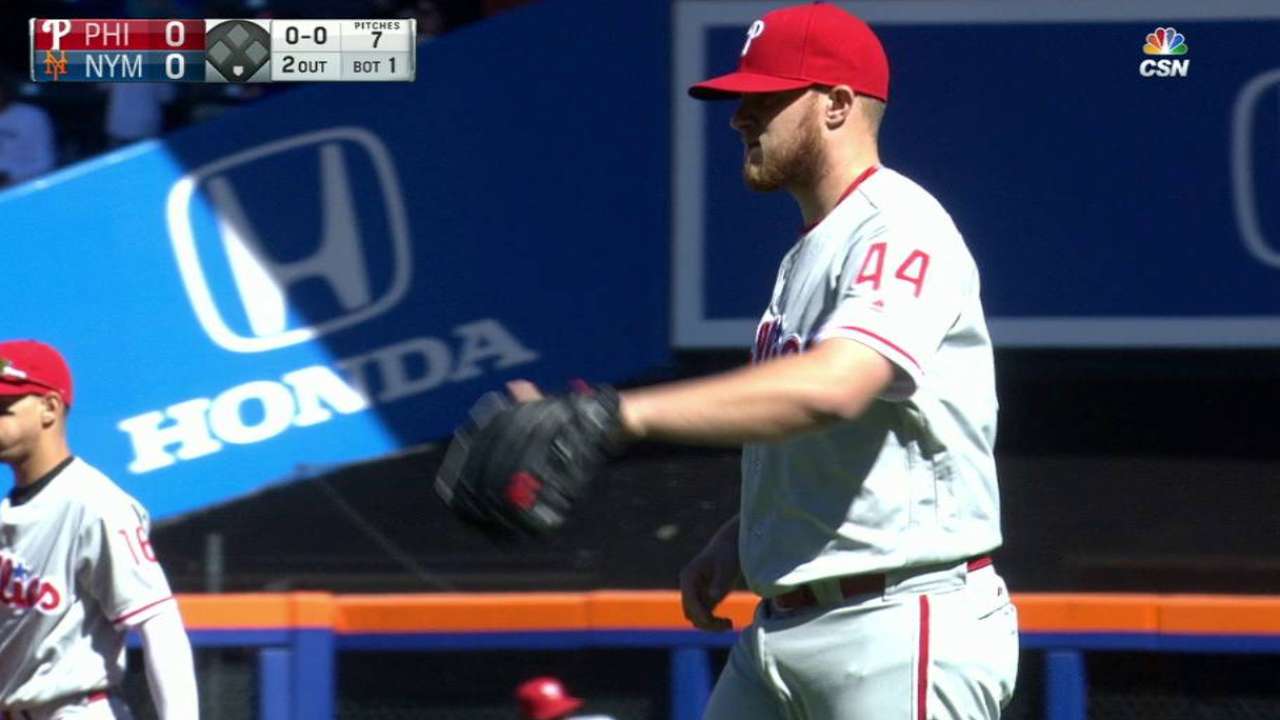 NEW YORK -- Jake Thompson's spring next year will be a heck of a lot different than this year.
He entered this spring simply hoping to make a good first impression on the Phillies' front office and coaching staff. But after making his 10th and final start of the season Sunday afternoon in a 17-0 loss to the Mets at Citi Field, Thompson, who joined the Phillies in July 2015 in the Cole Hamels trade, hopes to win a job coming out of camp.
"This year, it was just fun to be there," Thompson said. "Next year, I've got to go out and give it my all to win a job."
The Phillies told Thompson after the game that he would not pitch again this season. He pitched a combined 183 1/3 innings among Double-A Reading, Triple-A Lehigh Valley and the Phillies, which is 43 2/3 innings more than last year.
"Yeah, that's awesome," Thompson said about his jump in innings. "Physically, I knew I was capable of it. I'm thrilled they let me go this far. They certainly didn't have to. And that's going to be something going into next year where I'm going to plan on throwing 30 more than I did this year."
Thompson certainly has work to do, but he should be in position to win a spot in the rotation. He allowed five hits, three runs, three walks, one home run and struck out three in four innings against the Mets, finishing 3-6 with a 5.70 ERA. Those numbers are not impressive, but after posting a 9.78 ERA in his first four starts, he carried a 3.41 ERA in his final six.
"For a 22-year-old pitcher, first time in the big leagues, he's made a good impression," Phillies manager Pete Mackanin said. "He's got a ways to go with the command of his pitches. He's got enough stuff to be successful. He's got good enough makeup to do that."
"I really wish the first few would have been better, but I think I made pretty big strides in the second half of my stay here, and that's something I'll look to build off of going into this offseason and Spring Training next year," Thompson said.
Thompson's hook -- he had walked three in the fourth -- led to one of the worst losses in Phillies history. The bullpen allowed 14 runs in four innings, giving them a 14.29 ERA (27 earned runs in 17 innings) in the four-game series.
It was the Phillies' largest margin of defeat since a 22-3 loss to the Reds on Sept. 4, 1999, against the Reds at Veterans Stadium. It is their worst shutout loss since at least 1913.
"Pretty embarrassing game today," Mackanin said. "Obviously the bullpen has scuffled for a while now. Everything looks bad. That shows you how much the game is all about pitching. It keeps you in games. It gives you the opportunity to win, like the first couple months of the season for us. And now the last month, it hasn't kept us in games or it's losing games. Pitching is the most important ingredient."
Todd Zolecki has covered the Phillies since 2003, and for MLB.com since 2009. Follow him on Twitter and listen to his podcast. This story was not subject to the approval of Major League Baseball or its clubs.