Tempers flare in Pittsburgh after deke, near-HBP
Nats starter Cole's ejection prompts benches-clearing fracas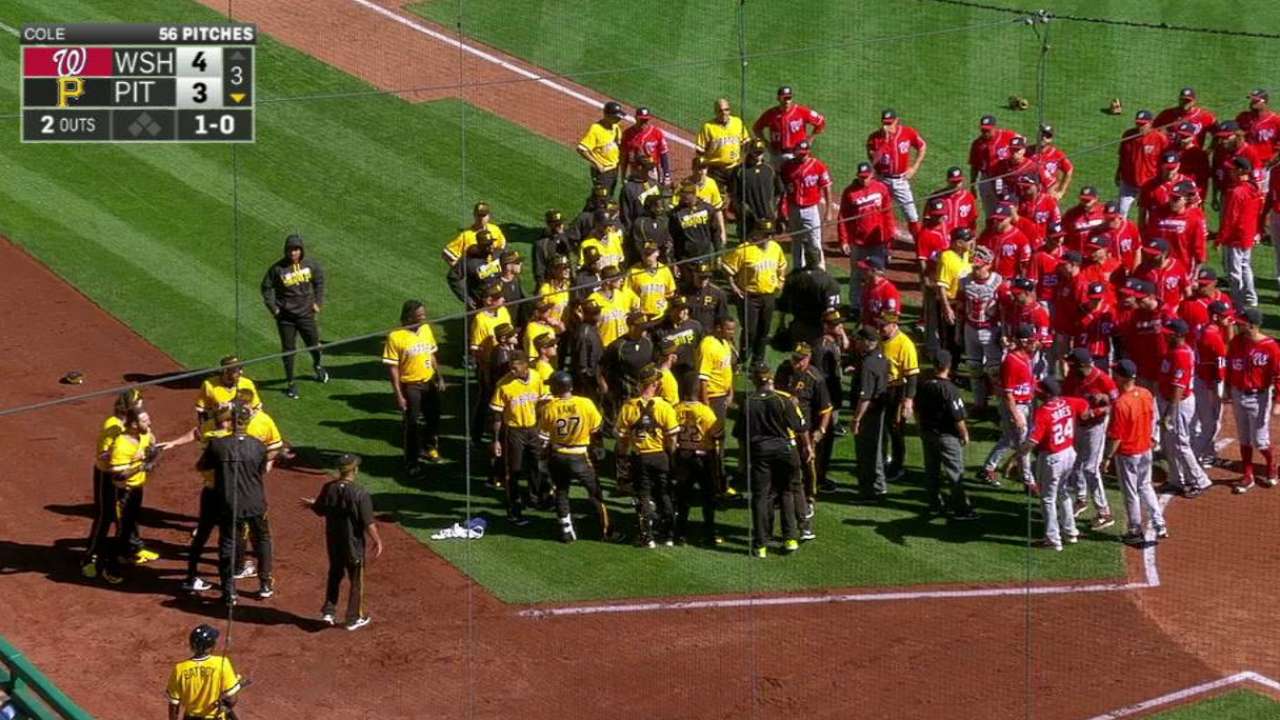 PITTSBURGH -- The Nationals believed it was unnecessary and wrong. The Pirates thought it was typical and crafty. Their disagreement over Jung Ho Kang's fake tag on Bryce Harper ended with both dugouts and bullpens emptying onto the field, sparking a benches-clearing incident in the third inning of Washington's 10-7 win Sunday afternoon at PNC Park.
Tempers began to boil in the top of the third, when Bryce Harper laced a line drive to right field. He stretched the hit into a triple, hustling to third base even as right fielder Josh Bell's throw sailed wide of Kang. But Kang faked a tag, leading Harper to make an awkward slide into the bag.
"I thought it was wrong. They didn't think that he did anything wrong," Nats manager Dusty Baker said. "And that's how arguments usually get started."
Indeed, Kang's fake drew the Nationals' ire. Harper banged up his thumb on the play and exchanged words with Kang as Baker and a trainer checked on the Nats' star outfielder. Harper remained in the game to run but exited before the bottom of the third with a sore left thumb, replaced in right field by Chris Heisey.
The Nats took exception to Kang's fake tag, particularly when he clearly didn't have a chance of getting Harper out. The Pirates defended the play, calling it the best way to keep Harper from scoring on Bell's errant throw. Kang said he didn't intend to hurt Harper.
Harper is considered day to day, but was to have X-rays taken on the thumb on Monday. He initially thought he tore the UCL in the thumb. "The thumb is pretty swollen. It's not in the spot my UCL was. That was good. We'll see how it feels like [Monday] and the next day, and we'll go from there," Harper said.
"Fake tags are made a lot. It's not the first fake tag ever made in the game," Pirates manager Clint Hurdle said. "[The] third-base coach also has a responsibility to read the play and help the runner. So somebody thought there was a play at third or the runner just took it upon himself to slide."
Added Sean Rodriguez: "Typically that's translated as baseball IQ or intuitive thinking. I understand Harper's their guy and he's the one who got hurt, but would [Baker] take that same remorse for any other one of his players?"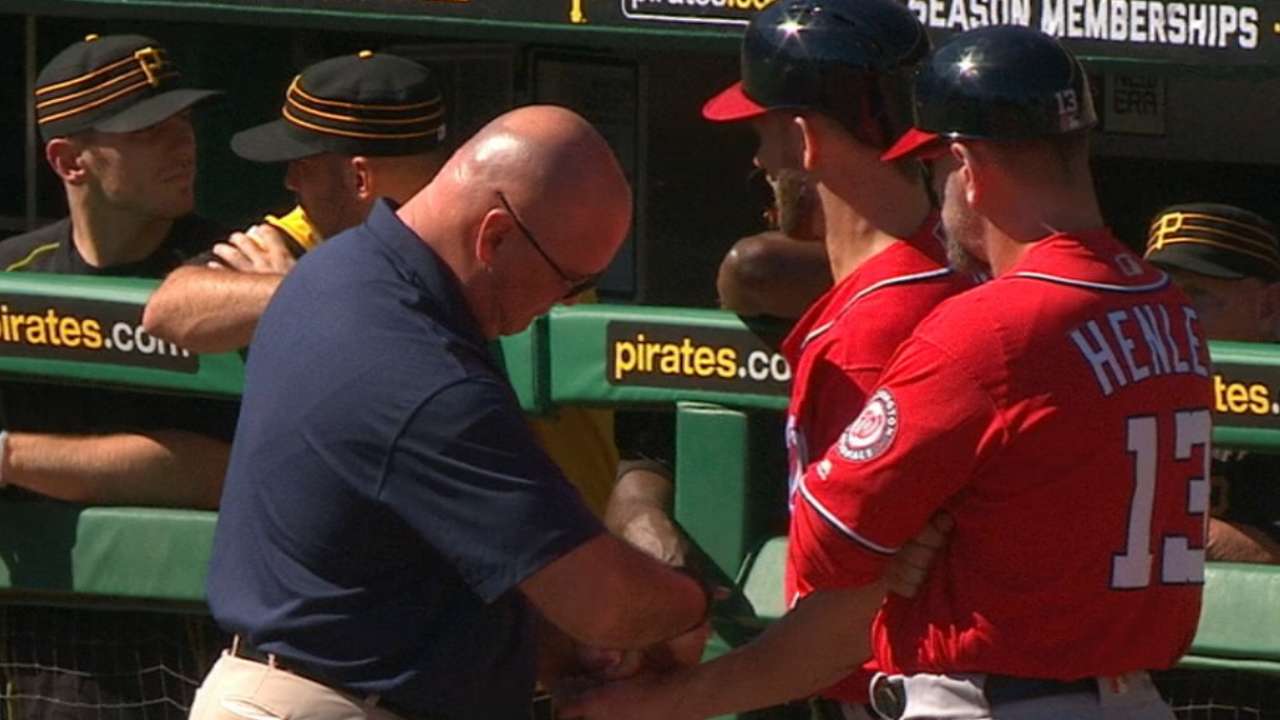 The Pirates further irked Baker by "talking stuff" as he walked back to the visitor's dugout, Baker said.
"I don't start nothing," the manager added. "But I don't take nothing."
With two outs in the bottom of the third, Nats right-hander A.J. Cole threw behind Kang's head. He was immediately ejected by home-plate umpire Jordan Baker. Cole said he was trying to throw inside, around Kang's hands, and the pitch got away from him.
Kang said he was surprised Cole threw at him, but the intent didn't bother the Pirates as much as the location. Had the pitch hit Kang in the arm, back or legs, he might have simply taken his base with no further escalation. But Sean Rodriguez stepped from the on-deck circle to the plate, telling catcher Jose Lobaton the pitch was "dirty."
"His response to me was, 'I know. I know. It went up by his head. I get it.' So I'm calmly sitting there, then watching a couple people come out of their dugout like they thought they were in the right," Rodriguez said. "I'm just trying to understand how. How can you come out to defend someone throwing a ball behind someone's head for whatever reason? That's what got me going a little bit."
Specifically, Rodriguez was set off by verbal jabs from Jayson Werth and Oliver Perez, the next two players to enter the fray. With Rodriguez at the center of the action, both benches and bullpens eventually emptied and gathered around home plate.
Rodriguez was mostly restrained by his teammates -- primarily right-hander Gerrit Cole -- and he was ejected alongside A.J. Cole for perpetuating the incident.
"I was very surprised I was the only one ejected," Rodriguez said.
Adam Berry has covered the Pirates for MLB.com since 2015. Follow him on Twitter and Facebook, read his blog and listen to his podcast. This story was not subject to the approval of Major League Baseball or its clubs.