United Marlins mourn loss of Fernandez
Stanton: 'I'm still waiting to wake up from this nightmare'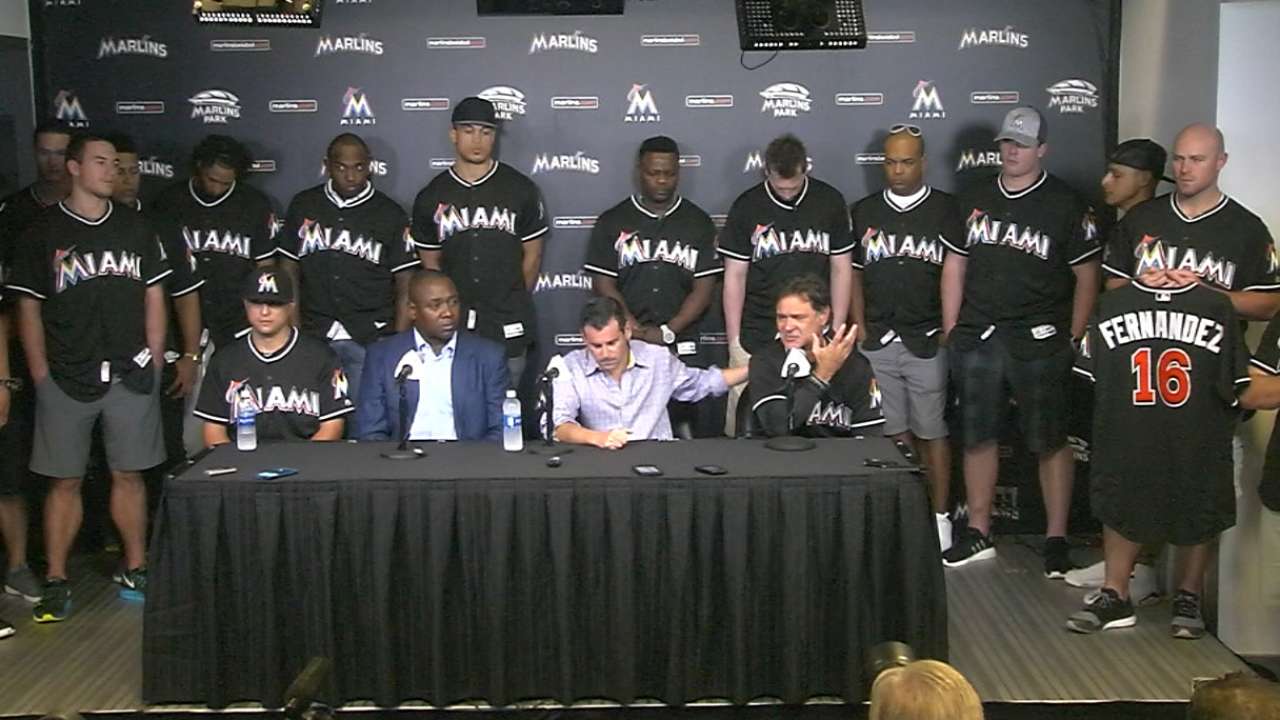 MIAMI -- As one, the Marlins players and coaches stood together on Sunday mourning the death of Jose Fernandez.
Martin Prado, the team's unofficial captain, spoke for his teammates, and through tears, tried to put into words the tragic loss of Fernandez, killed early in the morning in a boating accident off Miami Beach. Mike Dunn held Fernandez's No. 16 jersey.
"This is difficult for me and everybody," said Prado, who wore his black jersey along with teammates. "When I came to the Marlins last year, I knew one of the main things about the Marlins was Jose."
Fernandez's outgoing personality was contagious. Full of life, the 24-year-old loved the game. He enjoyed interacting with people -- from his teammates, to the media, to the fans and the opposing players.
"When I think of Jose, it's going to be thinking of that little kid," Marlins manager Don Mattingly said. "I see such a little boy in him with the way he played. There was just joy with him when he played. When he pitched, I think that's what the guys would say, too, as mad as he would make you with some of the stuff he'd do, you'd see that little kid you see when you watch kids play Little League or something like that. That's the joy that Jose played with and the passion he felt about playing. That's what I think about."
According to the Coast Guard, Fernandez and two male friends, were killed in a boating accident around 3 a.m. ET on Sunday.
Sunday's game with the Braves at Marlins Park was cancelled.
A two-time All-Star, Fernandez was the National League Rookie of the Year in 2013. But this year was his best big league season. The right-hander went 16-8 with a 2.86 ERA, and his 253 strikeouts established a franchise season record.
On Tuesday, Fernandez threw eight innings, striking out 12 in a 1-0 win over the Nationals. In 76 Major League starts, none may have been better than Fernandez's final time walking off the mound at Marlins Park.
"He didn't care who he faced," Prado said. "He didn't care who we were playing. One of the guys told the story today that he told one of his teammates, 'The last game he pitched against the Nationals was the best game he ever pitched.' Now he's gone."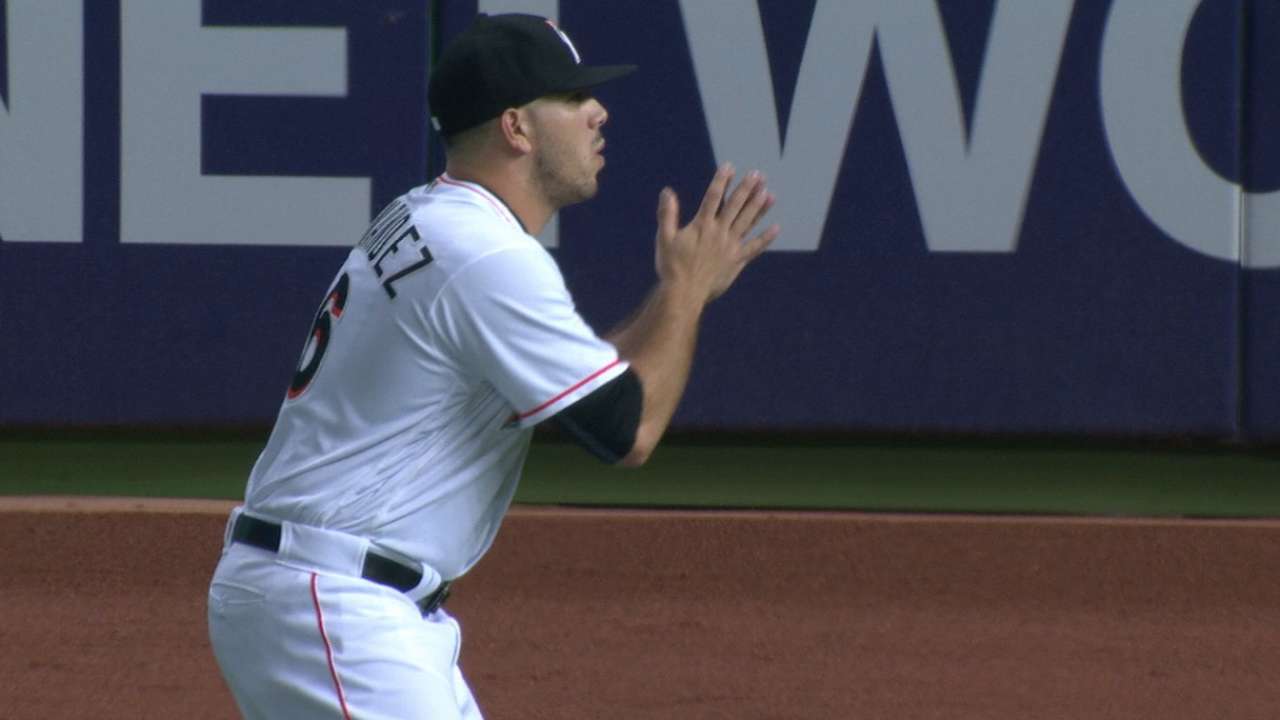 On the back of the mound, the grounds crew painted Fernandez's No. 16. Several players, including Dee Gordon, walked to the mound to pay tribute. Gordon broke down in tears.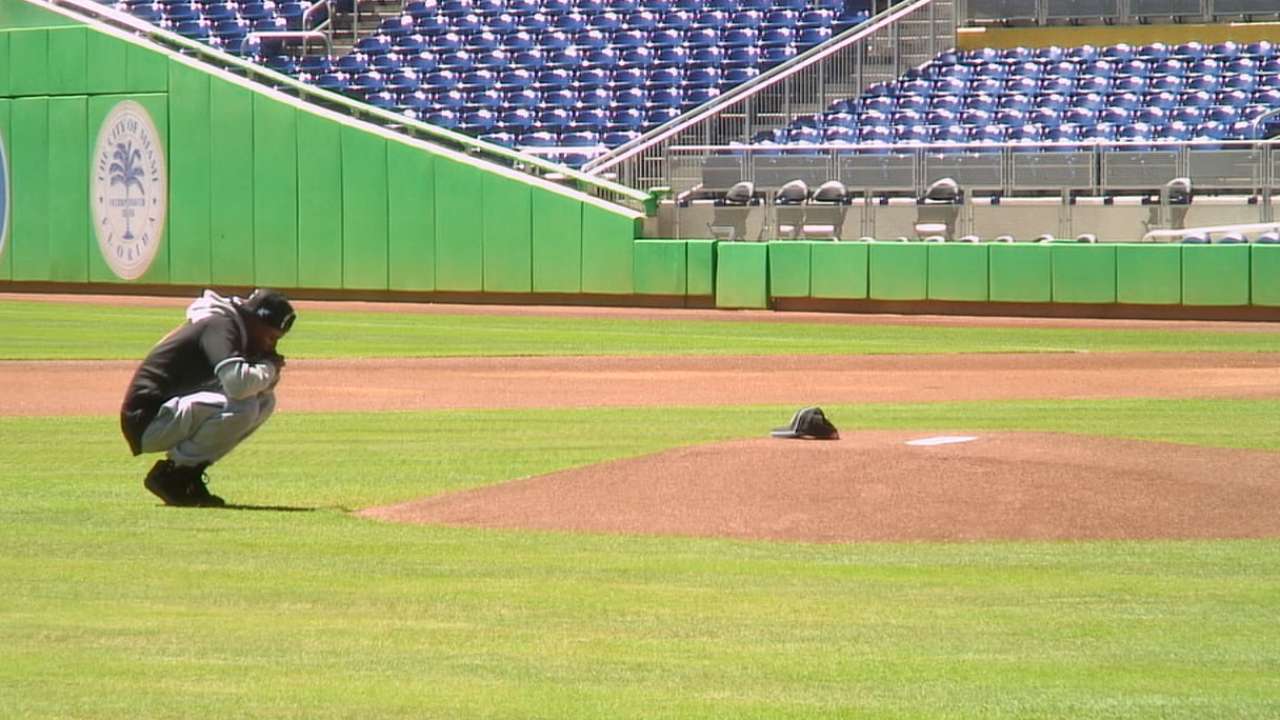 Christian Yelich, Miami's first-round pick in 2010, worked his way through the system with Fernandez, a top selection in 2011.
On social media, Yelich posted: "Been trying to think of what to say or how to comprehend all of this and the truth is there are no words that will do you justice. You played this game and lived your life at 100%. The competitor you were is the competitor we all strive to be. Your loss hit us all hard and I'm going to miss you buddy. The clubhouse or the team won't be the same without you but you'll always be with us. I know I'll see you again someday. Love you man."
Added Giancarlo Stanton: "I'm still waiting to wake up from this nightmare. I lost my brother today and can't quite comprehend it. The shock is overwhelming. What he meant to me, our team, the city of Miami, Cuba and everyone else in the world that his enthusiasm/heart has touched can never be replaced. I can't fathom what his family is going through because We, as his extended Family are a wreck. I gave him the nickname Niño because he was just a young boy Amongst men, yet those men could barely compete with him. He had his own level, one that was changing the game. EXTRAORDINARY, as a person before the player. Yet still just a kid, whose joy lit up the stadium more than lights could. A kid whose time came too soon. One that I will miss and never forget. Rest In Peace Niño, Jose Fernandez."
Gordon responded; "It's raining at your mothers house bro...God and ALL his angels are crying down tears of joy on us because you came HOME. #JDF16"
Damn man it's raining at your mothers house bro...God and ALL his angels are crying down tears of joy on us because you came HOME. #JDF16

— Dee Gordon (@FlashGJr) September 25, 2016
President of baseball operations Michael Hill recalled the days when Fernandez was scouted and drafted out of Braulio Alonso High School in Tampa, Fla.
"I think back to seeing that precocious, young high school senior, and the All-Star Game, and sitting at his kitchen table with [vice president of scouting] Stan Meek as we attempted to sign him," Hill said. "Bringing him in to Pro Player [Stadium] and introducing him as the newest Marlin back in 2011. It's a tremendous loss."
Fernandez was initially scheduled to start on Sunday against the Braves, but instead was pushed back to Monday in the series opener with the Mets.
Devastated. #JDF16 pic.twitter.com/knPxEQj7iL

— Miami Marlins (@Marlins) September 25, 2016
Getting ready to play will be a challenge, Prado acknowledges.
"That's a question hard to answer," the third baseman said. "We're not robots. We're humans. And we feel. He made an impact on every single person on this team, in different ways.
"I understand the fact we have to play games and we have to be professional. But deep in our hearts, there is a lot of pain. Somewhere we've got to overcome that. Right now, it's something that's hard to explain."
Joe Frisaro has covered the Marlins for MLB.com since 2002. He writes a blog, called The Fish Pond. Follow him on Twitter @JoeFrisaro and listen to his podcast. This story was not subject to the approval of Major League Baseball or its clubs.