Reds mourn loss of Marlins' Fernandez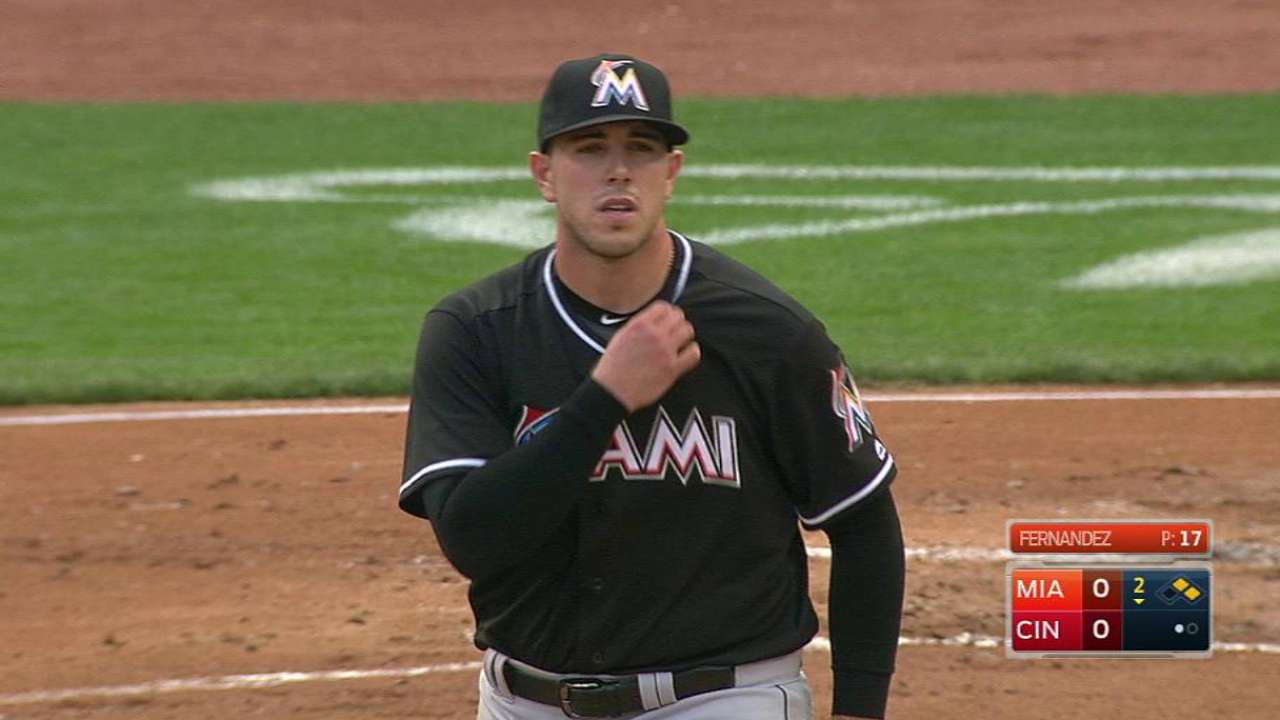 MILWAUKEE -- Like everywhere else in the baseball world, the tragic news that Marlins 24-year-old ace Jose Fernandez was killed in a boating accident in Miami overnight left the Reds shocked and saddened on Sunday morning. Some players watched the television coverage on the visitor's clubhouse televisions at Miller Park.
For Reds bullpen coach Ted Power, it brought him right back to a terrible day in Florida on March 22, 1993. Then a pitcher with the Indians, Power's teammates Steve Olin and Tim Crews were killed when their fishing boat crashed into a lake pier on a dark evening. Pitcher Bobby Ojeda was also seriously injured. Power was supposed to be on the fishing trip with the other three players but changed his mind at the last minute and stayed home to relax on the team's Spring Training off day.
"Bad memories. Really bad memories," Power said. "I went exactly through it. My story isn't important. I know exactly what those guys and what those people on that team are going through from the owner of the team right down to the clubhouse guys. "
The Marlins canceled Sunday's game vs. the Braves while they grieved the loss of Fernandez, a two-time All-Star who defected from Cuba and arrived in the United States as a 15-year-old. He settled in Tampa, Fla., and became Miami's first-round Draft pick in 2011 and was in the big leagues by the age of 20. He was the National League's Rookie of the Year in 2013.
"You can't deal with it immediately. It takes a lot of time," Power said. "You spend so much time with teammates and coaches and team personnel that when something like this happens. It just wrecks the emotions of everyone on that club."
Life is too short. My thoughts and prayers go out to Jose Fernandez's family as well as the @Marlins organization. Wow.

— Tucker Barnhart (@Tucker_Barnhart) September 25, 2016
Reds pitcher Anthony DeSclafani broke into the Major Leagues with the Marlins in 2014.
"I've been around him. You don't want to think it's real," DeSclafani said.
DeSclafani was in Miami while Fernandez was recovering from Tommy John surgery on his right elbow, and it never dampened the ace's spirits. DeSclafani actually made his Major League debut in Fernandez's place after the ace was placed on the disabled list in 2014.
"He was always in and out of the clubhouse, I'd talked to him, obviously, numerous times, gotten some advice from him after tough games," DeSclafani said. "He was telling me to forget about it and move on, stuff like that. He was a big guy, a big face of that franchise. There's no doubt about it that he was passionate about the game and loved the game. Everybody saw that.
"It's definitely sad news around the baseball world. It can hit home for anybody that life can end in an instant, you make the most of it and have fun. That's the truth. Stuff can just happen in a split second."
Dang we lost a great one today RIP to one of the greatest pitchers I've seen my prayers go out to his family and friends .Gone way too soon

— Billy Hamilton (@BillyHamilton) September 25, 2016
Fernandez faced the Reds in five starts during his career and was 2-2 with a 3.72 ERA, including two starts in 2016. On July 8 at Miami, he allowed one unearned run over seven innings with no walks and eight strikeouts in a 3-1 Reds loss. His Aug. 18 start at Great American Ball Park was not successful as he pitched four innings and allowed five earned runs in a 5-4 loss.
"He was unbelievably talented, a gregarious, vivacious person that you'd want to go and watch play baseball," Reds manager Bryan Price said. "You don't see a lot of 100-mph starters. He was throwing 100 mph against us. You almost hate to talk about baseball when you're talking about this kid, because of the effect he had on his family and his teammates and friends. It's certainly a loss to the baseball community but even more importantly, the people who care about him. Any of us that lose a friend or family member, it makes you sick to your stomach to even think about it."
Mark Sheldon has covered the Reds for MLB.com since 2006, and previously covered the Twins from 2001-05. Follow him on Twitter @m_sheldon and Facebook and listen to his podcast. This story was not subject to the approval of Major League Baseball or its clubs.