Pirates, Hurdle mourn loss of 'wonderful' Fernandez
Skipper remembers Marlins' ace for enthusiasm, emotion and skill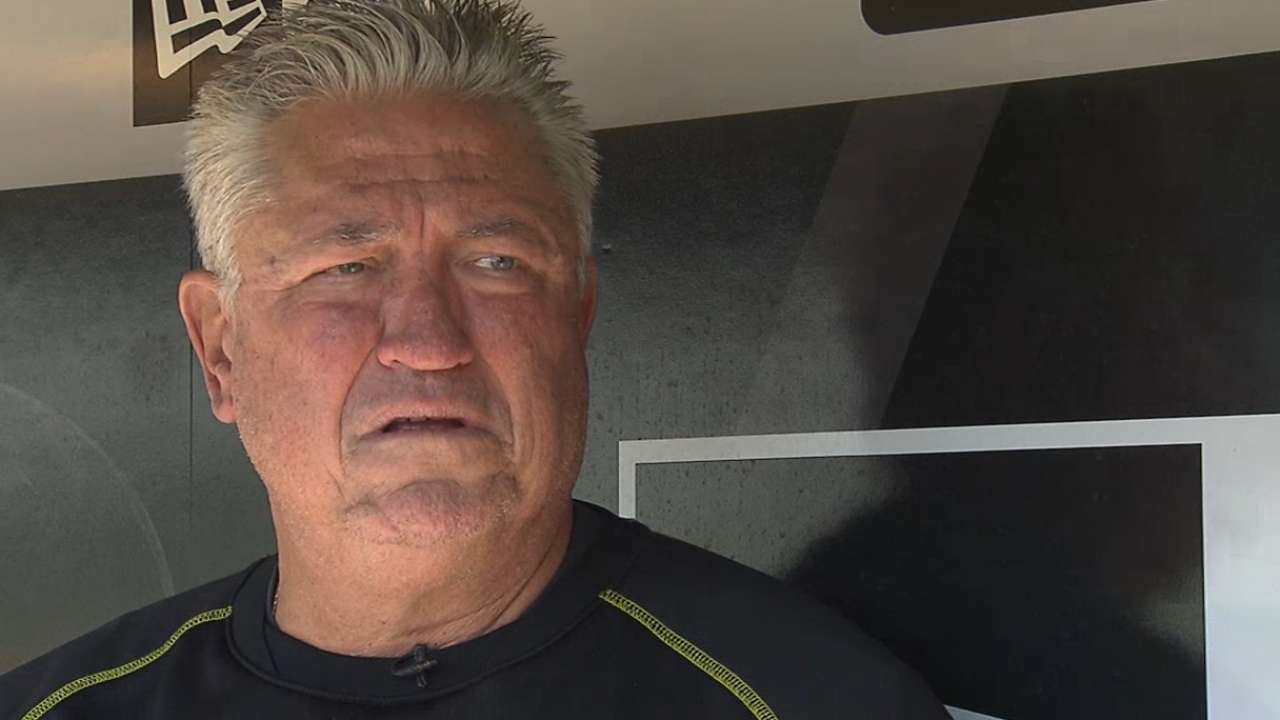 PITTSBURGH -- The Pirates joined the rest of the baseball world Sunday in mourning the tragic loss of Marlins pitcher Jose Fernandez, one of the game's brightest young stars and most infectiously energetic personalities.
Fernandez died early Sunday in a boating accident in Miami Beach. He was 24.
The news hit home inside the Pirates' clubhouse, where players absorbed the news and watched the reaction unfold on television. Fernandez was an immensely talented pitcher, posting a career 2.58 ERA with 11.2 strikeouts per nine innings, but he will be remembered by his peers for the constant joy he displayed on the mound and in the dugout.
The Pirates planned a moment of silence to remember Fernandez before Sunday's series finale against the Nationals at PNC Park. Manager Clint Hurdle offered a touching, poignant response when asked about Fernandez's legacy.
"It's just sad. It's so horribly sad on so many different levels that there'll be no more of that, there'll be no more of him, there'll be no more of that emotion on the mound, that skill-set, that human being, that young man with such a gift, such a great smile," Hurdle said. "I've been trying to live that life for a while now. I wasn't always in that place. It just makes all the more sense when things like this happen. Be where your feet are. Enjoy the moment. There'll be a day where there won't be another day."
Today is a sad day in baseball. Jose Fernandez brought an intensity to this game that could naturally ignite an entire stadium #RIPJose

— andrew mccutchen (@TheCUTCH22) September 25, 2016
Fernandez was born and raised in Cuba before defecting in 2008 and living in Tampa, Fla. At a young age, Fernandez served time in a Cuban prison for attempting to flee. When he was able to leave the country with his mother and sister, he saved his mother's life after she fell overboard.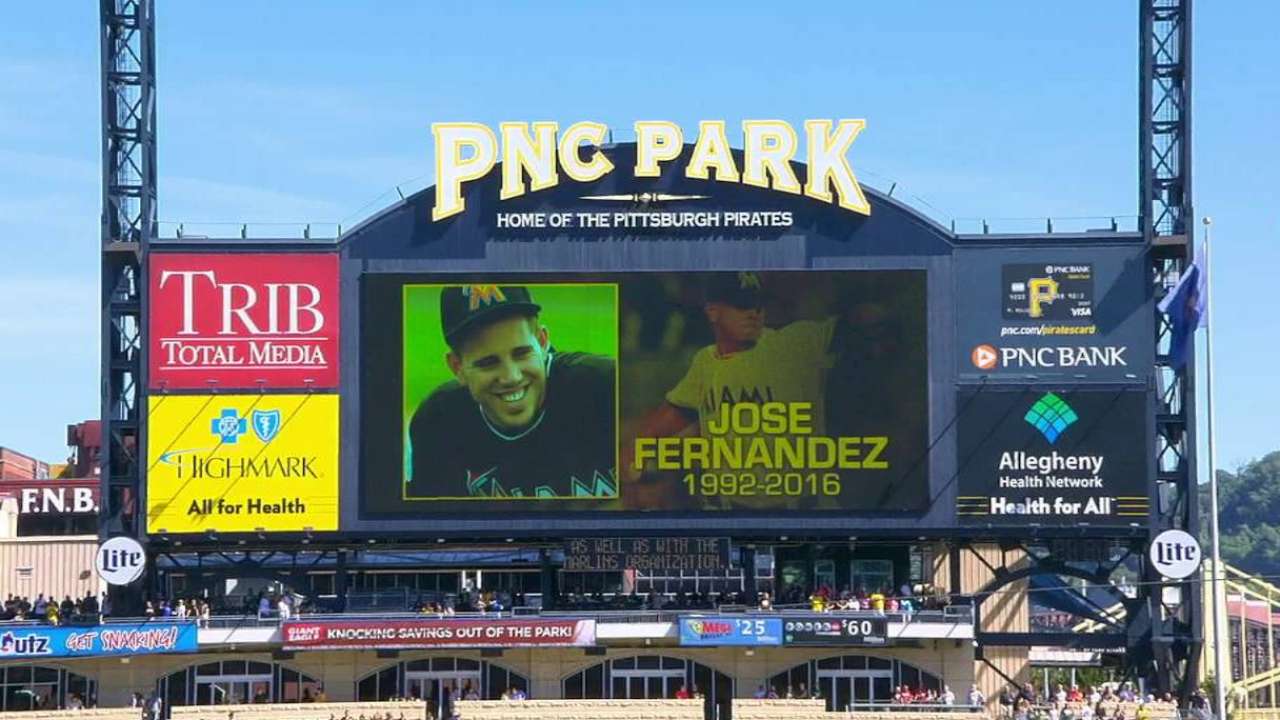 In addition to watching Fernandez pitch, Hurdle spent some time with the young right-hander following the 2013 season. Hurdle was named the National League Manager of the Year and Fernandez named NL Rookie of the Year, and they spent time together at the annual Baseball Writers' Association of America dinner in New York.
Jose Fernandez was so uber talented, that when his highlights came on it stopped you in your tracks to watch his show.

— Jameson Taillon (@JTaillon19) September 25, 2016
"If you use your eyes and ears, there's reminders throughout your week that life's short and you don't call all the shots. A sense of gratitude and a sense of joy needs to be more prevalent," Hurdle said. "It's just a tremendously engaging young man. We had a lot of commentary that night. Since then, whenever we played them, he'd come up and put his arm around me like he's an old soul. 'Hey, papi! How you doing, man?'
"When I walked around that corner today, I saw his picture and thought it was another news story. Then I stopped and saw the caption. It took my breath away.
"When you saw him walk your way, you lit up because you knew: Here he comes. It's going to be 45 seconds of a lot of something really good. You never dropped your head and said, 'Oh no.' You're like, 'Oh boy!'"
Tough day for our baseball family with the loss of Jose Fernandez! Praying for his family and friends! #RIPJose

— Josh Harrison (@jhay_da_man) September 25, 2016
Asked about the impact Fernandez had on Miami and the Marlins organization, Hurdle compared the young superstar to Pirates center fielder Andrew McCutchen.
"He was the face of the organization. There's so many people he's representing from a country that wasn't able to see him play all the time. So many people did come over and were connected to him," Hurdle said. "That whole franchise, the area down there, he was just a wonderful snapshot of so many good things and young things, youthful enthusiasm and skill, masterful power off the mound, an engaging personality, a million-dollar smile. That just makes sport seem really insignificant at the present time."
Adam Berry has covered the Pirates for MLB.com since 2015. Follow him on Twitter and Facebook, read his blog and listen to his podcast. This story was not subject to the approval of Major League Baseball or its clubs.