Cishek, Mariners reflect on life of Fernandez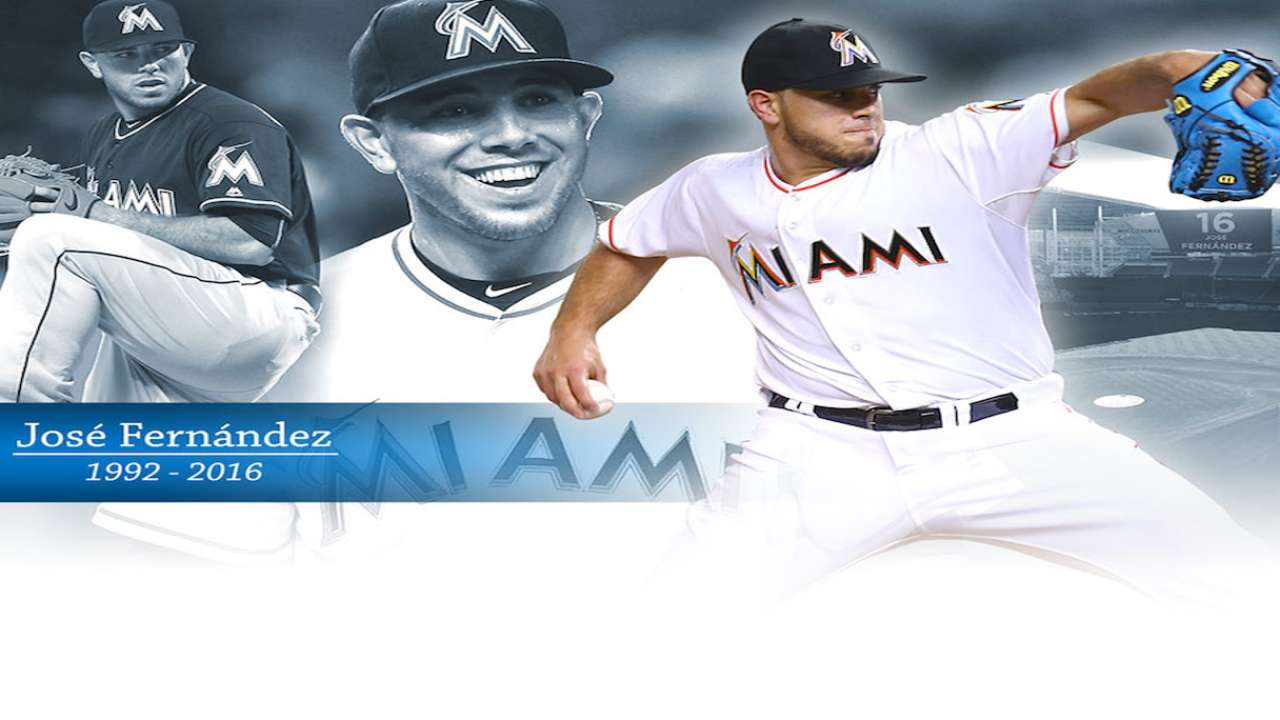 MINNEAPOLIS -- Like the entire baseball world, the Mariners clubhouse was quieted Sunday morning by the shocking news of the death of Marlins pitching standout Jose Fernandez. And no one was hit harder then former Marlins closer Steve Cishek, who was a teammate and friend for the past five years.
"It was completely shocking," Cishek said, standing in front of his locker a few hours before the Mariners took on the Twins on Sunday in their series finale at Target Field. "To have that be the first thing I wake up to this morning, all of us for that matter, it's just tragic.
"I still can't even fathom what he went through and what all those guys over there on the Marlins are going through and obviously his family. My heart just grieves for his family. I know how hard it was for them to get over here. It's just heartbreaking."
Fernandez died in a boating accident in Miami Harbor early Sunday morning and Mariners players sat in stunned silence watching televised reports of the incident before a large group headed to a Sunday morning chapel session.
"It's very, very tragic," said manager Scott Servais. "The baseball community is such a small, tight-knit group and when a player that talented with that kind of personality and the electricity that he brought to the game, it's very, very sad.
"Obviously you can see it in our clubhouse today. We're a very heavy Latin team. And not just that, it transcends far beyond that. He's a really good baseball player and fantastic person and I enjoyed watching him pitch. I think everybody did."
Cishek, who was drafted by the Marlins in 2007, became teammates with Fernandez when the young Cuban was drafted by Miami four years later. Fernandez arrived in the Majors in 2013 and became an instant star, earning his first All-Star berth and Rookie of the Year honors that season.
"I remember in '13 when we were the second-worst team in baseball, when it was his start day, we were probably going to win that game," Cishek said. "He was just a tenacious competitor. What you see on the field is what you get off the field. He was just smiling and laughing all the time and just someone you wanted to be around."
Fernandez defected to the United States as a 15-year-old in 2008 and brought with him a burning desire to be a Major League player.
"His work ethic was second to none," Cishek said. "He even took up street biking because he thought that would help him pitch better because he was going to get in better shape. He was just a super competitor and that was one of the ways he liked to compete, by riding a road bike. We told him he was crazy for doing that.
"But just to be able to show up to the ballpark every day and see how hard he goes at it and see the production on the field and how much hard work pays off, he was just a great role model for the young guys as well as for the kids and the other young guys on the team that are gifted athletes. You don't just show up to the big leagues. He worked his tail off to get here and it showed for sure."
The Mariners have three Cubans on their team -- outfielders Leonys Martin and Guillermo Heredia and starter Ariel Miranda. Martin never played with Fernandez, but has known him since childhood. Cishek said Fernandez's impact on the Cuban community in Miami was incredible.
"People would show up. They loved Jose," he said. "The fans are dealing with this just as hard, I'm sure. When Jose pitched, the place was electric.
"He was a great teammate. We've been saying it all morning. He just could bring a smile to everyone's face, teammates, fans, whoever it may be. He just showed up to the field with a smile. He was someone you wanted to go to battle with."
Greg Johns has covered the Mariners since 1997, and for MLB.com since 2011. Follow him on Twitter @GregJohnsMLB and listen to his podcast. This story was not subject to the approval of Major League Baseball or its clubs.