Twins mourn passing of Fernandez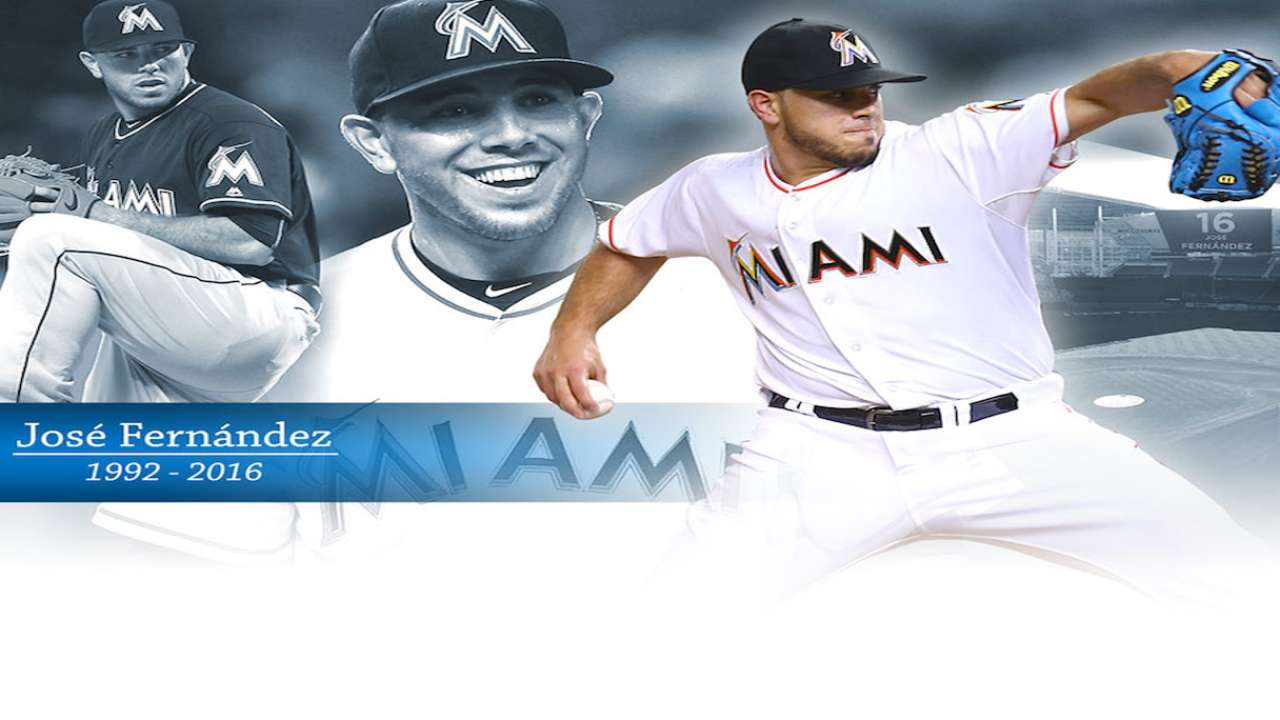 MINNEAPOLIS -- When Twins second baseman Brian Dozier woke up Sunday morning, he immediately checked Twitter and saw the breaking news that 24-year-old Marlins ace Jose Fernandez had tragically died in a boating accident.
"I had to read it over and over to make sure I was reading it right," said a somber Dozier. "It's a sad thing at such a young age. I've met Jose numerous times and he was a great guy and a tremendous competitor. All the baseball stuff, that doesn't mean anything. He's just a great guy and all the stuff he went through to get over here, trying three or four times. It just tugs at your heart a lot."
Teams across baseball held a league-wide moment of silence before Sunday's games to honor the life of Fernandez, a two-time All-Star, who had immigrated to the United States from Cuba on his fourth attempt in 2008 before becoming a U.S. citizen in 2015.
Dozier had met Fernandez when the Twins and Marlins played in 2013 and again this year. Fernandez didn't pitch when Miami visited Minnesota from June 7-9, but he started twice against the Twins as a rookie in 2013, including at Target Field in his fourth career start on April 23, 2013.
"It's just tough," Dozier said. "He was such a great guy and full of so much energy. The baseball stuff I could care less about even though he was obviously one of the best. I know he's done a lot of things for the city of Miami, especially with non-profits and stuff, so a lot of people are affected by it."
Twins manager Paul Molitor said the loss was felt throughout the baseball community, and it reminded him of his former teammate Kirby Puckett's words on the day of his retirement.
"There are a lot of really smart people who try to verbalize and understand these types of things, but they all fall short because you just can't put into words when something like this happens," Molitor said. "Tomorrow isn't promised to anyone like Kirby talked about. It really hits home when something of this magnitude happens."
Molitor, 60, called it baseball's latest tragedy and that it reminded him of others such as the deaths of Roberto Clemente, Thurman Munson, Tim Crews, Steve Olin and Puckett.
"I've been around long enough to at least peripherally see these kinds of things," Molitor said. "I remember the Clemente story as a kid and Munson, having played against him in the short time before his plane crash. And the Cleveland tragedy with the boats. Even Kirby's situation here. [Broadcaster] Dick [Bremer] and I worked a Spring Training game that was very difficult."
Rhett Bollinger has covered the Twins for MLB.com since 2011. Read his blog, Bollinger Beat, follow him on Twitter @RhettBollinger and listen to his podcast. This story was not subject to the approval of Major League Baseball or its clubs.