Rodon shuts down Tribe, prevents division clinch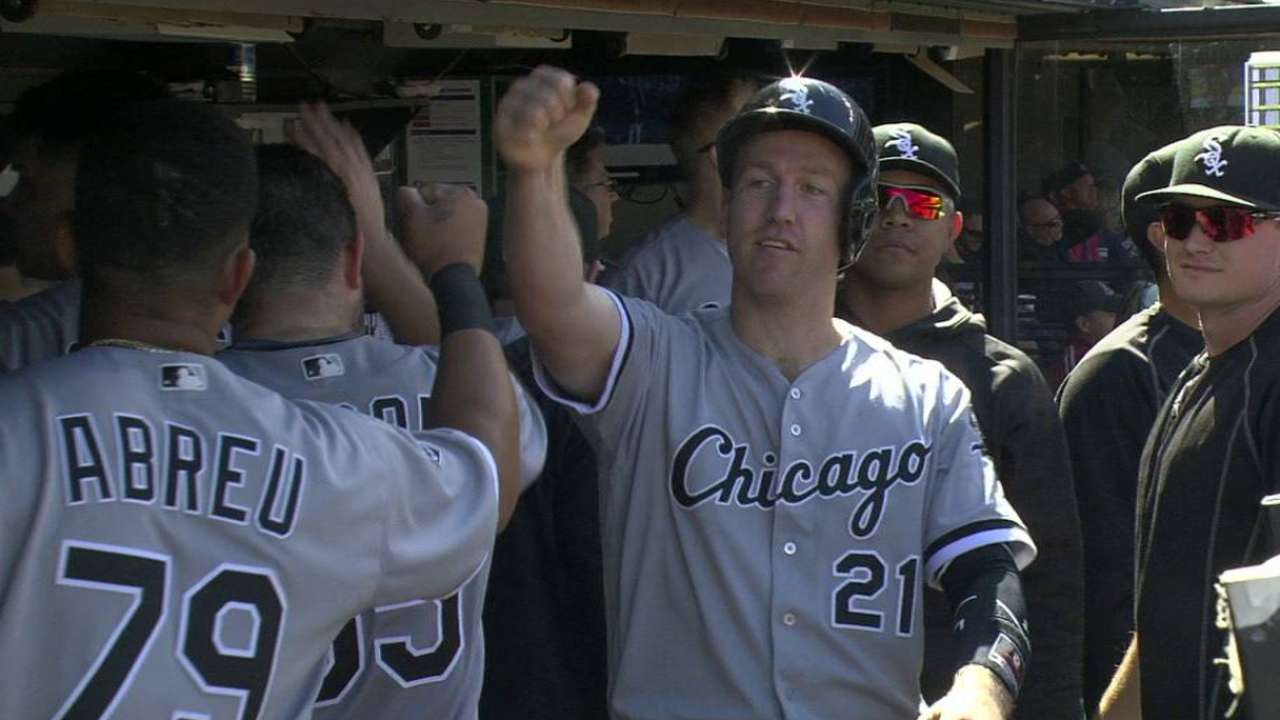 CLEVELAND -- White Sox left-hander Carlos Rodon delayed the Indians' party on Sunday afternoon. With a brilliant eight-inning performance at Progressive Field, Rodon led Chicago to a 3-0 win over the American League Central-leading Tribe, which could have clinched the division outright in its final home game of the season.
"They're eventually going to win it, but we won't be around to see them celebrate, which is meaningful," White Sox third baseman Todd Frazier said. "You have to take pride in every series and game. They're going to have to do it on the road, which is good."
With Detroit's loss to Kansas City, Cleveland saw its magic number reduced to one and clinched at least a share of the AL Central crown. Under that scenario, which would require the Indians losing the remainder of their games and the Tigers winning out, Cleveland and Detroit would face a Game 163 tiebreaker.
Cleveland would have needed both Toronto and Baltimore to lose in order to clinch at least a spot in the AL Wild Card Game, but both clubs won on Sunday, so the earliest the Tribe can clinch a postseason berth is Monday.
The Indians head to Detroit on Monday to begin a four-game set with the Tigers.
• Party delayed as Tribe looks ahead to key series
"You want to do it in front of the home crowd," Indians second baseman Jason Kipnis said. "It would've been fun to give high-fives down the line, all that stuff, but we'll push it back until tomorrow in Detroit, hopefully."
Rodon matched a career high with 11 strikeouts and spun eight scoreless innings for the first time in the big leagues. The lefty also lowered his career ERA to 2.45 against the Indians, who have struck out 55 times in 55 innings all time against Rodon.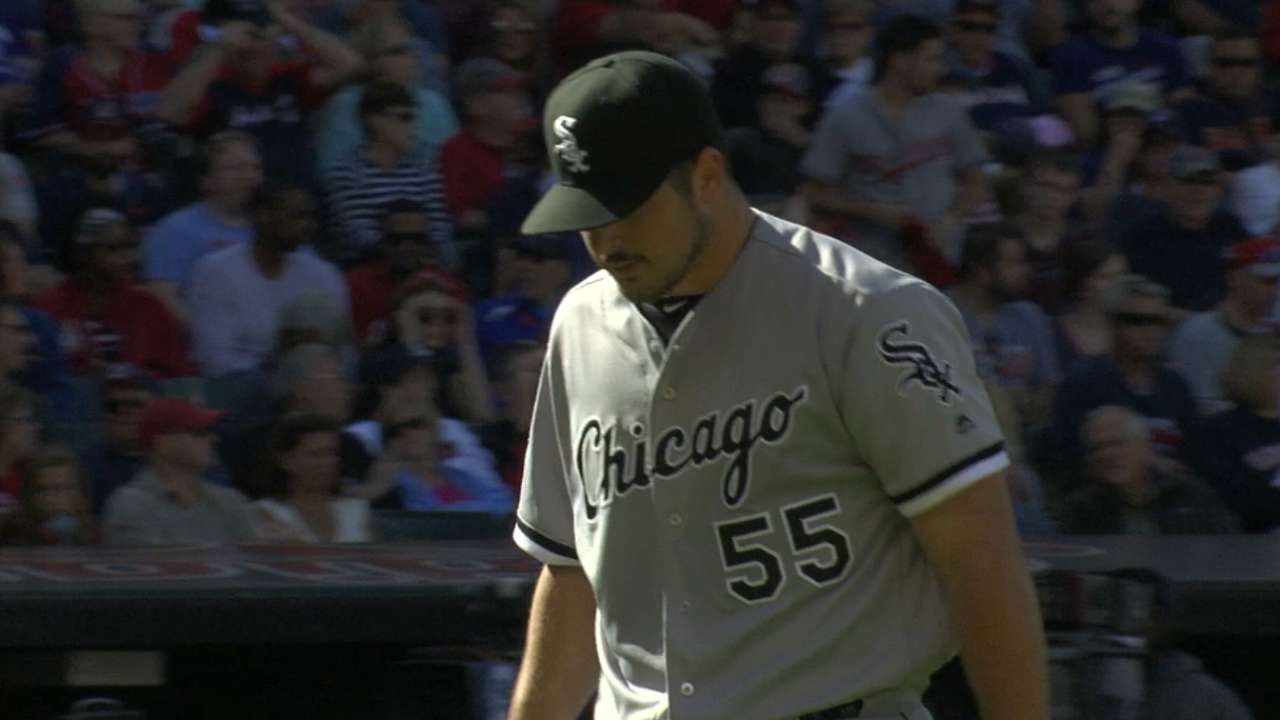 "He's a young pitcher and he's getting better with starts," Indians manager Terry Francona said. "We've seen a lot of him because he's in our division. His offspeed is better, even his delivery is smoothing out and, like a lot of young pitchers that have talent, you're starting to see him gain experience. He's pretty good."
Josh Tomlin provided a solid start for Cleveland, limiting Chicago to two runs (one earned) over 6 2/3 innings. Carlos Sanchez accounted for both runs off Tomlin, delivering an RBI single in the fifth inning and a sacrifice fly for the White Sox in the seventh. Omar Narvaez added some insurance for Chicago with a run-scoring single off Zach McAllister in the ninth.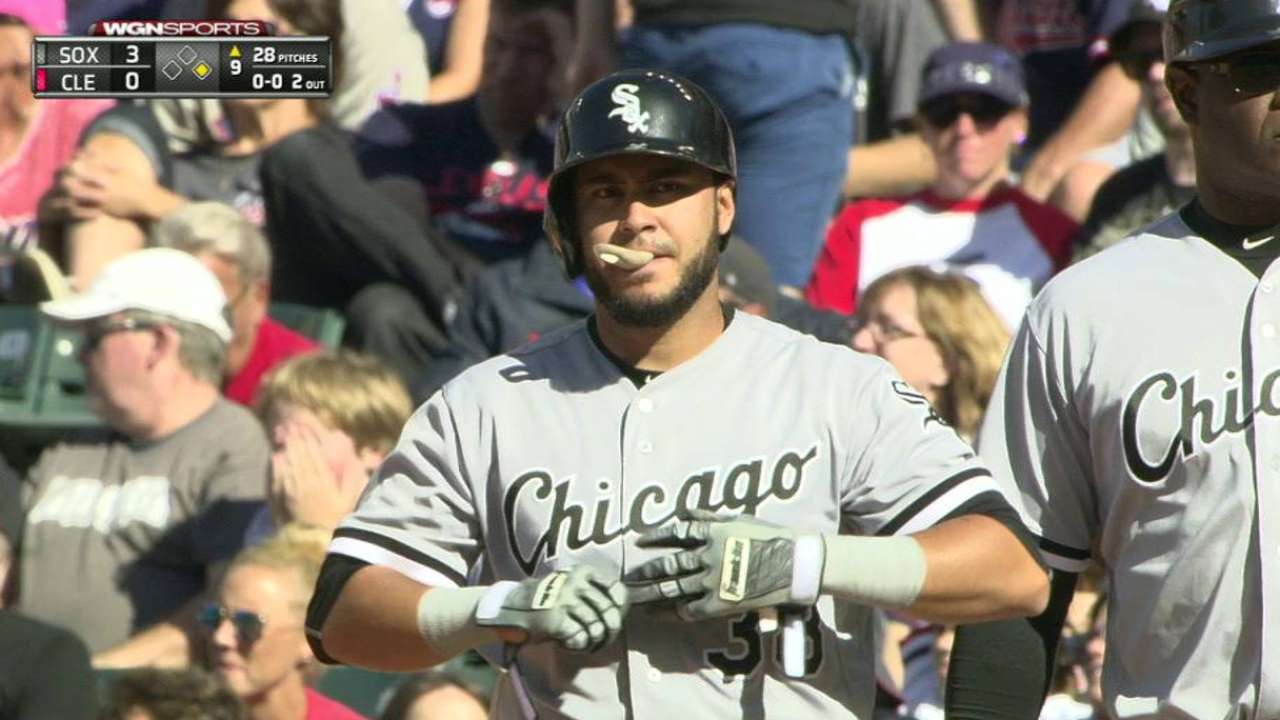 MOMENTS THAT MATTERED
Managerial wheels churning: White Sox manager Robin Ventura made the right move at the right time Sunday to give Rodon and the White Sox an insurance run in the seventh inning. With the bases loaded and one out, Ventura pinch-ran J.B. Shuck for Justin Morneau at third base. Sanchez followed with a fly ball to short center, deep enough, though, for third-base coach Joe McEwing to send home Shuck. Rajai Davis' throw had a lot of loft to it and went toward the first-base side of home, but Shuck appeared to beat it anyway. The point was rendered moot when the ball got away from catcher Chris Gimenez on the tag.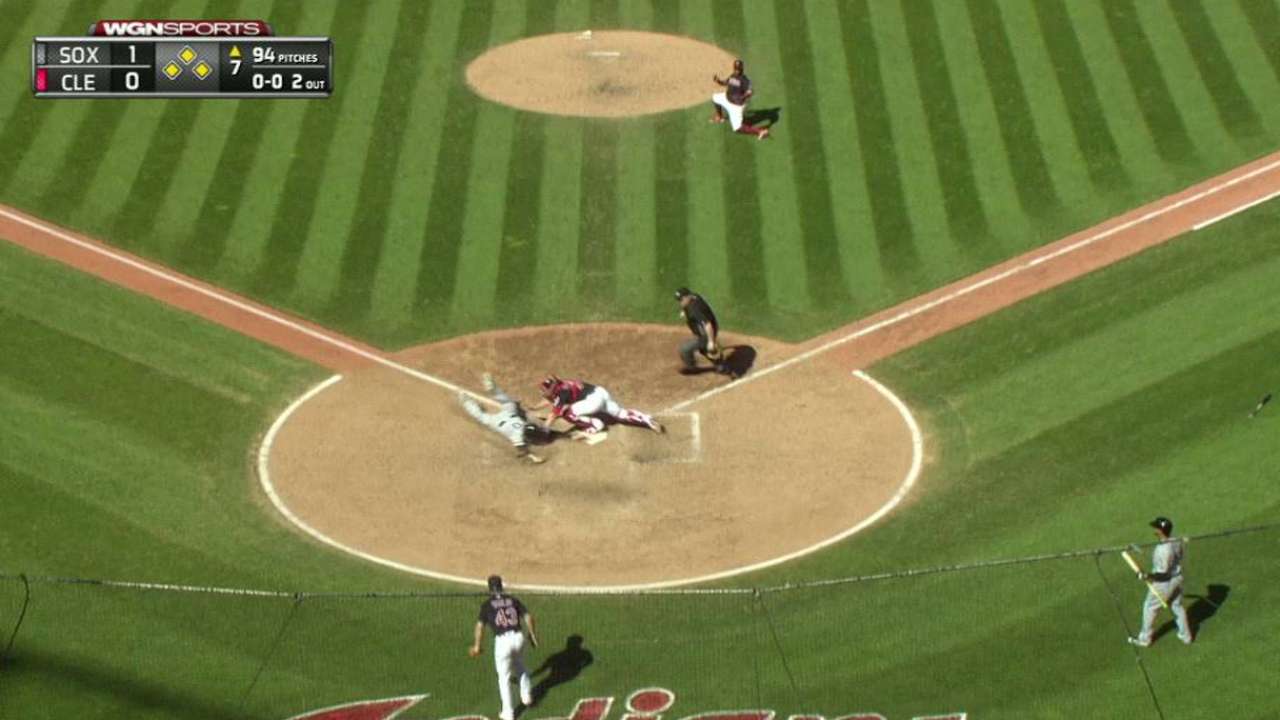 Guyer's grab: The sun toyed with the outfielders in center and right all game, but Brandon Guyer overcame the glare with a fantastic grab in right to end the sixth. On a deep fly by White Sox slugger Jose Abreu, Guyer drifted back and made an off-balance catch, slamming hard into the right-field wall. As Guyer got back on his feet, the Progressive Field crowd followed suit, giving him a rousing standing ovation.
"I thought it was a home run, to be honest with you," Tomlin said. "[Guyer] kept running. I know the sun was tough, listening to those guys out there today talking about, 'Hey, keep talking. It's tough to see.' He stuck with it, had no fear of the wall and made a great catch."
The great escape: Cleveland's first hit came in the fifth, when Guyer opened with a single to center. The Indians eventually put together a second-and-third, one-out situation, following a sacrifice bunt by Gimenez, but Rodon pitched out of the jam. Michael Martinez popped out to right and Davis struck out on three pitches, swinging through a 95-mph fastball to end the inning.
"That was outstanding. That's the best I've seen him," Ventura said. "Strike one was the biggest thing and it was with authority, it was placed well. After that, it just seems like he got better as the game moved along. A couple of guys get on and he turned it up in key situations. In the middle of the game, late in the game, he had it all." More >
QUOTABLE
"He's one of those guys you've got to get to early, kind of like a [Justin] Verlander, when he gets tougher as he goes further in the game and picks up some [velocity]. I mean, we just ran into a hot pitcher today. He was on his stuff. He pitched a great game." --Kipnis, on Rodon
"We'd rather do it here than have to fight and do it on the road, but we ran into a pretty good pitcher today. He had all of his stuff working and he pitched a pretty good game. Sometimes it's tough luck, and now we've got to get on the road and try to get the thing done. --Tomlin, on missing a chance to clinch the division
SOUND SMART WITH YOUR FRIENDS
Davis had eight putouts in center field on Sunday, marking the most in a game for a Cleveland center fielder since July 2, 2014 (Michael Brantley, eight). An Indians center fielder has had eight or more putouts in a game only 10 times, dating back to 2000.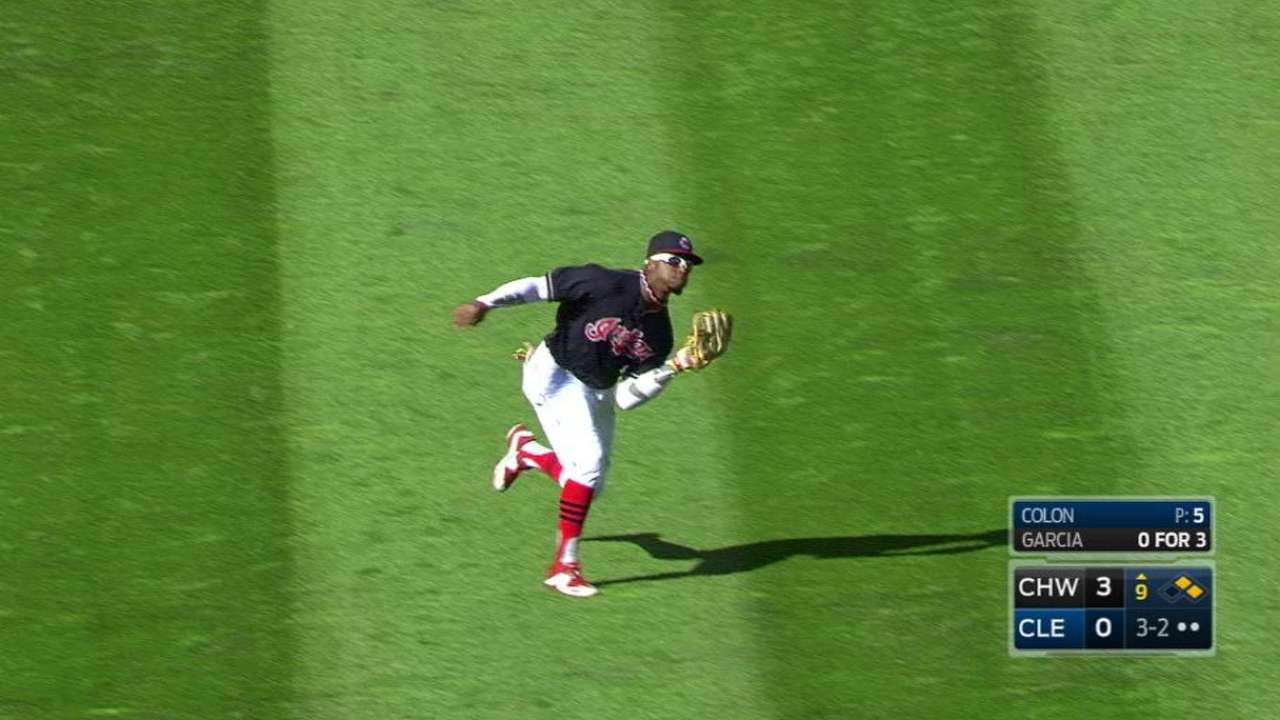 FRAZIER WITH THE WHEELS
Frazier's two stolen bases on Sunday raised his team-high total to 14. He scored both times that he picked up a stolen base, in the fifth and the ninth, accomplishing the feat by basically getting a running jump off of first.
"He's got that sneaky little stolen base thing where he sneaks off there," Ventura said. "He looks like a fan ran on the field. It works."
Frazier learned about stealing bases, including taking that walking lead, from Hall of Famer Joe Morgan during his time with the Reds.
"Basically, because the more you get your momentum going toward the base, I have one or two steps ahead of somebody," Frazier said. "We went over that a little bit. I started working on it in Triple-A and I'd get about 15 stolen bags a year. … Sometimes I'll get picked off, and you'll be like, 'What is he doing?' But I'll take five or six of those a year to get to second base and get two big runs there for us."
WHAT'S NEXT
White Sox: James Shields makes his 32nd start of the season and 21st as part of the White Sox as Chicago begins its final 2016 homestand with a 7:10 p.m. CT contest against the Rays on Monday. The right-hander has 18 losses overall and is 0-6 with a 9.46 ERA over his past 10 starts. Shields last won at home against the Cubs on July 26.
Indians: Ace Corey Kluber (18-9, 3.11 ERA) will continue his bid for a second career Cy Young Award in a 7:08 p.m. ET clash with the Tigers on Monday at Comerica Park. The right-hander is 10-1 with a 2.32 ERA in his past 14 starts and has gone 3-0 with a 1.88 ERA in three outings against Detroit this season.
Watch every out-of-market regular-season game live on MLB.TV.
Jordan Bastian has covered the Indians for MLB.com since 2011, and previously covered the Blue Jays from 2006-10.

Scott Merkin has covered the White Sox for MLB.com since 2003.

This story was not subject to the approval of Major League Baseball or its clubs.