After tough '15, Nats rejoice in Step 1 of ultimate goal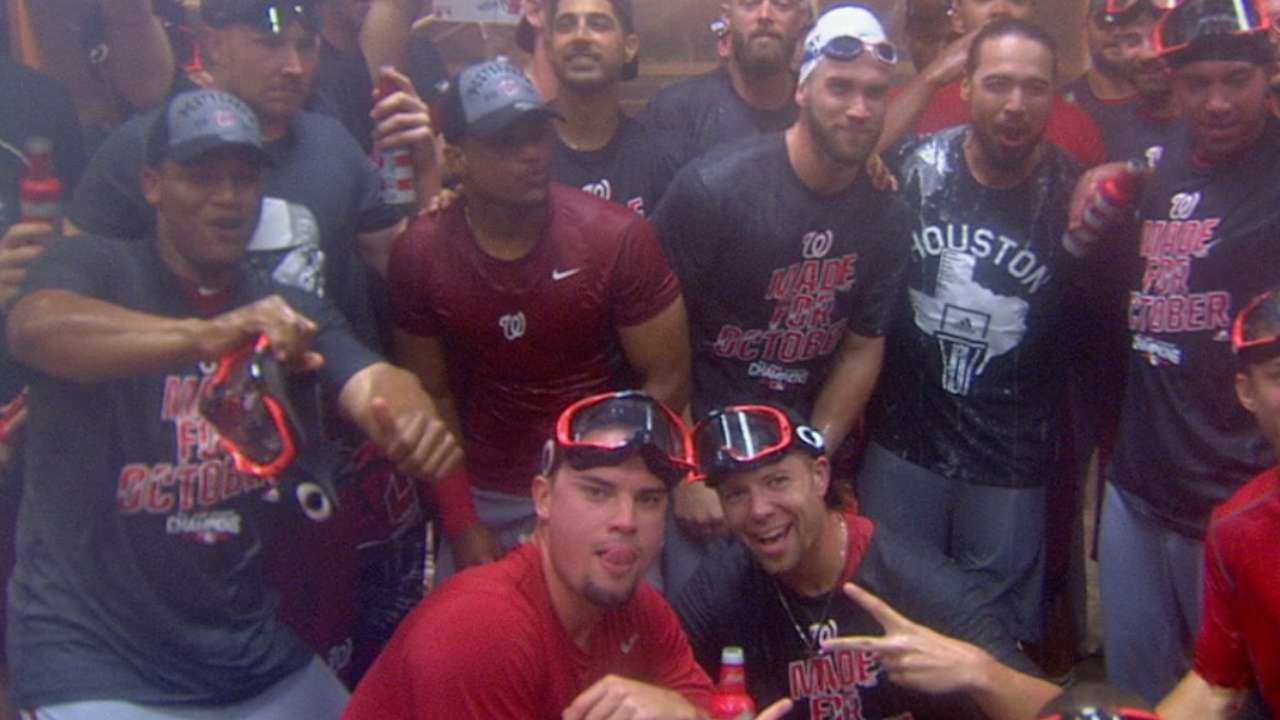 PITTSBURGH -- Max Scherzer left last season with a bitter taste in his mouth. After a season with World Series expectations ended in disappointment and not even a postseason berth, every member of the Nationals felt the same.
That feeling fueled these 2016 Nationals, who led the National League East for all but four days this season. And on Saturday night, they clinched the division championship for the third time in the last five seasons.
• Shop for official Nats postseason gear
"We were all [angry]," Scherzer said. "If you weren't, then you're not a ballplayer. It's just the way it is. I'm sure all the fans at home were [angry]. I was [angry]. Everybody was [angry], because we had a team that we knew was capable of winning, and of winning in the postseason, winning in October.
"I believe we have that team again. And I'm excited to go with these guys back there."
With a magic number of two, the Nationals needed a win and a Mets loss to secure the division Saturday night. They beat the Pirates, 6-1, at PNC Field, then retreated to the visitors' clubhouse to watch the final 23 minutes of the Mets' 10-8 loss to the Phillies.
"I don't know if I've ever rooted for the Phillies so hard," Daniel Murphy said.
Glad the cap is getting some good use @Bharper3407! Congrats Nats! https://t.co/YN0w0LV79P

— Katie Ledecky (@katieledecky) September 25, 2016
Once the final out was recorded, out came the goggles for the champagne showers as beer sprayed across the air. Bryce Harper wore a swim cap and goggles from Olympian Katie Ledecky. Scherzer smoked a cigar. And Dusty Baker, the veteran manager in his first year at the Nats' helm, embraced every player he could find as they poured champagne down his back.
"That's what I came here for," Baker said with a wide grin on his face. "This is what I expect and I think this is what these guys expected, too. From Spring Training, we talked about where we wanted to go, what we had to do, and they worked hard for it. And I mean this is something. I want these guys to enjoy it and just have a good time."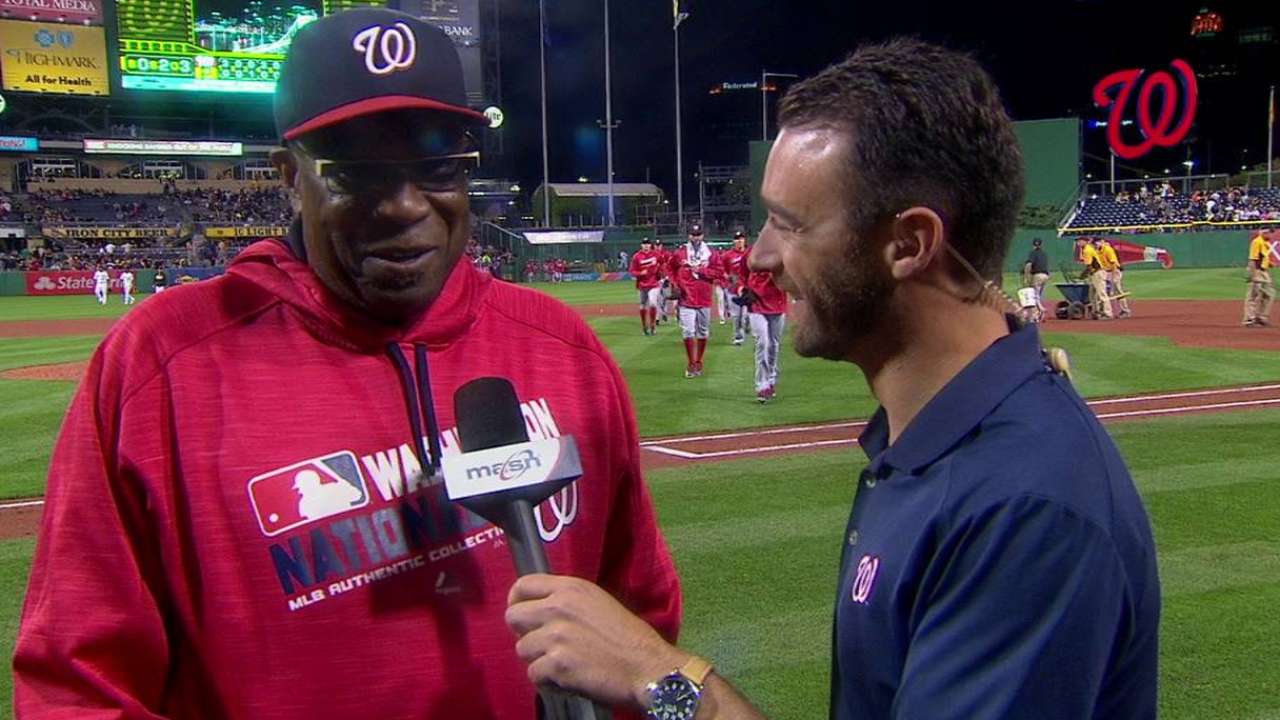 The Nationals will now play the winner of the NL West in the NL Division Series, which seems almost certain to be the Dodgers, who reduced their magic number to one Saturday night. Washington currently leads Los Angeles by 1 1/2 games for home-field advantage in the NLDS.
Washington spent 171 days in first place this season, including every day since May 13. The Nationals got here on their consistency, winning 16 games in April, May and June, with their longest winning streak (seven games from April 10-16) matching their longest losing streak (June 18-25).
They have a strong candidate for the NL Most Valuable Player in Murphy, an NL Cy Young Award candidate in Scherzer and an NL Rookie of the Year candidate in Trea Turner. Five players hit 20 home runs, Tanner Roark emerged as a frontline starter and Stephen Strasburg got off to the best start of his career.
N.L. East Champs baby!!! #Clinched

— Trea Turner (@treavturner) September 25, 2016
For much of the second half, this night has seemed like a fait accompli, but this division championship has always been a part of the journey for the Nationals. While they certainly enjoyed it Saturday night, they have aspirations of a World Series championship.
"It's a necessary step; this is step one," outfielder Jayson Werth said. "I think this is my eighth or ninth division title, and it never gets old. You relish these moments because you play all season for these moments.
"This is what you play for all year, this is what you get to Spring Training early for. This is why you train all offseason. This is what it's all about. You got to give yourself a chance; you got to get to the postseason. This is necessary. The guys that haven't done this, this means a lot to them. But this is just step one, so you got to keep it in perspective."
On Saturday night, the Nationals celebrated reaching their first goal in this long season.
"This one means a lot," Scherzer said. "Everyone means something personal to you. And this one is personal to me because of last year and how we didn't finish strong. That really stung the whole offseason. I hated that. I hated last offseason.
"So for us to be able to come out there and take care of business is huge. It's huge. Because this is the stuff that it takes to put yourself in a place to win the World Series. And that's the goal now: To win the World Series."
Jamal Collier covers the Nationals for MLB.com. Follow him on Twitter at @jamalcollier. This story was not subject to the approval of Major League Baseball or its clubs.