Kershaw flashes ace form in dominant outing
Dodgers lefty holds Rox to 3 hits over 7 shutout frames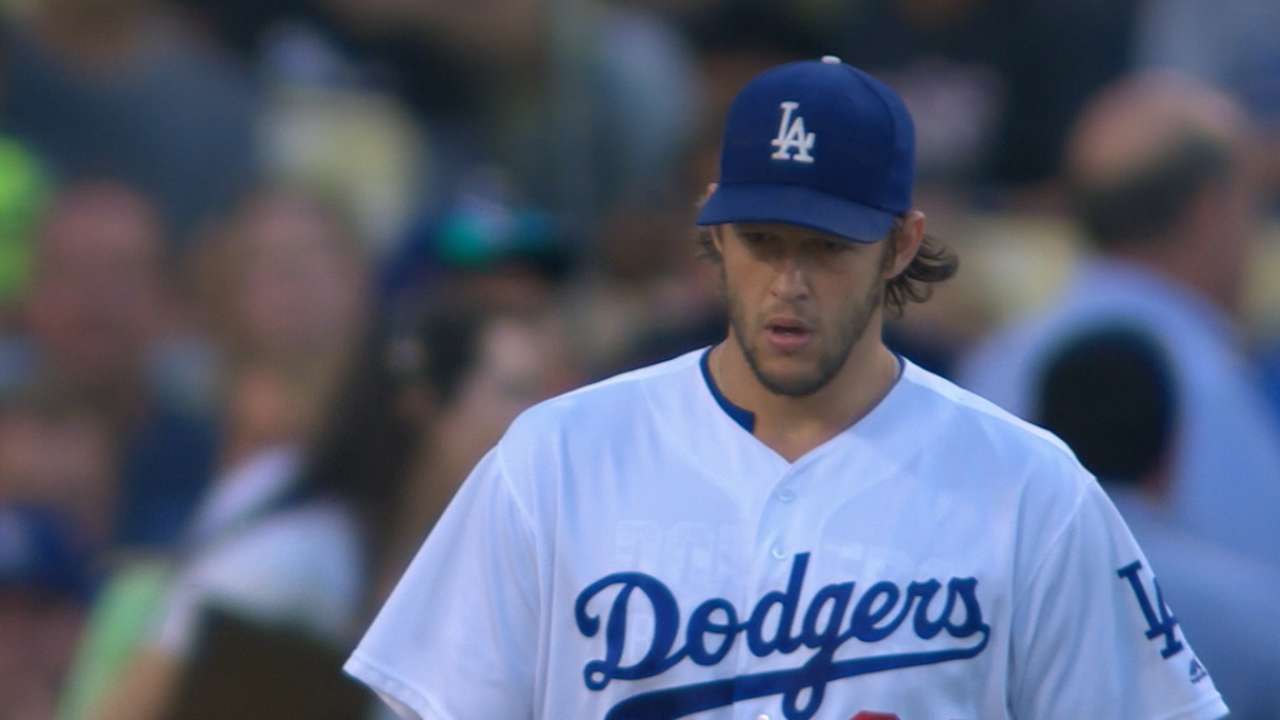 LOS ANGELES -- The Dodgers hoped they would get Clayton Kershaw back to pitching like he did in the first half, and the ace certainly looked more like his old self in Saturday's 14-1 win, striking out six and allowing three hits in seven scoreless innings.
He threw 91 pitches, the most he has in a game since his activation from the disabled list on Sept. 9, and is now on a 19-inning streak without allowing an earned run.
While manager Dave Roberts was hesitant to say Kershaw is physically 100 percent, he said the ace's mental focus could make up for any minor problem.
"There's a guy you obviously never want to bet against," Roberts said. "Physically, he's where he needs to be. Obviously, the velocity played tonight."
Kershaw's fastball averaged 93.4 mph and topped out at 96.1, according to Stacast, and he decided to experiment as the Dodgers held a big lead. With his team up, 8-0, in the seventh inning, Kershaw took the opportunity of a low-leverage situation and lowered his release point by more than a foot on a pair of pitches, the second coming in as his hardest pitch of the night, a punchout of Gerardo Parra to end the inning.
If a lefty playing around with his arm angle sounds familiar, it's because of who inspired Kershaw to try it.
"Rich Hill inspired me, so I just decided to drop down on a couple in there at the end," Kershaw said. "Who knows, maybe I give it a shot."
Kershaw seemed most happy about how long he lasted. The Dodgers pulled him after the seventh inning with the game well in hand, but Kershaw thought he could have gone longer.
He still lasted seven innings, a mark he sees a large amount of significance in.
"Seven is definitely the low benchmark of what you want to do as a starting pitcher," Kershaw said. "Seven, you feel like there's only two innings to cover and seven's the minimum goal in my head for what I want to try to do. Tonight, with the game the way it was, I obviously understand coming out of the game in that situation. Hopefully I'll get one more, get the pitch count up there, and be ready to go."
Roberts said before Saturday's game that Kershaw was likely to start one of the Dodgers first two games in the team's final series at San Francisco next weekend.
Jack Baer is a reporter for MLB.com based in Los Angeles. This story was not subject to the approval of Major League Baseball or its clubs.