Bullpen shows signs of wear against Angels
Houston surrenders 9 runs in final 2 innings after solid start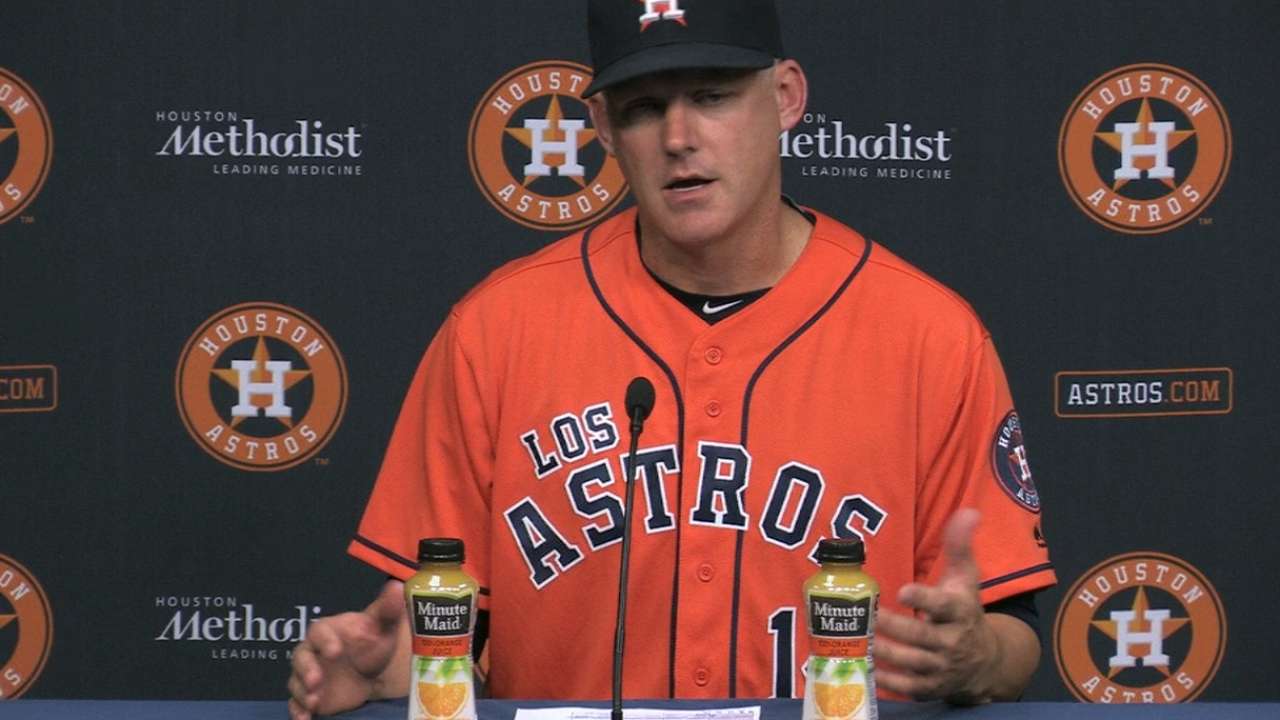 HOUSTON -- Astros manager A.J. Hinch said the game played out exactly like he hoped it would. Starter Brad Peacock gave the Astros five solid innings to get the ball to Chris Devenski, who's been about as dominant as any relief pitcher in the American League.
But for the second night in a row, a bullpen that has endured an increased workload -- with a pitching rotation that's without two of its best arms in Dallas Keuchel and Lance McCullers -- had a late meltdown in Saturday night's 10-4 loss to the Angels at Minute Maid Park.
Devenski, who hadn't allowed a run in 11 outings, gave up three runs in the seventh to allow the Angels to tie the game, and Luke Gregerson allowed the go-ahead run when Mike Trout scored on a sac fly just after advancing to third on a wild pitch. It got worse from there. The Angels tacked on five more runs in the ninth.
"It's tough," Devenski said. "I'm going to keep it short: I didn't go out there and do my job. We didn't pull off the 'W' but there's always tomorrow."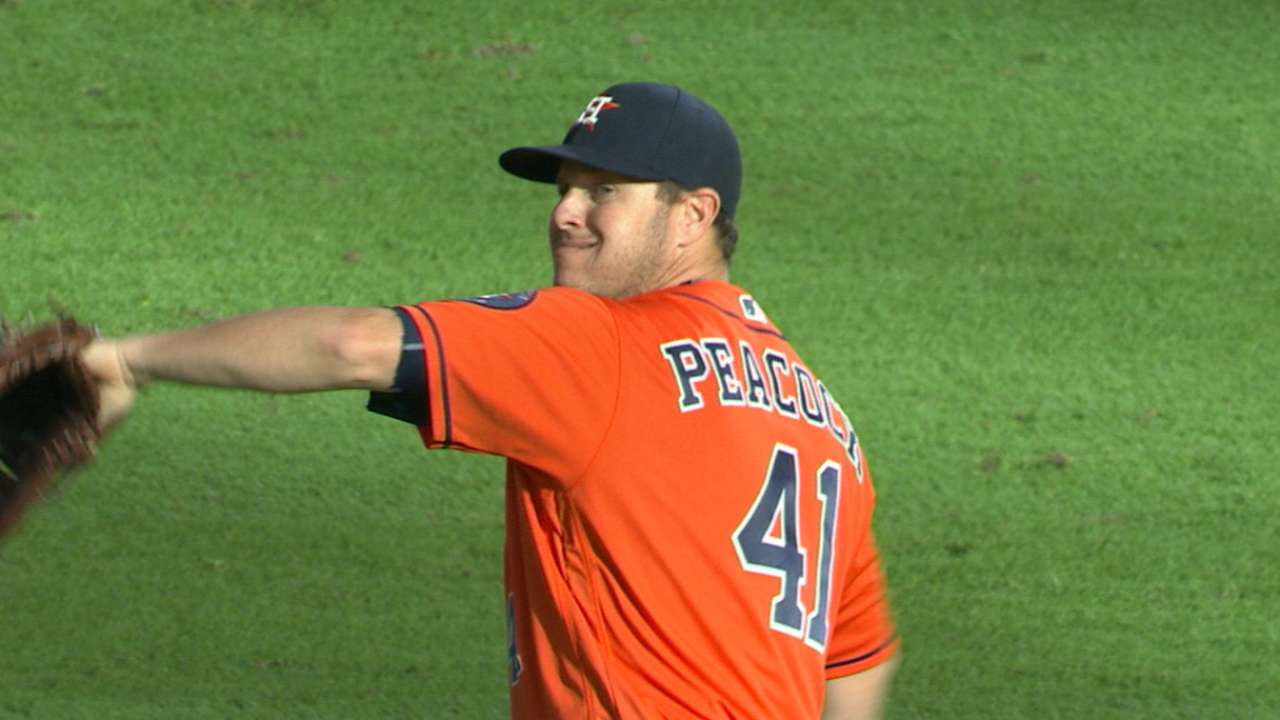 The Astros, who have lost the first three games of the series to the Angels, are running out of tomorrows. The loss dropped the Astros three games behind the Orioles for the second Wild Card spot with only seven remaining, including Sunday's series finale. Houston also trails the Tigers by two games and the Mariners by a half-game.
The Astros bullpen, which has thrown more innings than any other in the AL in September, allowed 17 runs in the eighth and ninth innings combined on Friday and Saturday. That's as many earned runs as the 'pen had allowed in the previous 18 games (72 2/3 innings).
"This is a good bullpen," Astros manager A.J. Hinch said. "They've carried us for most of this month and certainly not the last couple of nights. They've had tough days at work. I certainly stand behind these guys. They've done everything we've asked.
"They've pitched in a ton of games, they've been up [in the bullpen] when they haven't pitched. They're getting beat up a little bit with some timely hits and some good approaches and some well-placed hits, a few too many hitters' counts, and we look up and we have some really big innings, and that's very uncharacteristic for this bullpen. There's no other way to explain it because it's a pretty good bullpen that's given up a lot of runs the last couple of nights."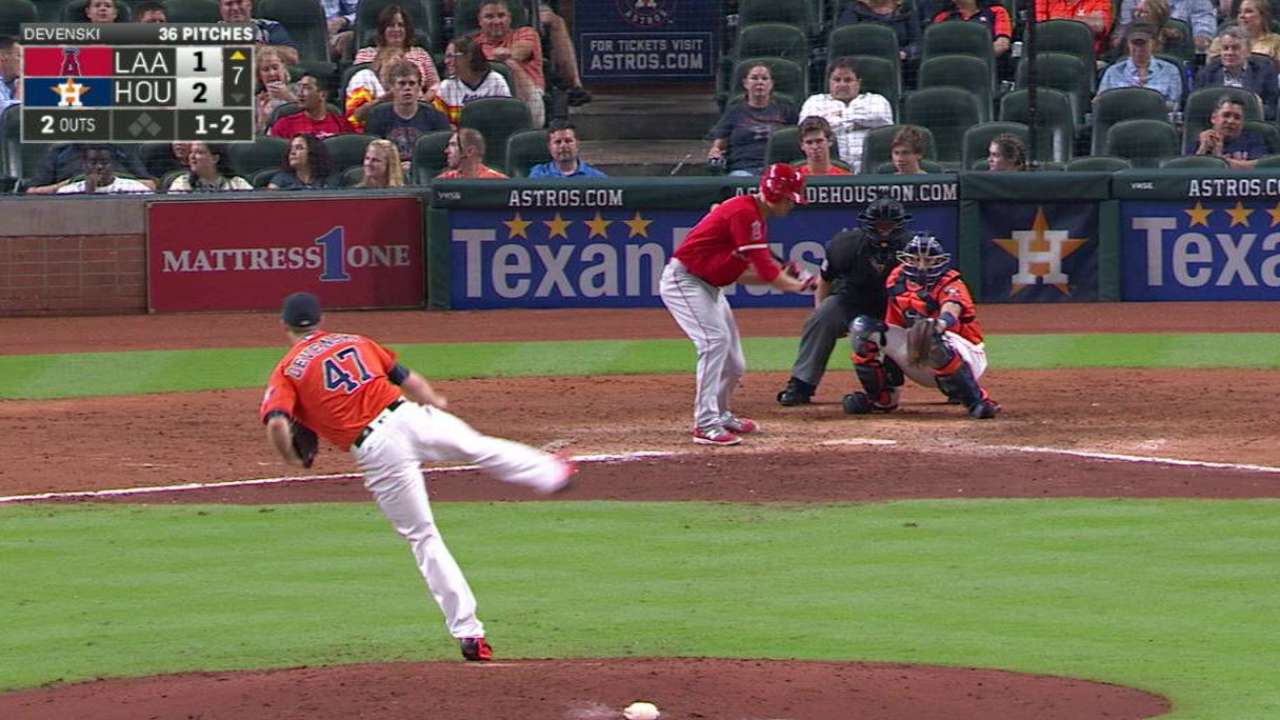 Devenski followed Peacock with a scoreless sixth before striking out the side in the seventh, reaching 96 mph. He got an out to start the eighth before giving up three consecutive singles, including an infield hit on a play that was overturned at first. Gregerson came in and allowed two more hits and a wild pitch before C.J. Cron's go-ahead sac fly.
"None of those were exceptionally well hit, with the exception of you have to put the bat on the ball," Hinch said. "And they did a good job of battling against our 'pen. From that point forward, everything we did got turned upside down and they completely dominated the last two innings."
Brian McTaggart has covered the Astros since 2004, and for MLB.com since 2009. Follow @brianmctaggart on Twitter and listen to his podcast. This story was not subject to the approval of Major League Baseball or its clubs.