As Nats clinch, young Bucs gain key experience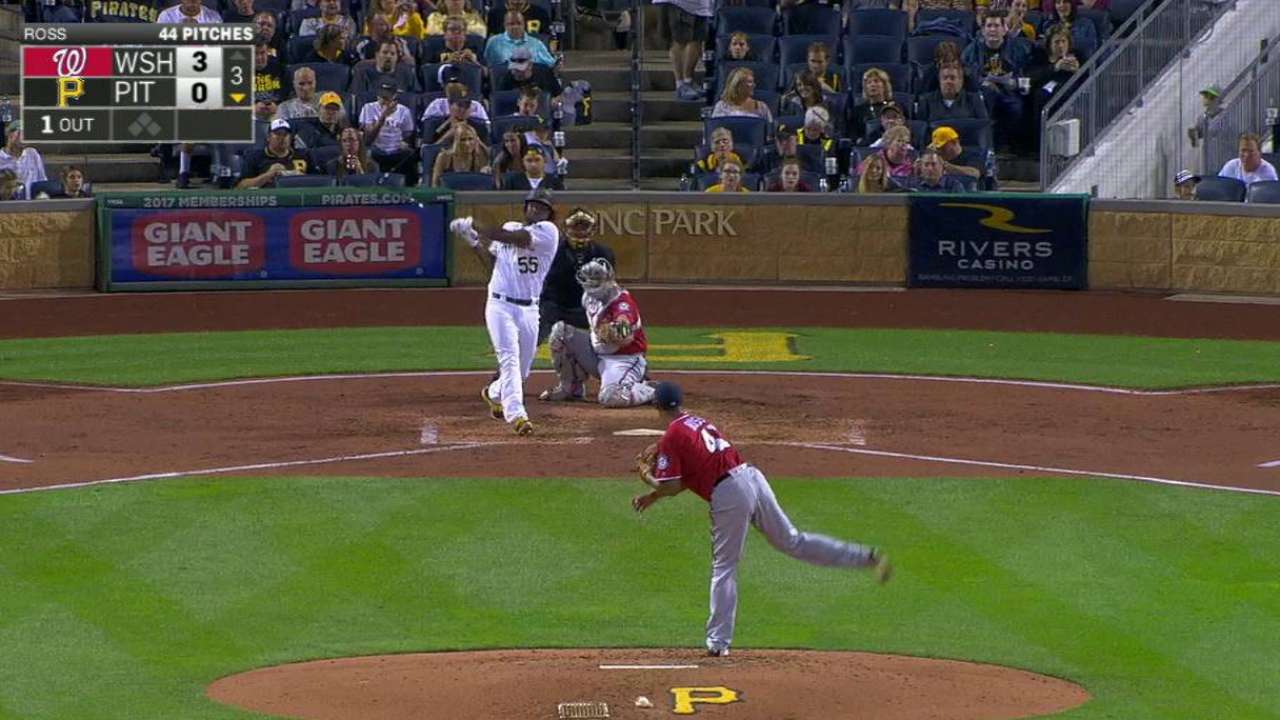 PITTSBURGH -- The last three years, the Pirates reported to work on Sept. 24 with a spot in the postseason secured. They clinched on Sept. 23, 2013, did so again on Sept. 23, 2014, and once more on Sept. 23, 2015.
This year, the Pirates showed up on Sept. 24 and watched another team clinch a division title. The Bucs lost to the Nationals, 6-1, at PNC Park on Saturday night, and a few minutes later the Nats began celebrating their third National League East title in the last five years.
The Pirates hope their young players will be better off for the experience gained on nights like this. The Bucs have introduced a number of rookies into significant roles throughout the season, and many of them are expected to play a part in the Pirates' future.
The Bucs are still competing for a postseason spot, though their already slim odds take a big hit after each loss with only eight games remaining. They're also lining up against contenders, with three straight series against the Nats, Cubs and Cardinals to end the season.
"I do believe it has been a very good opportunity for us to enhance our growth and get these guys, not just in one lane, but kind of an HOV lane moving into next year," manager Clint Hurdle said.
On Saturday night, the Pirates started a pair of rookies: right fielder Josh Bell and second baseman Adam Frazier. Bell launched a moonshot into the right-field seats in the third inning, Pittsburgh's only offensive highlight of the night.
The switch-hitting slugger will be a regular next season, either playing first base or the outfield or perhaps splitting time between the two. Frazier could take over as the club's super utility man off the bench. While the Bucs have been holding out hope for the present, they've also provided a glimpse of their future.
"There has been a focus change," Hurdle said, "with the volume of where we are, doing everything we can to compete now and obviously using the players we have here, being forward-focused on what we can help them accomplish here that's going to help them moving forward to next year, that's going to help us."
Rookie starters Jameson Taillon, Tyler Glasnow, Chad Kuhl, Steven Brault and Trevor Williams have also been asked to contribute in various roles this season, some more challenging than others. They will continue to pitch over the season's final week. What can they absorb from this stretch-run experience?
"Just trying to take advantage of every opportunity we have on the diamond. For us rookies, it's going to lay that foundation for every chance we get in the future," Bell said. "Personally, my first taste in the big leagues, it's an awesome scenario to be thrown into."
But a year from now, on Sept. 24, 2017, the young Pirates would rather be getting a taste of the club's recent past, celebrating a postseason spot of their own.
"Nothing like experience, and meaningful experience," Hurdle said. "We've gotten to experience a lot different things as a club. There's been some good ups. There's been some hard downs."
Adam Berry has covered the Pirates for MLB.com since 2015. Follow him on Twitter and Facebook, read his blog and listen to his podcast. This story was not subject to the approval of Major League Baseball or its clubs.