Pujols passes Bonds on all-time doubles list
Slugger collects 602nd two-base hit; one behind Ripken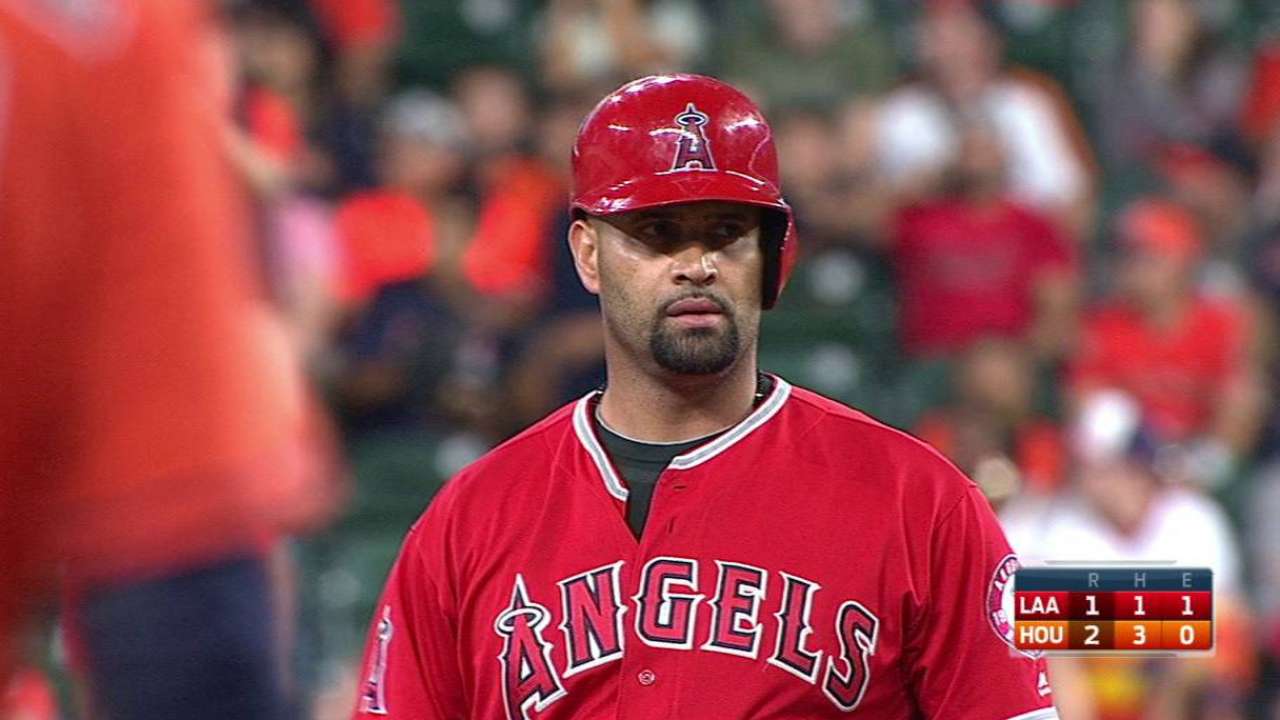 HOUSTON -- When you've had as long and prolific a career as Albert Pujols, you're bound to pass some big names in the record books. The 36-year-old slugger passed another one in Saturday's 10-4 win over the Astros at Minute Maid Park.
With his RBI double in the fourth, which went a Statcast-projected 104.8 mph off Brad Peacock's 93.3 mph fastball, Pujols passed Barry Bonds on the all-time doubles list with 602 for 15th-most in Major League history.
"Every time Albert does something," manager Mike Scioscia said, "whether he knocks a run in or hits an extra-base hit or a home run, it's fun to see just what the footnote is and who he's passing."
Pujols is one double away from tying Hall of Famer Cal Ripken Jr. for 14th on the list.
"The names are legendary every time he does something now," Scioscia said. "It's fun to watch."
Saturday's game just added to the incredible legacy of one of baseball's all-time greats. The 10-time All-Star and two-time World Series champion is batting .270 with 158 hits, 19 doubles and 31 homers in his 16th season.
He's only two RBIs away from amassing 120 for the seventh time in his career. Only four other players -- Alex Rodriguez, Jimmie Foxx, Lou Gehrig and Babe Ruth -- have notched 100 RBIs in 13 seasons along with Pujols.
He also continued to solidify himself as one of the all-time Astros killers. With two hits and two RBIs Saturday, he has the fifth-most hits (266) and sixth-most RBIs (145) against the Astros.
"What an unbelievable career," Angels center fielder Mike Trout said. "We're lucky to have him in our clubhouse, on our team. What he brings to the park every day. He plays with such heart and goes out there every day banged up, and he still produces."
Jordan Ray is a reporter for MLB.com based in Houston. This story was not subject to the approval of Major League Baseball or its clubs.