Villar puts stronghold on stolen base crown
Brewers infielder steals 59th bag during Saturday's loss to Reds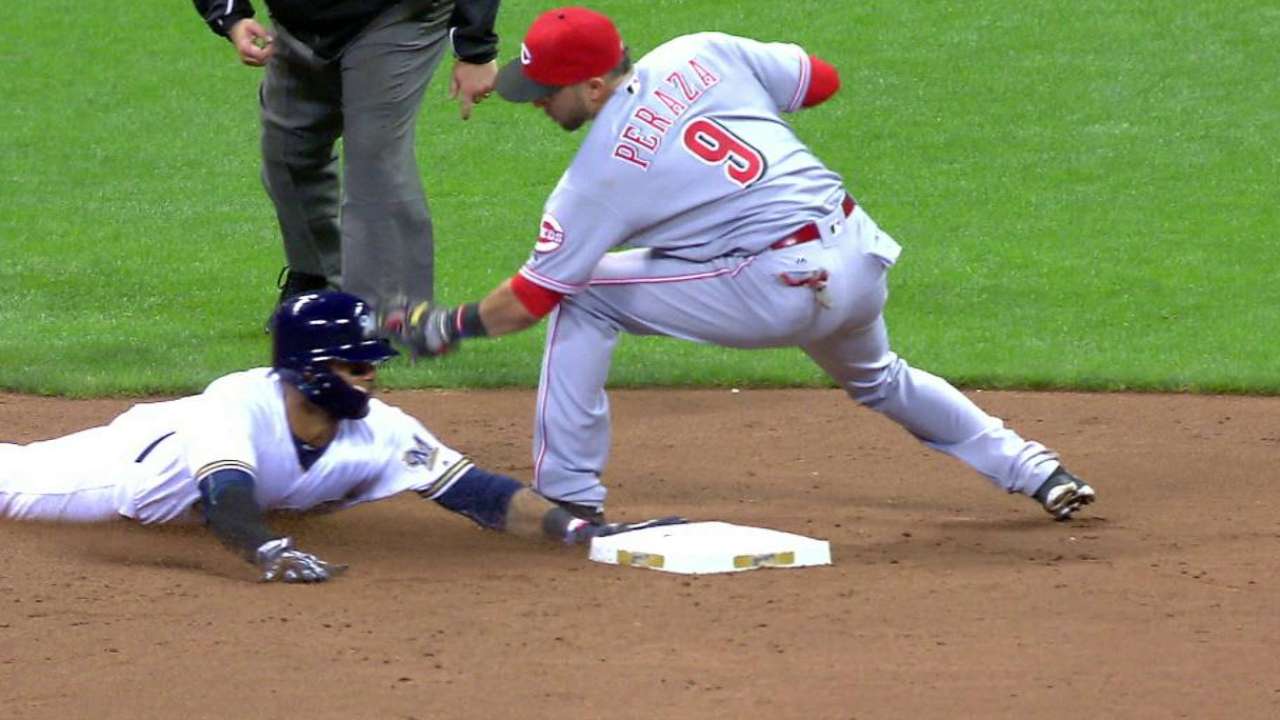 MILWAUKEE -- This is not exactly the way Jonathan Villar wanted to lead the Major Leagues in stolen bases, stuck in a late-season slump and with his top two competitors stopped in their tracks by injuries.
The Brewers infielder swiped second base in the third inning of Saturday's loss to the Reds for his 59th stolen base, tops in the Majors. It snapped a tie with the Reds' Billy Hamilton, who is sidelined for the rest of the season by an oblique strain. The Pirates' Starling Marte is third with 47 steals, but his comeback from a two-week absence for back spasms was cut short after two innings on Thursday in a game against the Brewers at Miller Park.
Since the Indians' Rajai Davis is next on the leaderboard with 41, Villar has effectively clinched the 2016 stolen base title. He will be the first Brewers player to lead the Majors in that category since Scott Podsednik swiped 70 bags in 2004. Tommy Harper is the only other player in franchise history to lead the Majors in steals; swiping 73 in 1969 for the Seattle Pilots.
"I'd like to see them healthy, because it's better to have competition," Villar said.
He has another goal in mind. Villar has made no secret that he wants to reach 60 steals this season.
"That would be pretty good," Villar said with a smile.
A few more hits would help his cause. Including his 0-for-3 on Saturday, Villar is 1-for-15 on the Brewers' homestand entering Sunday's Miller Park finale and is 3-for-44 (.068) in his last 14 games. He has walked 10 times in those games, though, allowing Villar to compile six steals in that span.
Brewers manager Craig Counsell attributed Villar's skid to the 25-year-old's unprecedented workload. Of Villar's 1,304 Major League plate appearances, 646 have come this season.
"What Jonathan is going through for me is what a couple of our guys are going through," Counsell said. "It's just the grind of a Major League season where they are playing a lot of baseball games, and they are guys who play every day. From my perspective, they need to go through it."
As a team, the Brewers lead the Major Leagues this season by a wide margin with 173 stolen bases. The Indians are next with 130.
If they continue at their current pace, the Brewers will finish with 180 stolen bases. In the past 100 seasons, 60 teams have swiped that many, most recently the 2009 Rays. In the Wild Card era (since 1995), only eight teams have stolen 180 bases.
"I'm not looking at the number of stolen bases we have," Counsell said. "I'm looking at, are we taking advantage of the opportunities we get to run? Secondly, are we making an impact on the pitcher even when we're not stealing bases? That, to me, has been just as important as the actual number of stolen bases."
Adam McCalvy has covered the Brewers for MLB.com since 2001. Follow him on Twitter @AdamMcCalvy, like him on Facebook and listen to his podcast. This story was not subject to the approval of Major League Baseball or its clubs.