Red Sox guaranteed at least Wild Card berth
Boston, with sights still on division crown, make playoffs for first time since 2013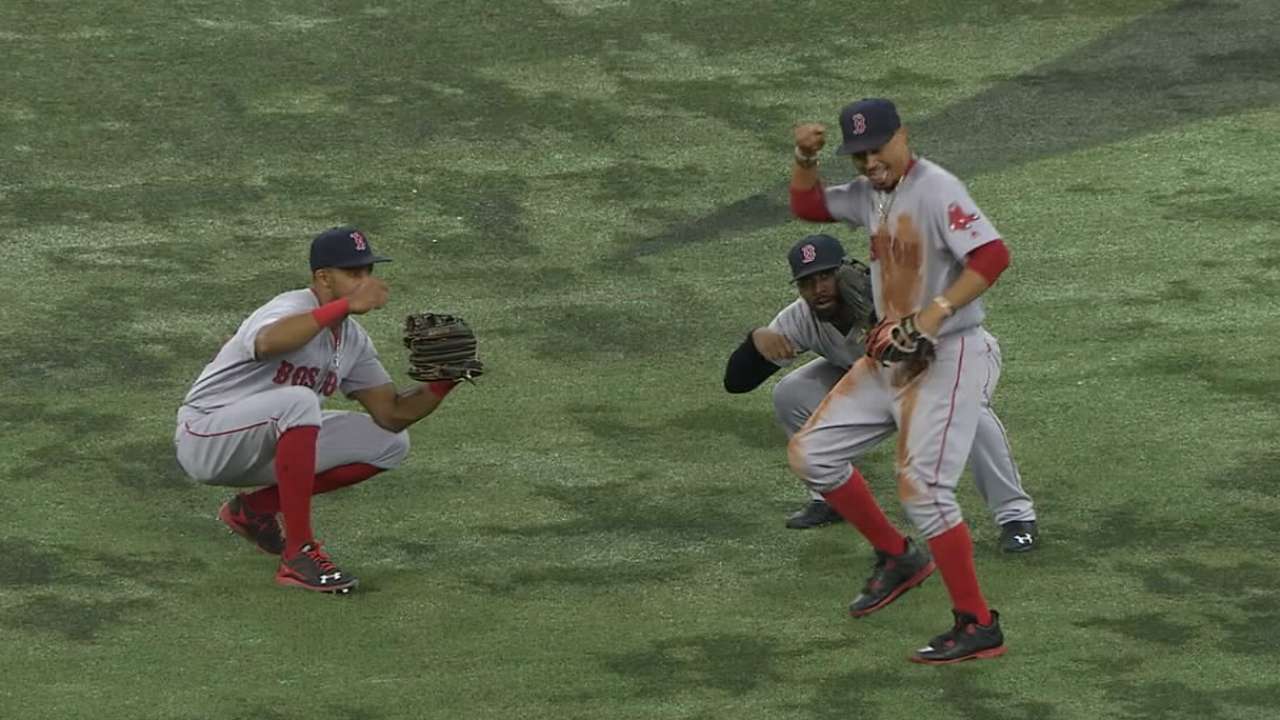 ST. PETERSBURG -- Dustin Pedroia's dramatic seventh-inning grand slam pushed the Red Sox into the postseason and extended their winning streak to 10 -- the longest for Boston since April 2009. That is certainly good news, but there's still something bigger in the Sox's sights as they continue to close on in the American League East championship.
So the fact that the team clinched wasn't played up in the clubhouse on Saturday after their 6-4 win over Tampa Bay -- plenty of people didn't even seem to know, since the magic number is still at one.
"It's obviously big. It's the position we wanted to be in coming into this last week in September," winning pitcher Rick Porcello said. "We definitely want the division, so we're going for it."
"I haven't heard," manager John Farrell said, before repeating himself. "We're here tomorrow, playing again."
In a scenario in which the Red Sox lost every game the rest of the season and either Toronto tied or passed them, or the Orioles won every remaining game and tied them, Boston would still play in the AL Wild Card game on Oct. 4.
Any combination of a Red Sox win or an Orioles loss would move the magic number to clinch the playoffs to zero, but technically that no longer matters.
The magic number for Boston to clinch the AL East is at three following its win and the Blue Jays' victory over the Yankees on Saturday afternoon. The Red Sox remain one game behind the Rangers for the best record in the AL, which would guarantee home-field advantage through the World Series.
That is effectively a two-game lead, though, since the Rangers own the tiebreaker over the Red Sox. The season series between the two teams is tied 3-3, and the Rangers have a better record against the AL West (47-28) than Boston does against the AL East (41-28). That could change, though. The Red Sox have won 10 straight games, all against AL East teams.
There was no loud music blasting in the Boston clubhouse. There were players just getting dressed into street clothes or relaxing on the couches, watching college football. It wasn't the celebration scene of a team that's playoff-bound. But that's because business was still left for Boston.
Sam Blum is a reporter for MLB.com based in St. Petersburg. This story was not subject to the approval of Major League Baseball or its clubs.