Arenado hopes to get Vin's signature on 40-HR bat
'I can put that bat away as one of the best memories I've had,' Rockies 3B says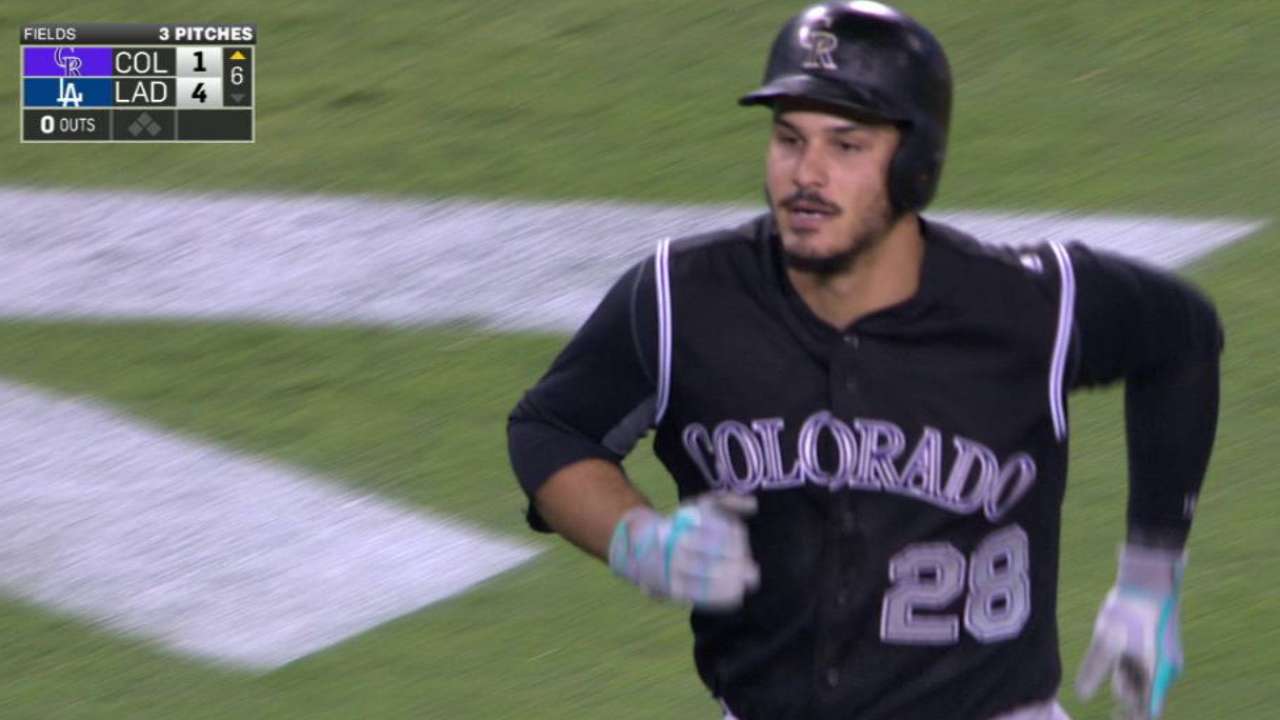 LOS ANGELES -- The Rockies' Nolan Arenado put his game preparation aside Friday night and absorbed the ceremony for Dodgers broadcaster Vin Scully, whom he watched and listened to while growing up in Southern California. Then Arenado sent Scully the gift of his power, hoping Scully will send him a signature.
And in the sixth inning, when Arenado hit his 40th homer of the season to put his name in historic category, Scully was still on his mind.
"Right when I hit it," Arenado said. "When I touched first base, I was, 'Man, I can't believe I hit my 40th homer.' And when I touched home plate, I was like, 'Vin Scully Day … I hit it on Vin Scully Day.' It was pretty cool.
"I sent my bat I hit the 40th homer with up to him. Hopefully, he can sign it. Hopefully, he has time. I know people are asking a lot of him. I thought I'd ask. It's a beautiful day. Hopefully, I can put that bat away as one of the best memories I've had."
Courtesy of Rockies radio broadcaster Jerry Schemmel, here is the bat, which was waiting for Scully in his spot in the Vin Scully Press Box:
Nolan Arenado hit homer number 40 last night with this bat. He brought it up to the booth to have Vin Scully sign pic.twitter.com/IUti7q05MR

— Jerry Schemmel (@jschemmel6) September 24, 2016
"I've got a couple pictures with him, but I try not to bother him too much with those things," Arenado said. "I've gotten to talk to him about the game. This year is his last year so I guarantee he's getting bombarded. I don't want to ask too much but I thought that bat would be pretty cool."
Arenado, who tied the Nationals' Bryce Harper for the National League lead with 42 homers last season, became the third third baseman in history accomplish 40 homers in consecutive seasons before age 26. Eddie Matthews did it three times (1951-53) and Troy Glaus accomplished it twice (2000-01).
Arenado is the fourth Rockies player with multiple 40-homer seasons, joining Andres Galarraga (1996-97), Vinny Castilla (1996-98) and Todd Helton (2000-01). Arenado entered Saturday's game against the Dodgers leading the Majors with 129 RBIs, and has joined Albert Pujols (2001-02) as the only players in the last 75 years with 125 or more RBIs in consecutive seasons.
Arenado is pushing for a strong finish even though the Dodgers are headed for the postseason while the Rockies know their season will end.
"I'm having fun," he said. "It's hard. This time of year is hard. The body's almost breaking down in a way. It's hard when you're out of it and the motivation is sometimes tough, but you've got to find something to motivate yourself. My motivation is to play for my teammates and stop those teams from celebrating in front of us."
Thomas Harding has covered the Rockies since 2000, and for MLB.com since 2002. Follow him on Twitter @harding_at_mlb, listen to podcasts and like his Facebook page.
This story was not subject to the approval of Major League Baseball or its clubs.