Statcast of the Day: Cruz's mammoth blast
Mariners slugger's 493-foot homer is MLB's second longest of season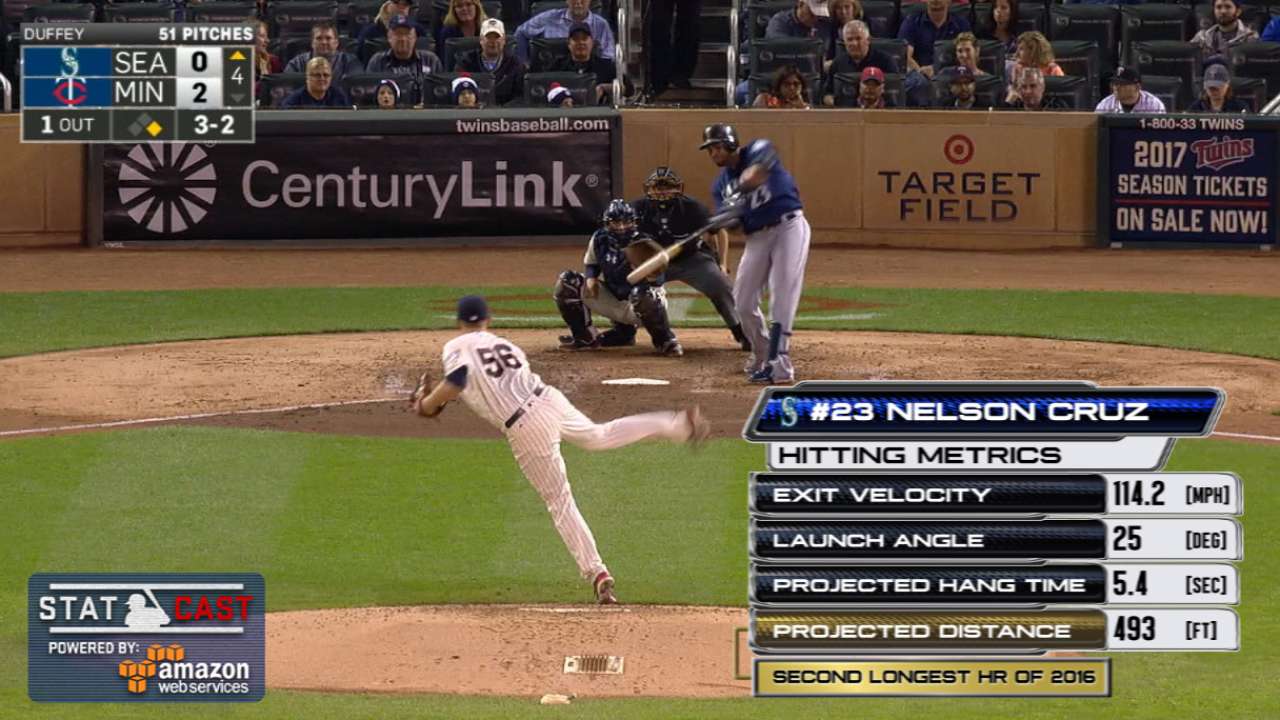 MINNEAPOLIS -- Nelson Cruz seems to be warming up for the stretch run, judging by his latest home run -- the second-longest blast in the Major Leagues this season, according to Statcast™ projections.
Cruz launched a two-run shot a projected 493 feet into the upper deck at Target Field in the fourth inning of the Mariners' 3-2 loss to the Twins. The blast, off Twins right-hander Tyler Duffey, tied the game at 2. The only longer home run measured by Statcast™ this season was a 504-footer by Marlins slugger Giancarlo Stanton off the Rockies' Chad Bettis on Aug. 6 at Coors Field.
It was the third-longest measured home run since Statcast™ was introduced last year, behind Stanton and Kris Bryant of the Cubs (495 feet) and tied with Michael Taylor of the Nationals (also 493).
Stanton and Taylor's blasts both came at Coors Field, so it was the second-farthest hit outside of Denver's altitude.
"It was a good swing," Cruz said. "I squared it up pretty good. But we play to win, you know? It doesn't do anything if you don't get what you came into today for. That was tough."
Cruz flexed his muscles the night before as well when he unloaded a 454-foot homer over the batter's eye in straightaway center field. That stood as his second-longest measured home run of the season -- having hit a 459-footer against the Orioles on July 2 at Safeco Field.
But he topped all of those with Saturday's shot when he unloaded on a 92-mph fastball on a 3-2 count. Statcast™ listed the exit velocity at 114 mph, which is the hardest-hit ball at Target Field this year and the third-hardest hit ball recorded by Cruz in the past two years.
"That's about as far as you can hit it in this park," said Mariners manager Scott Servais. "He absolutely killed it."
Duffey knew he made a mistake, leaving a pitch up and over the plate to the big man.
"It was 3-2. I was just going to throw a sinker," Duffey said. "I threw the heck out of it. But he hit it. That's why he is who he is and has almost 40 home runs. I tried to sneak a fastball by him but it didn't work out."
Cruz now has 39 home runs and 98 RBIs on the season and is on the verge of joining Ken Griffey Jr. (five times), Alex Rodriguez (three) and Jay Buhner (three) as the only Mariners ever to hit 40 homers with 100 RBIs in the same season. He's also one shy of his third straight 40-plus homer season.
The Mariners designated hitter seems to thrive at Target Field, where he now has seven career home runs, all in his last nine games. He's hit .425 (17-for-40) with four doubles and 14 RBIs in that span.
Greg Johns has covered the Mariners since 1997, and for MLB.com since 2011. Follow him on Twitter @GregJohnsMLB and listen to his podcast. This story was not subject to the approval of Major League Baseball or its clubs.