Solarte has emotional return to Padres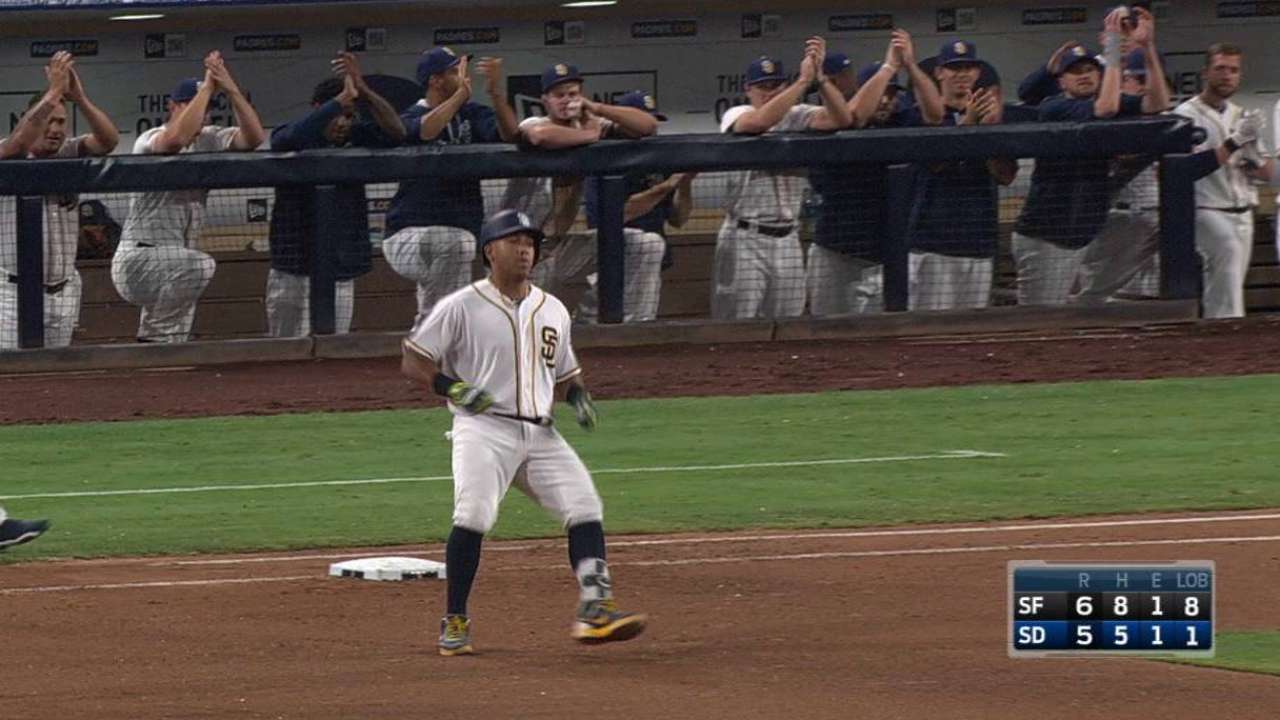 SAN DIEGO -- Padres third baseman Yangervis Solarte is back with the team after missing about a week when his wife, Yuliett Pimentel Solarte, passed away due to complications from her fight with cancer.
Padres manager Andy Green called on him off the bench in the seventh inning of the Padres' 9-6 loss to the Giants, and the 29-year-old infielder came through with a single after a warm reception from the Petco Park crowd.
"So happy he got a hit," Green said after the game. "... I thought about leaving him out there and continuing to let him play, because obviously we'd like his bat to stay in the lineup, but at some point in time the guy's had such an emotional toll that you just let him savor that sweet moment, with all he's been through the last week."
As Solarte stepped to the plate, San Francisco catcher Buster Posey offered his condolences.
"He just said, 'Really sorry for your loss.' Just [told me to] stay strong," Solarte said through a team interpreter. "I said, 'Thank you,' and tried to breathe to try to control my emotions there.
"Really grateful and really thankful for all the fan support. Thinking about it, and she's up there. It's hard to describe my emotions in that moment, but ultimately, just 'thank you.'"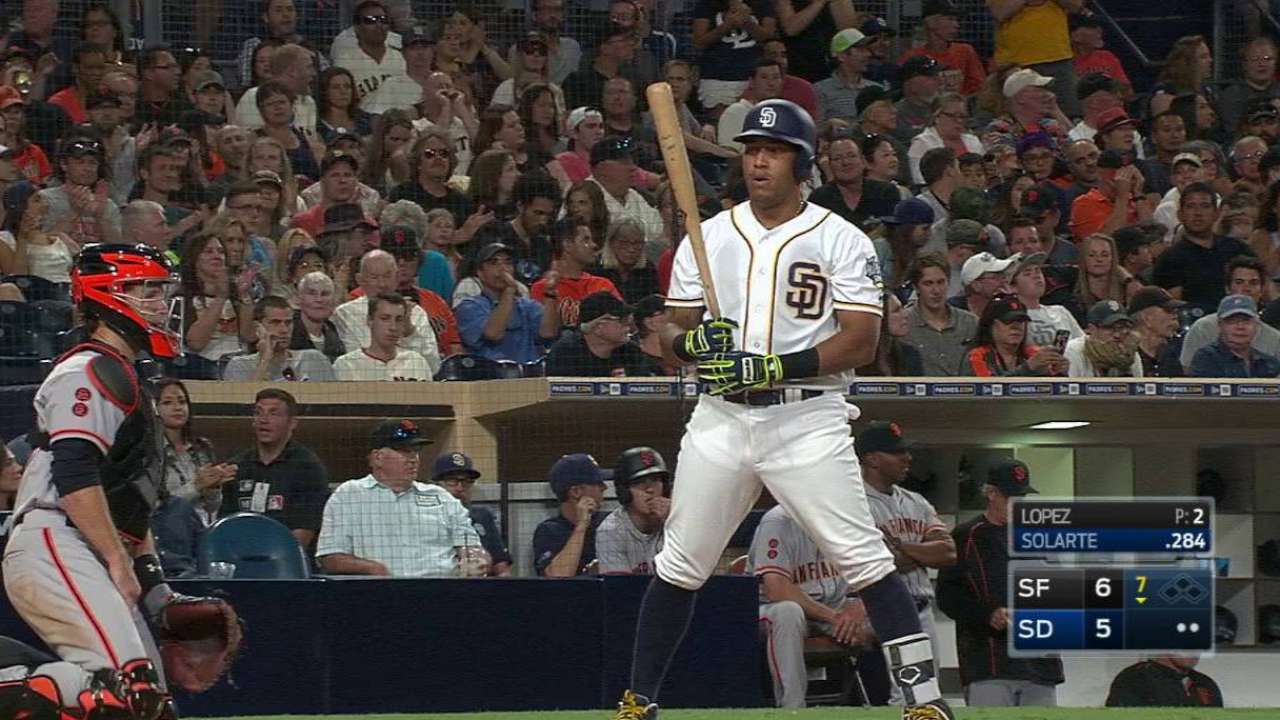 Before the game Solarte talked about how he was glad to be back in the clubhouse.
"I don't really have enough words to thank the organization for what they've done," Solarte said. "I'm really grateful for everything they've done, the owners, the support from everyone. ... When I saw some of the guys at the services down in Miami, I was really surprised. I think my wife would have liked to see that and I think she's happy in the sky, looking down and knowing that happened.
"Definitely [feels like a family], especially now. I have my family here, I have my girls here, my mom, my family. It feels a little different, and she's gone now, but at the end of the day those things are out of our control. Those things are up to God and that was his decision. We fought. We were hoping that she'd be around for a little bit longer, but here we are."
Green said he expects Solarte to get regular playing time to finish out the season. He will be back in the starting lineup for Sunday's finale vs. the Giants.
"It's good to see him. ... He's part of our family, so we're thrilled to have him back," Green said before Saturday's game. "He'll be back in the lineup tomorrow. He's up for it and ready to go."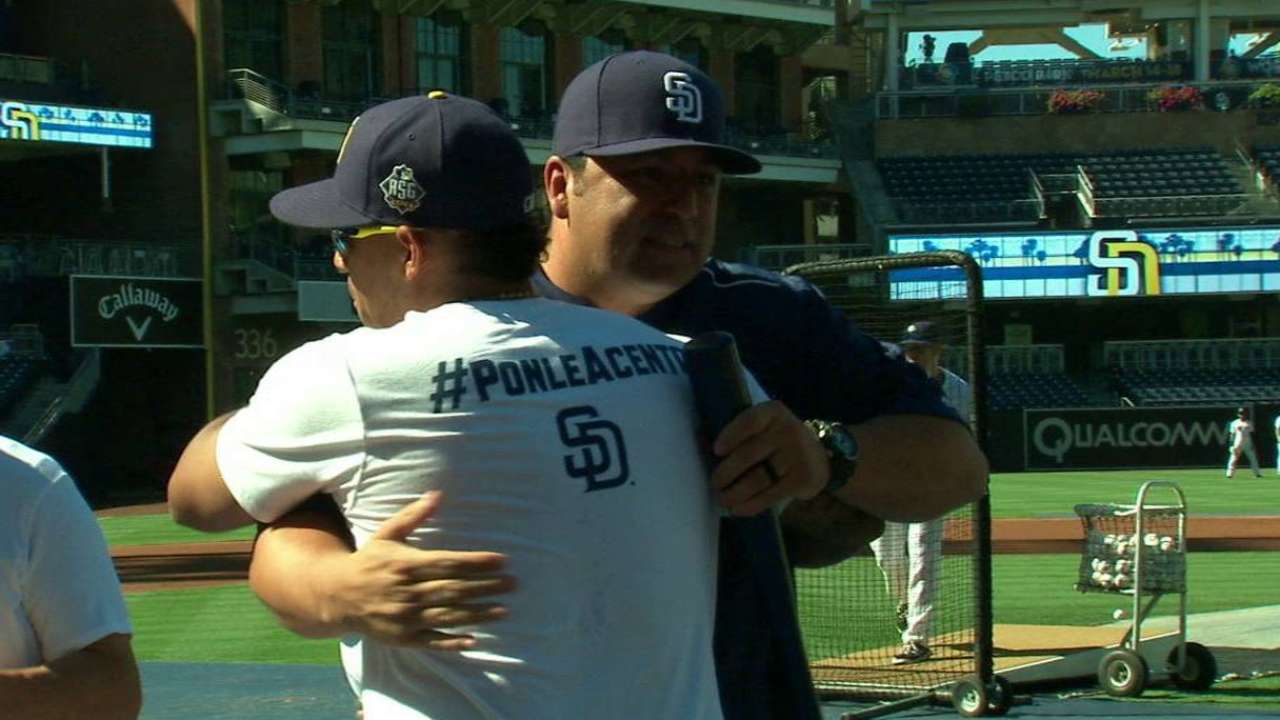 Green said Solarte wanted to be back in the lineup right away, but the skipper felt he should get his feet back under him first after being away from baseball-related activities for a while.
While Solarte surely wants to finish the last bit of the regular season strong, being back on the field is about more than how well he plays during the team's final eight games.
"From the beginning of the season my wife had always pushed me and hadn't wanted her illness to get in the way of things," Solarte said. "She always wanted me to play. I need to remember I have three daughters, and she was always reminding me of that, telling me to think of them. To think of her."
Carlos Collazo is an associate reporter for MLB.com. Follow him on Twitter @CarlosACollazo. This story was not subject to the approval of Major League Baseball or its clubs.