Great Britain moves to qualifier final vs. Israel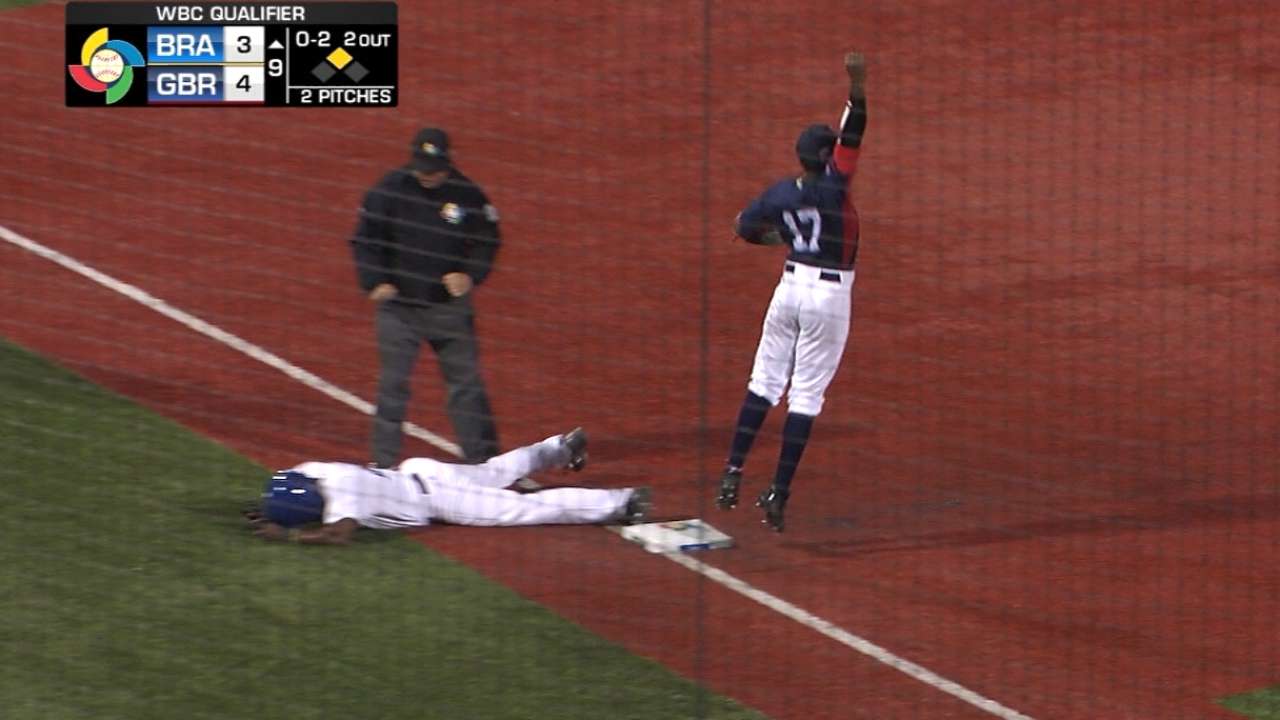 NEW YORK -- Great Britain defeated Brazil, 4-3, in a semifinal of the World Baseball Classic qualifier at MCU Park in Brooklyn on Saturday night, earning a berth in Sunday's final against Israel.
Sunday's 6 p.m. ET game will be streamed live on WorldBaseballClassic.com.
The winner will claim a spot in the 16-team field for the 2017 World Baseball Classic next March and will compete in Pool B in Seoul against host South Korea, the Netherlands and Chinese Taipei.
World Baseball Classic coverage
Great Britain's win ended with catcher Chris Berset throwing out Brazil designated hitter Juan Carlos Muniz, who represented the potential tying run, attempting to steal third base. Muniz had doubled with two outs in the top of the ninth inning.
"I think it surprised just about everyone in the ballpark," Brazil manager Barry Larkin said. "I think maybe there was some anxiety and some angst, and he was trying to be super aggressive. There are certain things you see in this game and you think, 'Wow, I don't know if I've ever seen that,' and I don't think I've ever seen that right there.
"Muniz came up with a big hit, he was certainly excited out there, and I believe in that situation he couldn't control his emotions and had a mental lapse."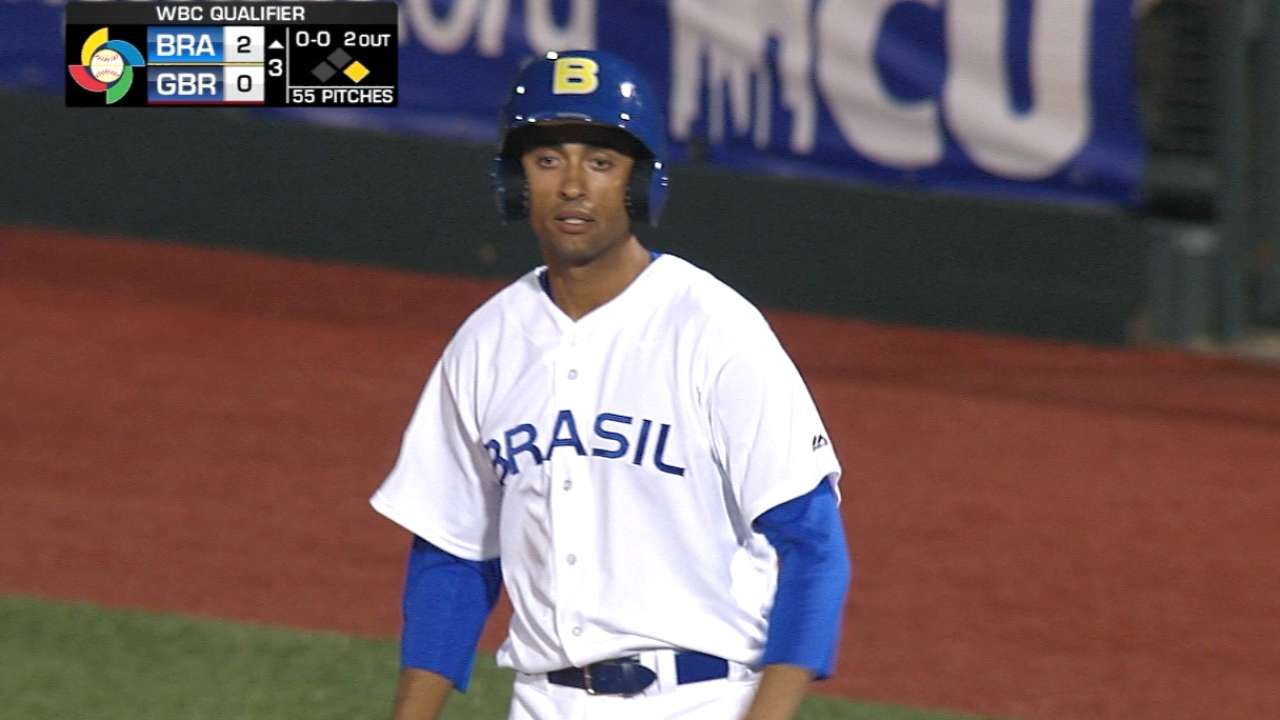 Great Britain manager Liam Carroll was stunned as well.
"There is that old cardinal rule of not making the first or third out at third base, so I was surprised," Carroll said. "But Berset played an outstanding game. For him to be mentally sharp as well as to throw it on the money is a testament to how much work Chris puts in on a daily basis."
Great Britain scored three runs in an eventful bottom of the third inning, which featured two hit batters, a balk, a dropped pop fly ruled a double and an error by Brazil shortstop Leonardo Reginatto.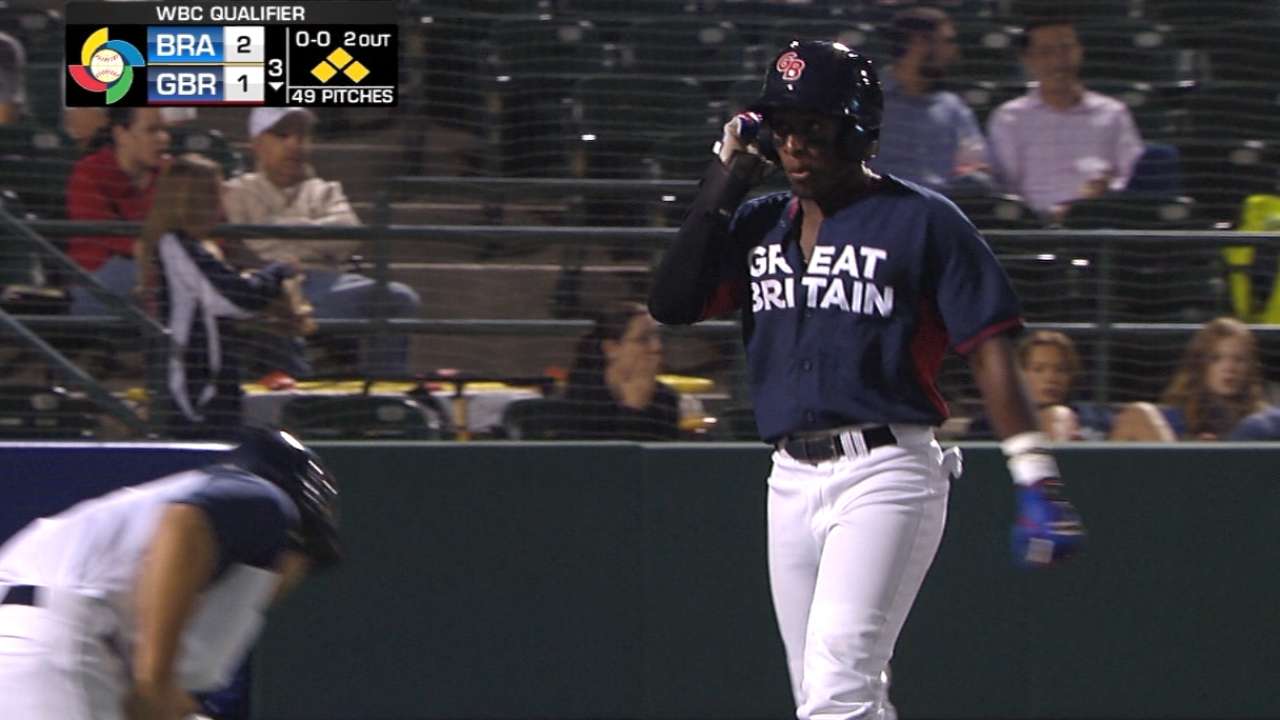 Brazil pitcher Andre Rienzo had been one pitch away from getting out of a bases-loaded jam in the bottom of the third before hitting Todd Isaacs to score Great Britain's first run of the game. The British would go on to score two more runs to take a 3-2 lead and added what proved to be the game-winner in the bottom of the seventh on No. 9 hitter Kyle Simmons' RBI single.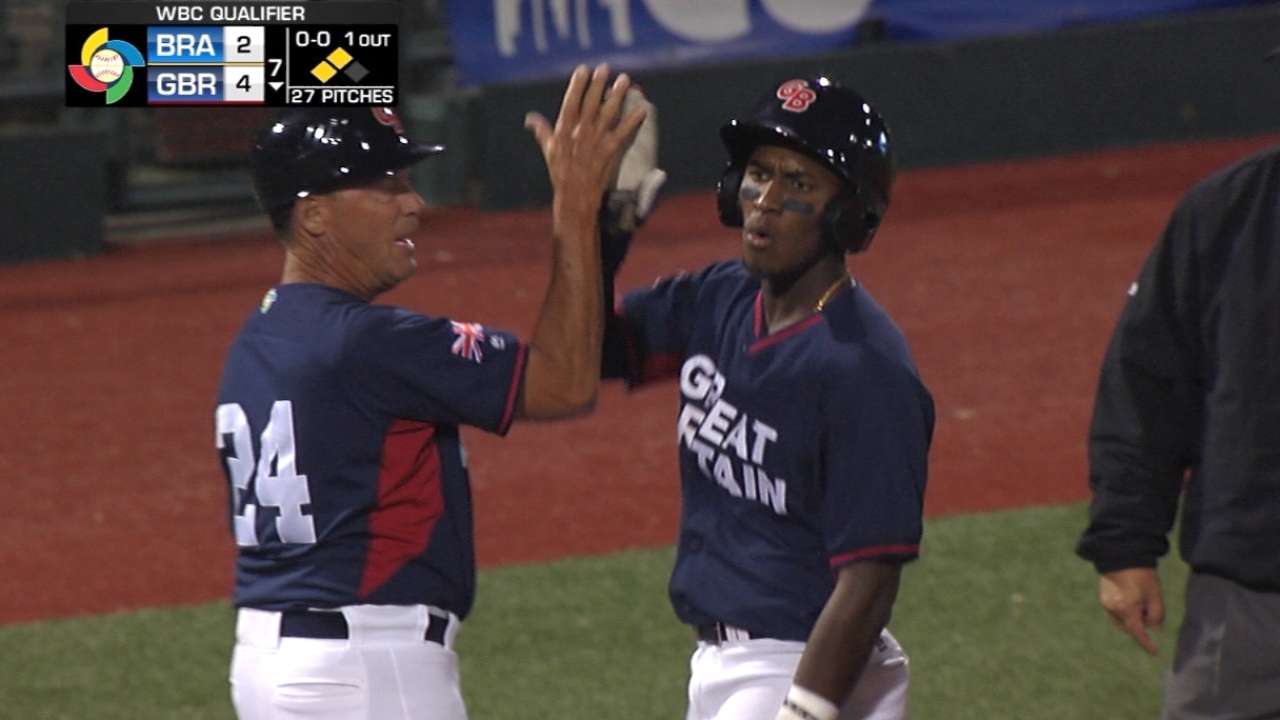 Great Britain pitcher Chris Reed came on in relief of Blake Taylor and went 4 2/3 innings, giving up seven hits and one run and striking out five to earn the win. Reed pitched out of a bases-loaded jam in the top of the eighth, striking out Brazil center fielder Gabriel Maciel and pinch-hitter Bo Bichette, son of former Colorado Rockies slugger Dante Bichette, to maintain the British lead.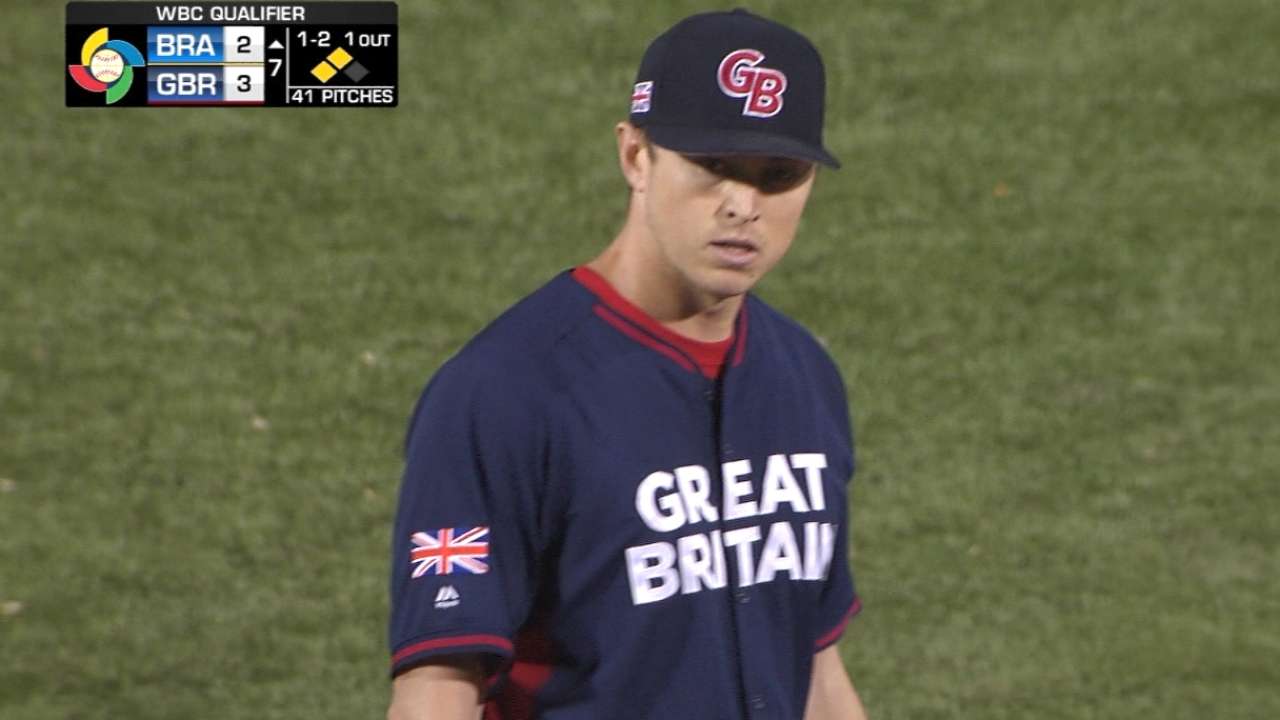 Great Britain will start right-hander Spencer Kreisberg on Sunday against MLB veteran right-hander Jason Marquis of Israel and a roster that includes eight other former Major Leaguers.
Carroll's club has 11 members who played on MLB-affiliated teams this season, including Berset and pitchers Reed and Michael Roth, who played at the Triple-A level this season.
Longtime Padres closer Trevor Hoffman, who ranks second in MLB history with 601 career saves, is Great Britain's pitching coach.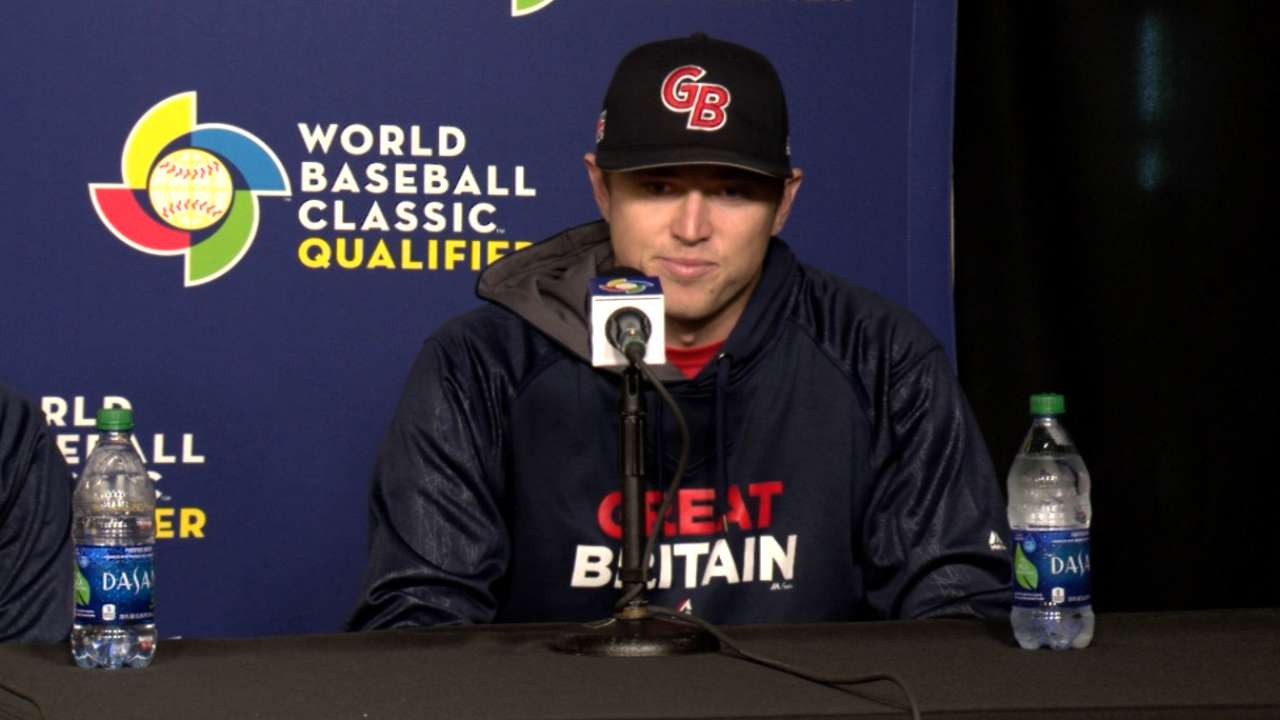 Carroll enters Sunday's game feeling confident.
"Where our guys are at is incredible," Carroll said. "We will enjoy tonight and get busy preparing for tomorrow. I can't wait to see these guys come out and continue doing what they've been doing such a good job at, which is playing for their team."
Great Britain lost its first game of the six-game qualifier on Thursday, 5-2, to Israel, then followed up with a 14-0 win over Pakistan on Friday.
Israel reached the qualifier final by beating Great Britain, then defeating Brazil in a 1-0 nail-biter on Friday afternoon.
Lindsay Berra is a national columnist for MLB.com. This story was not subject to the approval of Major League Baseball or its clubs.