Young Mets keep battling with spirited rally
Down 10-0, New York brings potential winning run to plate in 9th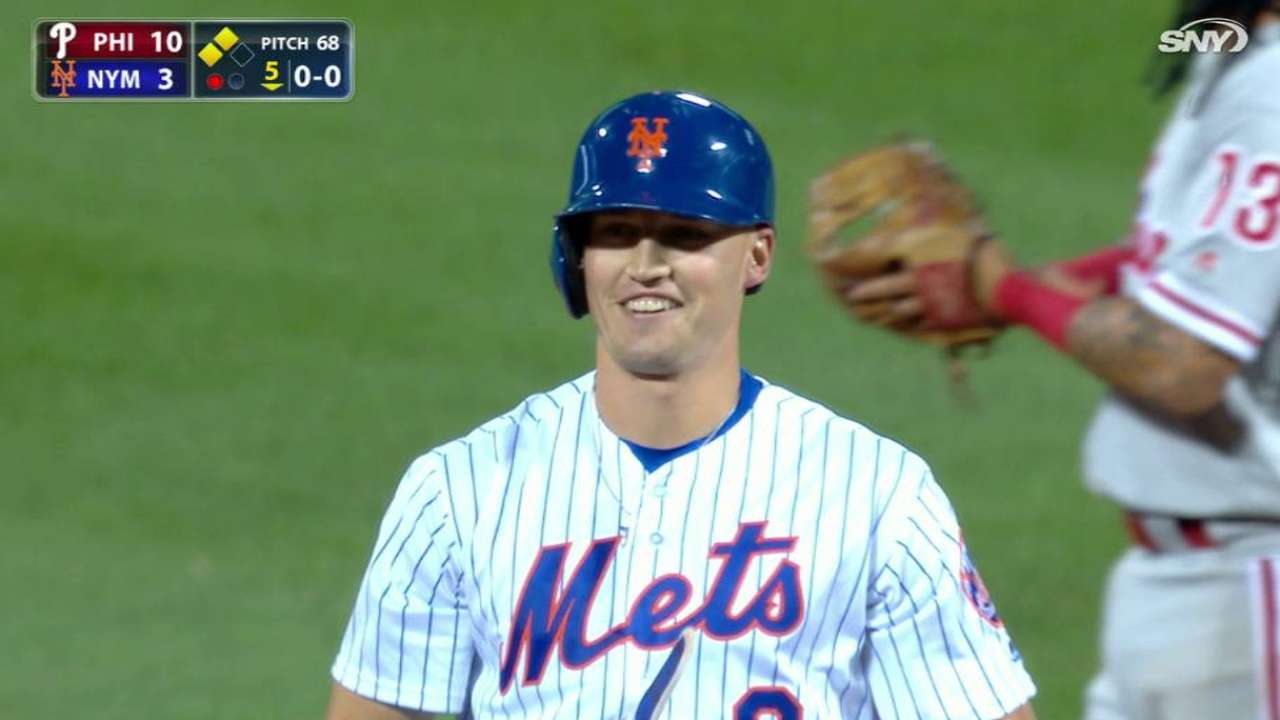 NEW YORK -- For months now, the Mets have patched their rotation with spare parts and bubble gum. And it's worked. New York has played large swaths of the season's second half without Matt Harvey, Jacob deGrom and Steven Matz, vaulting back into the postseason race because young pitchers Seth Lugo and Robert Gsellman have been better than expected.
When the Mets learned that Noah Syndergaard would not be able to pitch on Saturday due to a case of strep throat, they simply sighed, nodded and prepared to cobble together another nine innings -- fresh off using a franchise-record 16 pitchers in their previous two games. It finally caught up to them; the Phillies blasted spot starter Sean Gilmartin for five runs and Rafael Montero for another five in a 10-8 loss at Citi Field, thrusting the Mets into a hole so deep that even one of their most spirited rallies of the season could not save them.
But that didn't stop the Mets from trying in a two-run loss that could have been so much worse. When manager Terry Collins walked into Citi Field's press conference room late Saturday for his daily debriefing, he sat down and simply laughed.
"If you came to the game, you got entertained," he said.
Perhaps this one was a long time coming. Since Aug. 20, the Mets have constructed the NL's best record, despite playing much of it without three of their top four starting pitchers. They are 12-5 in games started by Lugo, Gsellman, Montero and Gabriel Ynoa, four pitchers they never anticipated using in the throes of a pennant race. They've done as well as they reasonably could have expected had all their starters been healthy, so they could hardly complain when the Phillies held on for the win.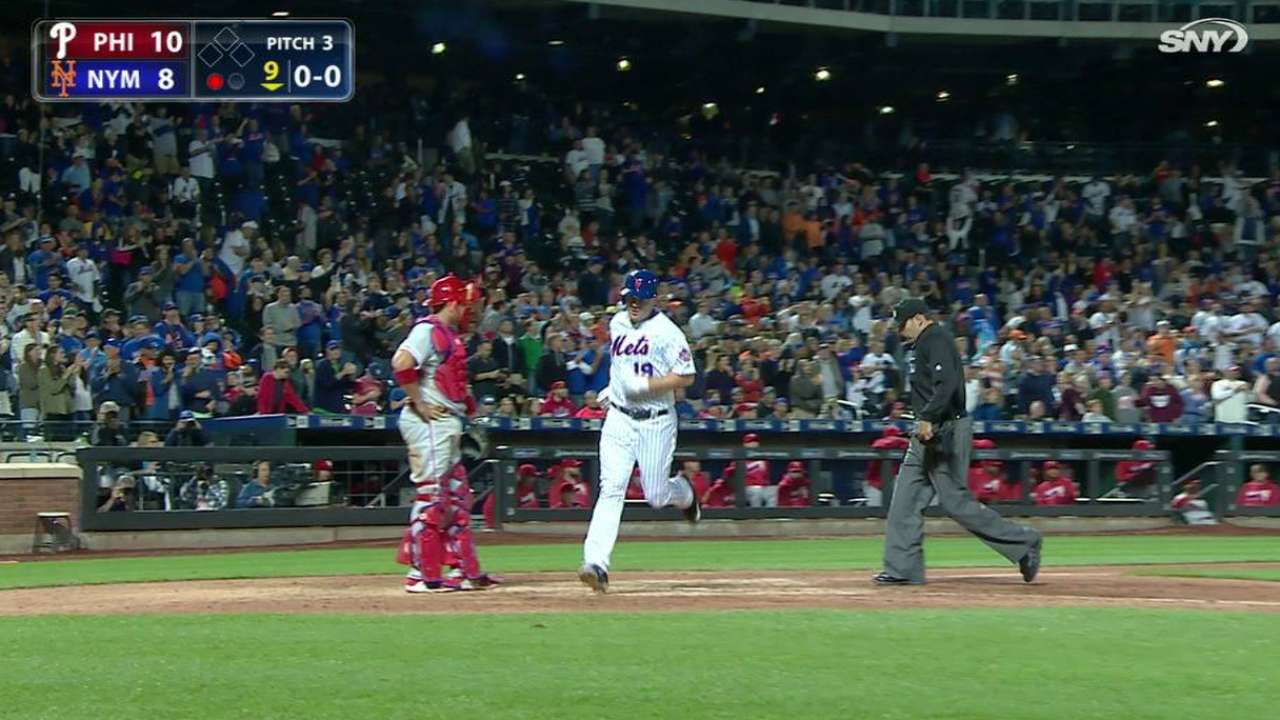 More than that, the Mets felt energized by the comeback they engineered, stringing together seven runs with a lineup composed largely of September callups. T.J. Rivera drove home two of them, Gavin Cecchini knocked in a pair, and Brandon Nimmo and Ty Kelly added one RBI apiece. When pinch-hitter Jay Bruce homered with one out in the ninth, thousands of fans rose to their feet. When Eric Campbell and Michael Conforto followed that up with consecutive walks, bench coach Dick Scott turned to Collins and predicted that Lucas Duda would hit a walk-off homer.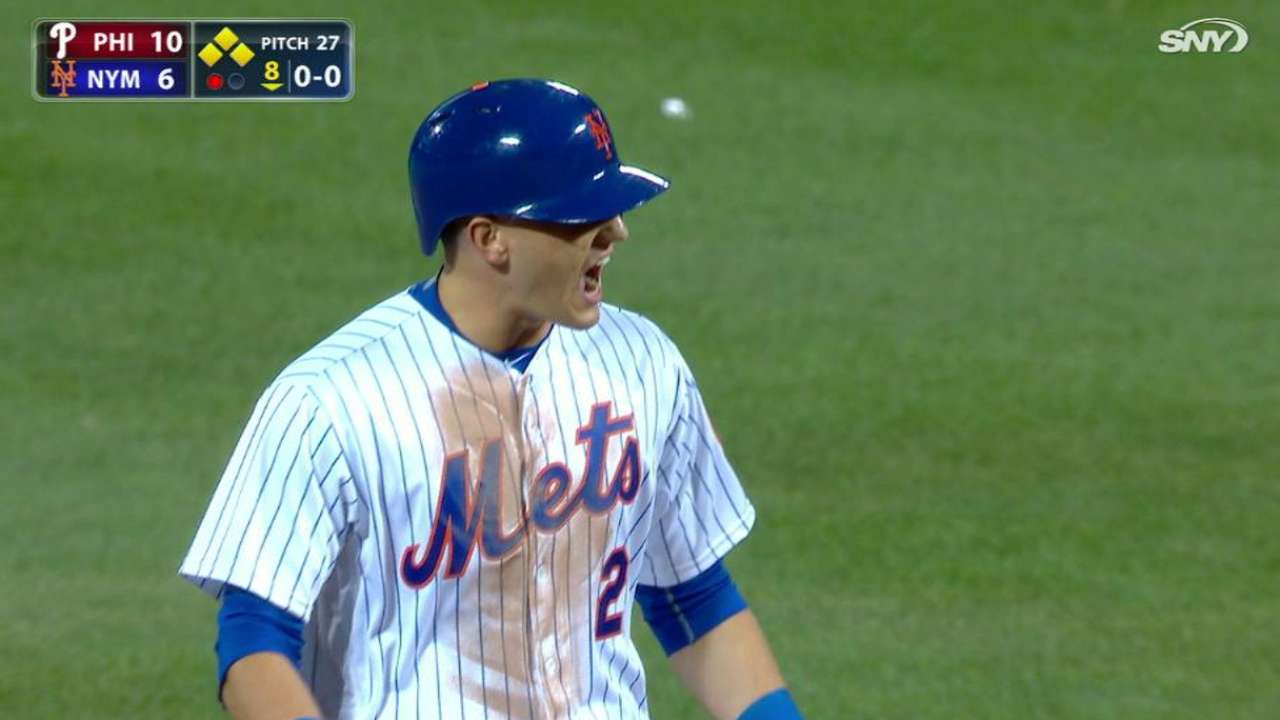 "You're always trying to win the game regardless of what the score is," Cecchini said. "We weren't going out there and just going through the motions."
The Mets may not have completed their comeback, but it highlighted the type of gumption this team has employed all season. They fell into a tie with the Giants atop the National League Wild Card standings, but New York technically still holds the top spot by virtue of a 4-3 edge in the season series with San Francisco.
"Unfortunately, we couldn't pull it off," Collins said. "But I absolutely tip my cap to the job those young kids did tonight."
Anthony DiComo has covered the Mets for MLB.com since 2008. Follow him on Twitter @AnthonyDiComo and Facebook, and listen to his podcast. This story was not subject to the approval of Major League Baseball or its clubs.