Marte working hard to regain timing at plate
Mariners shortstop has not been as effective since midseason illness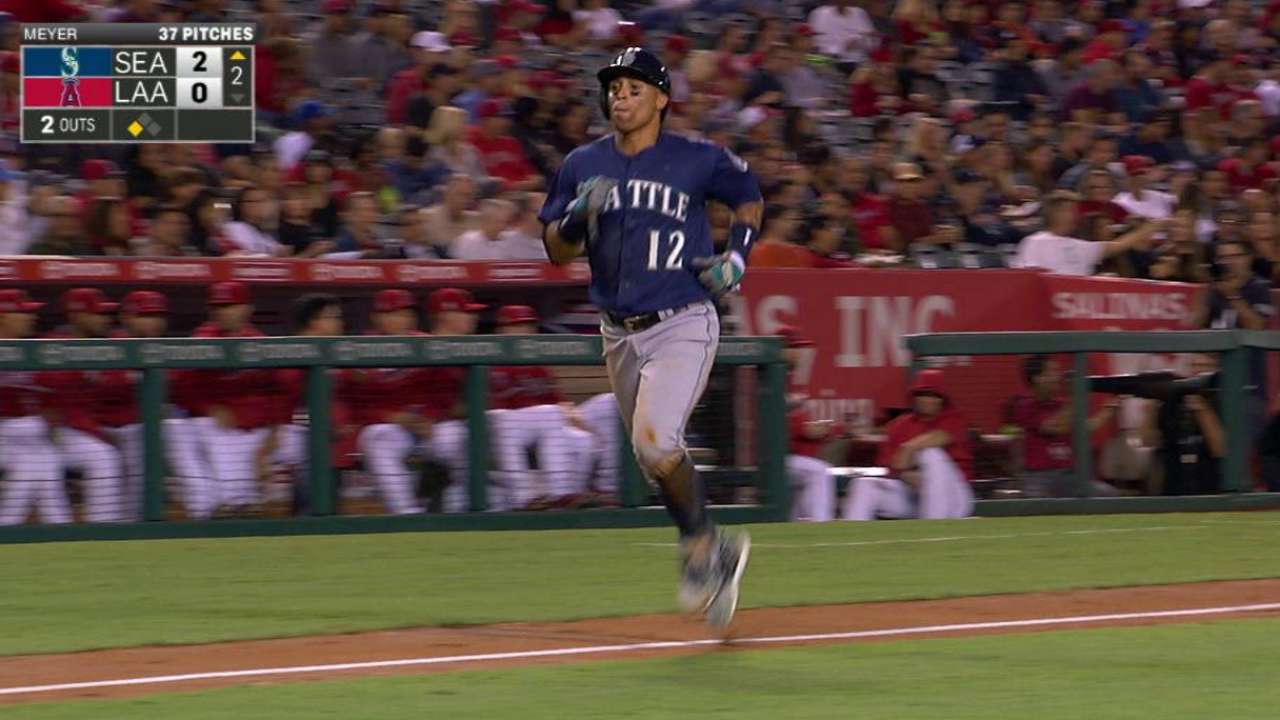 MINNEAPOLIS -- At first, Ketel Marte was just looking for the 22 pounds he lost while dealing with an untimely bout with mononucleosis. But now, the Mariners' young shortstop is searching for the hitting stroke he seemed to misplace as well during his two-week stint on the disabled list last month.
The 22-year-old Dominican put up a .273/.299/.358 line in 74 games before his illness, not quite the .351 on-base percentage he flashed as a rookie last year, but still adequate production from the shortstop position.
But in 38 games since coming back from his illness, Marte's line was .229/.264/.260 going into Saturday's game against the Twins. He's had just four extra-base hits -- all doubles -- in 131 at-bats and snapped an 0-for-18 string with a ninth-inning single in Friday's 10-1 win.
Manager Scott Servais said Shawn O'Malley will get the start in Sunday's series finale when Seattle faces lefty Hector Santiago, but he and hitting coach Edgar Martinez have seen enough from Marte's left-handed swings to think he can work his way out of that funk against right-handers.
Marte has hit .284 left-handed compared to .211 from the right side, though neither side has exactly been on fire of late.
"We're trying to find something to get him going again offensively," Servais said prior to Saturday's game. "He has no timing right now. His rhythm is messed up at the plate. We've tried to do some different things with him, whether it's bunting, hit and running, but nothing seems to have gotten him going. I'm going to sit down and talk with him, and Edgar has some things to throw at him as well."
Marte is open to suggestions after going 0-for-13 with six strikeouts in the last homestand.
"I don't feel really good at the plate right now," he acknowledged. "I was trying to make adjustments real quick, but I don't feel real good. But we've got nine games left and anything can happen. It's going to be good. I'm working hard every day and this is part of the game."
Like many Major Leaguers, Marte is learning that the second year is harder than the first, once opposing teams learn weaknesses and how to attack. And certainly his midseason illness didn't help.
"It was hard because when I got sick, I lost a lot of weight," said Marte, who was listed at 6-foot-1, 165 pounds even before the bout with mono. "But I don't focus on that. That happened and I just have to focus on now. I'm trying to feel good, be like I am and help my team make the playoffs."
He said he's gained the weight back, but is still trying to find his timing and strength.
"When you lose 22 pounds, your body is not the same," he said. "But I like to eat. I eat a lot and I got my weight back. But it's not the same. I just have to concentrate on my defense. If my defense is good, everything is good because I know I can hit."
He just has to prove that again.
"I want to finish strong," he said. "So I'll keep working hard and do the best I can to help my team win."
Greg Johns has covered the Mariners since 1997, and for MLB.com since 2011. Follow him on Twitter @GregJohnsMLB and listen to his podcast. This story was not subject to the approval of Major League Baseball or its clubs.