Simmons dealing with right forearm discomfort
Braves uncertain whether reliever will pitch again this season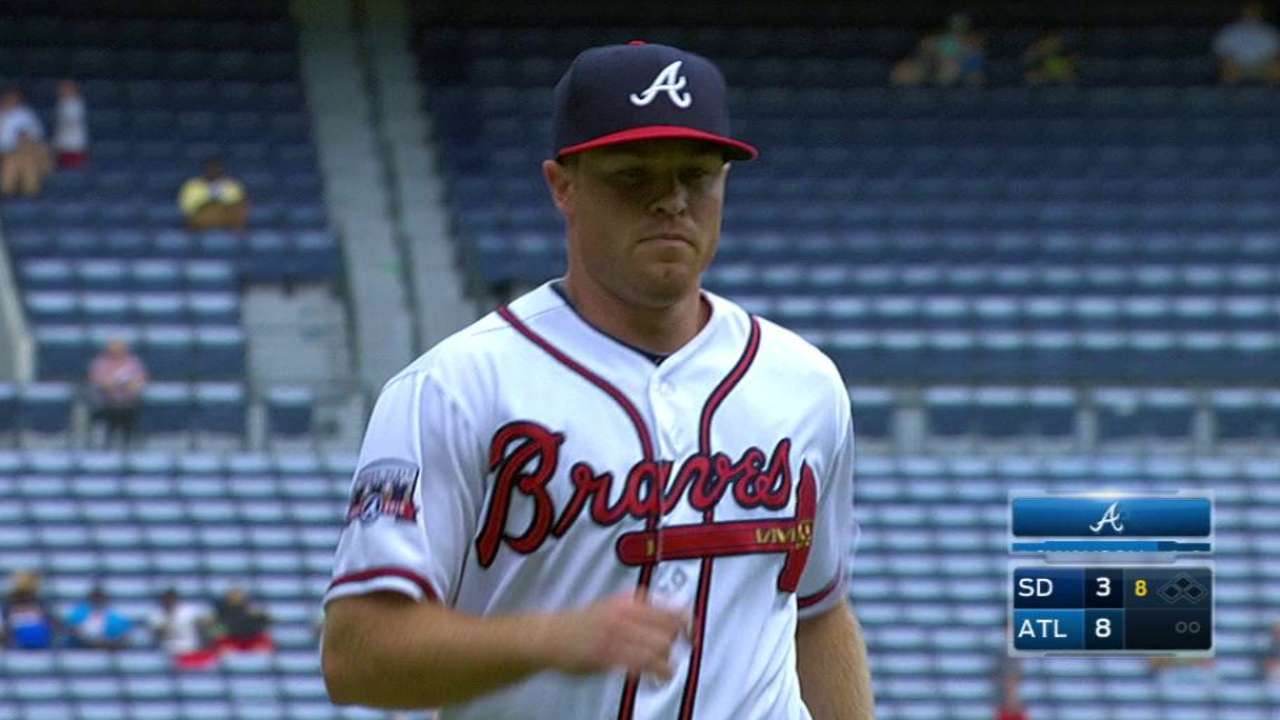 MIAMI -- A little more than three weeks after returning to the big leagues for the first time in more than two years, Braves right-handed reliever Shae Simmons is dealing with yet another arm ailment.
As things currently stand, the Braves say they are not overly concerned about the right forearm discomfort that has prevented Simmons from pitching since last Sunday. But this kind of injury can often prove to be troubling for a pitcher, especially one who is 19 months removed from Tommy John surgery.
"He's not 100 percent," Braves manager Brian Snitker said. "He's not as [healthy] as we wanted him to be, but we'll see."
Attempting to remain optimistic, Snitker said Simmons might simply be dealing with the effects of pitching again on a regular basis. But the 26-year-old hurler has made seven appearances and just two of those were completed with as little as one day of rest.
When Simmons completed a scoreless inning against the Padres on Sept. 1, it marked the first time he had pitched in a big league game since right elbow discomfort caused him to miss the final two months of the 2014 season.
Simmons underwent Tommy John surgery before the 2015 season and was aiming to rejoin Atlanta's bullpen approximately by this June. The goal was derailed by right shoulder discomfort that caused him to be shut down twice this summer as he attempted to complete his long rehab.
The Braves have not said Simmons will not pitch again this season, but with just one week's worth of games remaining, there is a strong possibility the reliever will have to wait until next year to make his next appearance.
It looks like the same can be said of former closer Arodys Vizcaino, who has been on the disabled list since Aug. 30 with right shoulder inflammation. Vizcaino has not felt any discomfort as he has recently worked out at the Braves' Spring Training facility in Lake Buena Vista, Fla., and there's a chance he could pitch in some instructional league games over the next couple of weeks.
Mark Bowman has covered the Braves for MLB.com since 2001. This story was not subject to the approval of Major League Baseball or its clubs.