Indians cognizant of Lindor's fatigue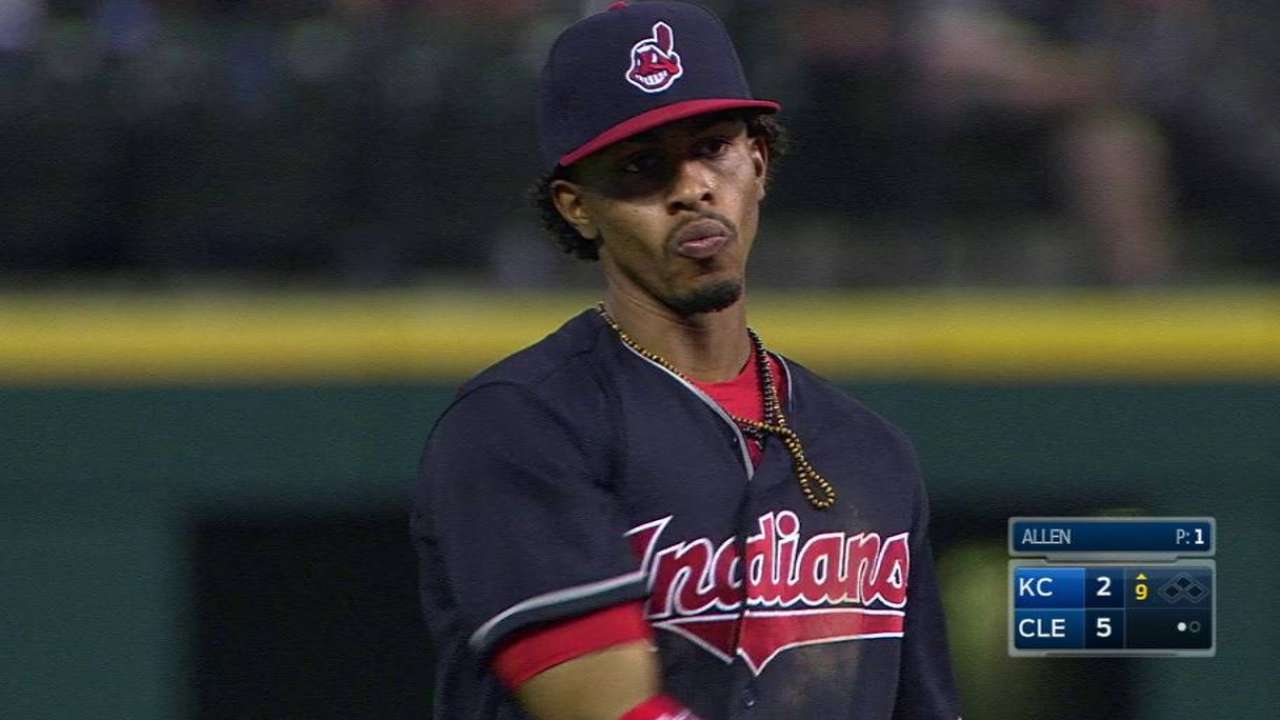 CLEVELAND -- Indians shortstop Francisco Lindor has the benefit of youth, and the added adrenaline that comes with playing in a postseason race. That does not mean that Lindor, with his ever-present smile and seemingly boundless energy, does not get tired once in a while.
Indians manager Terry Francona said earlier this week that Lindor looked a little fatigued while learning to deal with the the rigors of his first full Major League season. Prior to Saturday's game against the White Sox, the shortstop admitted that was the case, but said he has felt better over the past few days.
"Today, I feel good," Lindor said. "A week ago, tired. But, today I feel good. I go through patches during the season, stretches during the season, where I'm dead. And then out of nowhere I'll feel great for the next three weeks. And then I'll go back to feeling tired. I think everybody goes through that."
Francona has looked for moments to provide a breather for Lindor, who has been one of the busiest shortstops in baseball since rising to the Majors last summer. In the eighth inning of Friday's 10-4 win over Chicago, for example, the manager pulled Lindor and sent Erik Gonzalez to shortstop to close out the game.
Heading into Saturday's game, Lindor had logged 1,317 2/3 innings at shortstop, ranking second in the Majors at his position behind only Kansas City's Alcides Escobar. Likewise, Lindor's 2,183 innings at short since being called up on June 14 last season are second to only Escobar at the position in that time period. He has played 96 percent of the innings at shortstop since being called up.
Lindor played 1,344 1/3 innings last year between the Majors and Minor Leagues, but a full season of innings in the big leagues is much different from time logged on the farm.
"I think with young guys, for one, they have to live through it," Francona said. "Until you've done it, you haven't done it. You can certainly give guys days off, which we can. I also think that, for young guys who are wearing down, I'm not sure a day off just puts the spring back in your legs. I think it helps, but I just think you've got to learn. That's part of growing up as a Major League player."
With the Indians closing in on an American League Central title, and still vying for home-field advantage in the playoffs, time off is not what Lindor wants.
"I don't want to come out at all," Lindor said. "If I start a game, I want to finish it. But, Tito, he put Gonzalez in [on Friday]. You appreciate things like that, too, because he's looking out for us. He's looking out for all of us. He wants to make sure we're rested and he wants to make sure we're feeling good, and we're healthy. You have to appreciate things like that."
On the season, the 22-year-old Lindor has excelled both defensively [16 Defensive Runs Saved] and offensively [.303 average with 47 extra-base hits, 72 RBIs and 96 runs scored through 152 games]. Recently, though, the switch-hitting shortstop's offensive production has dipped some. Heading into Saturday's game, Lindor was mired in an 0-for-21 slump, while battling through tired legs.
Lindor was confident he would get back on track.
"Right now, actually, I feel good. I feel strong. I feel like I've got my legs back," he said. "This year, it's more the grind of competing day in and day out, and helping the team day in and day out. It's a long season, a long season. But I'm still fine."
Jordan Bastian has covered the Indians for MLB.com since 2011, and previously covered the Blue Jays from 2006-10. Read his blog, Major League Bastian, follow him on Twitter @MLBastian and listen to his podcast. This story was not subject to the approval of Major League Baseball or its clubs.