One outing won't determine postseason rotation
Hammel allows six over 2 1/3 innings, but Maddon is looking at whole season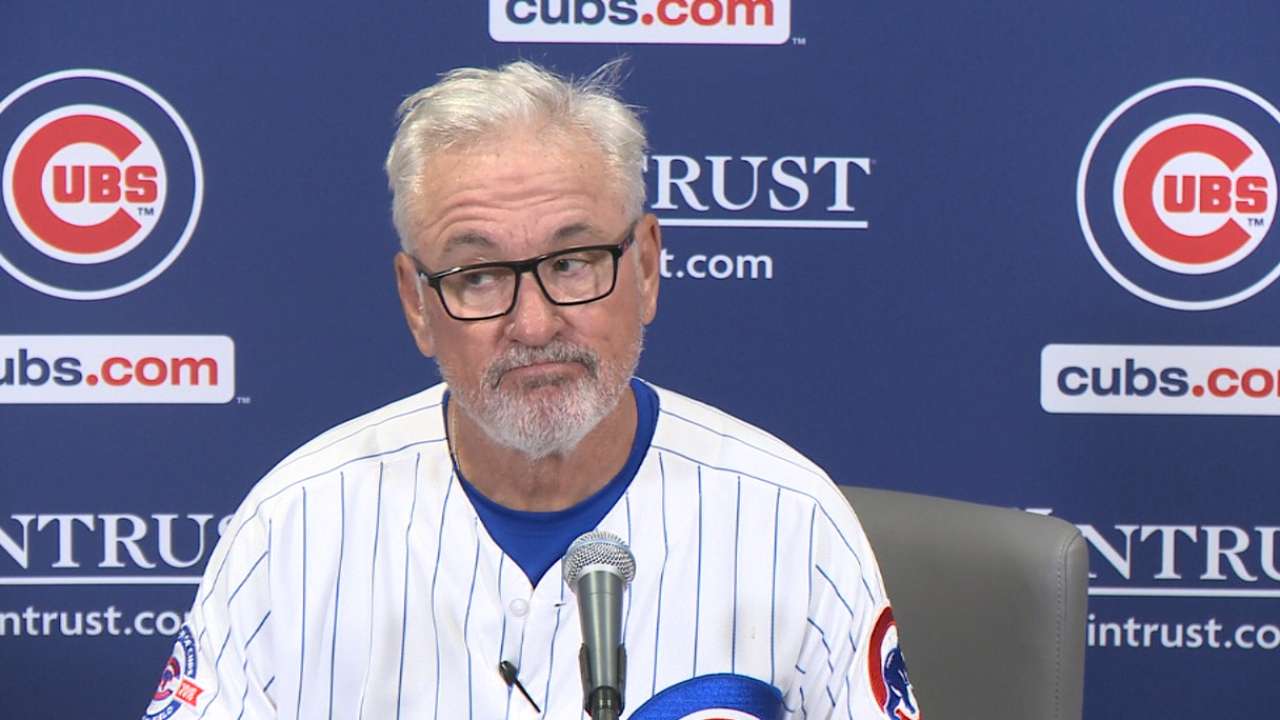 CHICAGO -- As much as Jason Hammel would like to make a postseason start, the right-hander knows he's already done something special with the Cubs this season.
Hammel, who took the loss on Saturday in an abbreviated start at Wrigley Field, may find himself as the odd man out when manager Joe Maddon sets the rotation for the National League Division Series, which begins Oct. 7. Hammel served up six runs over 2 1/3 innings in the Cubs' 10-4 loss to the Cardinals.
"Honestly, I'd love to be a part of it, as the rest of the guys on the team would love to," Hammel said of the postseason. "I know there's only a certain amount of spots. If I'm handed the ball, I'm ready. Obviously, you want to be part of something special like that, but I think everybody here has been part of something special to get to this point. We're all very proud. We still have eight regular-season ballgames left to build some momentum. Postseason, whether I'm on the roster or not, I'm still going to enjoy it."
Maddon and Co. have had preliminary talks regarding the postseason roster, but a lot will depend on who they play in the NLDS. As for the rotation, Maddon said, "we haven't talked about any of that yet."
With a best-of-five series, the Cubs have to chose between Jon Lester, Kyle Hendricks, Jake Arrieta, John Lackey and Hammel. Lester and Arrieta have won 18 games each, and Hendricks leads the Majors in ERA. Maddon said he wasn't going to judge Hammel on one start.
"I'm not worried about a good or bad outing right now," Maddon said. "You know who the guy is, you know if a guy has his stuff going on or doesn't. ... The greater body of work matters."
The Cardinals attacked quickly on Saturday, taking a 4-0 lead in the first inning on a two-run double by Yadier Molina and a two-run single by Randal Grichuk. Hammel had given up five runs combined over 46 innings in his previous seven starts at Wrigley Field.
What happened?
"It was the slider that beat me today," Hammel said. "In the first inning, the three hits were checked swings and sliders that had no depth. They did a good job of putting the ball in play. Talking about execution of the slider over the last month, it could've been better today and that was the difference.
"You can't come out and give up a four-spot in the first and expect guys to be on their toes," Hammel said. "I didn't do a good job setting the pace, setting the tone, and from there it was an uphill battle."
Catcher Willson Contreras tried to get Hammel back on track.
"Today was a tough day for him, for the team," Contreras said. "His strikeout pitch wasn't really good today and he was a little flat. We had to make an adjustment. ... If you fall behind in the count, they're going to make you pay."
Carrie Muskat has covered the Cubs since 1987, and for MLB.com since 2001. She writes a blog, Muskat Ramblings. You can follow her on Twitter @CarrieMuskat and listen to her podcast. This story was not subject to the approval of Major League Baseball or its clubs.