Rangers start clinch celebration with ginger ale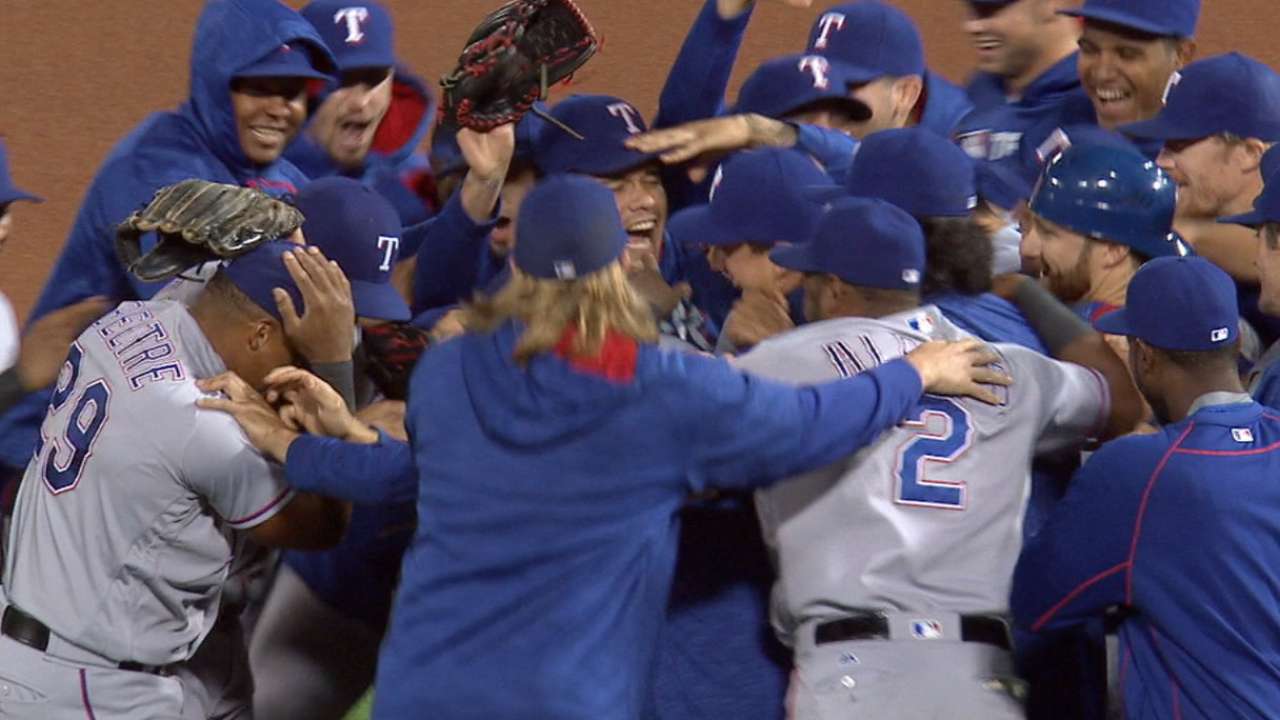 OAKLAND -- The Rangers planned Friday's postgame celebration around pitchers Matt Bush and Jeremy Jeffress.
The Rangers, after clinching the American League West title with a 3-0 victory over the Athletics, began their clubhouse celebration with ginger ale for Bush and Jeffress. Both players are dealing with alcohol afflictions and didn't need to be around when the champagne corks went off.
The Rangers did the same with Josh Hamilton in 2010-11, and it was a gesture that Bush appreciated.
• Get official AL West champs gear
"It just continues to show why I have been able to make things work here in Texas," Bush said. "It was fun. It was nice to be a part of the celebration and let it all sink in. I've never been in the playoffs before. Even in Little League, we didn't get past district."
Bush and Jeffress did not leave the clubhouse once the champagne was brought out. The Rangers cordoned off part of the clubhouse with plastic sheets that served as a no-alcohol section and sanctuary from the spray of champagne.
A year ago, Bush was still serving time in a Florida prison for driving under the influence with great bodily injury. He was released in October, signed with the Rangers in the offseason and is now their primary right-handed setup man.
Jeffress, who was acquired from the Brewers, was arrested for DWI on Aug. 26. He spent three weeks in a Houston rehabilitation clinic and was only cleared on Friday by Major League Baseball to play again.
"It's a once-in-a-lifetime moment, and it felt so great to be around it and be a part of it," Jeffress said. "It's very much an honor. I could see how it puts things in perspective for you for the days to come, and what you really want to look forward to and when you're working with a group of guys like this."
Bush is someone who can give him guidance.
"We're definitely similar in what we have been through," Bush said. "I'm just trying to be a good teammate and a good friend, help another guy out and give him any kind of wisdom I can. Jeremy is a great guy. He made a mistake. Hopefully he can get back out there, redeem himself and overcome what he has been through."
Rangers beat
• The Rangers are undecided about their rotation for the final week. Colby Lewis will pitch Sunday and Martin Perez on Monday. After that, it gets murky although Cole Hamels and Yu Darvish will likely get one more start before the postseason.
• Adrian Beltre's two-run home run on Friday gave him 100 RBIs for the fifth time in his career. He is the first Rangers player to drive in 100 runs since he and Hamilton did it in 2012.
• Rangers starters had lost seven straight decisions before Hamels pitched seven scoreless innings against the Athletics on Friday. Hamels had a 10.50 ERA in his past four starts and Banister said, "It was very good progress. He was able to spot his fastball, use his changeup and his breaking ball was sharp. As the game went on, he was able to use the [cut fastball] as a feature rather than his main pitch. I like what we saw."
T.R. Sullivan has covered the Rangers since 1989, and for MLB.com since 2006. Follow him on Twitter @Sullivan_Ranger and listen to his podcast. This story was not subject to the approval of Major League Baseball or its clubs.