Betances, Clippard can't seal deal vs. Jays
TORONTO -- Even when things look like they're about to go right for the Yankees, they haven't been ending that way.
New York lost for the fourth consecutive time on Sunday afternoon at Rogers Centre, 4-3, with its reliable duo of Dellin Betances and Tyler Clippard unable to hang onto a late one-run lead.
The outing cost the Yankees more than just the game, as New York's Wild Card elimination number dropped to two as it sits 5 1/2 games back of the Orioles for the second American League Wild Card with seven games remaining.
"It stinks," Yankees manager Joe Girardi said. "We've been fighting and fighting. You think about some of these games we've lost, they've been really tough. We've gotten good pitching performances, we've lost in a number of different ways. It's just been tough."
Both Betances and Clippard have been at the heart of New York's second-half surge back into postseason contention.
Taking over the reigns as closer after the trades of Aroldis Chapman and Andrew Miller, Betances flourished during the Yankees' 17-11 month of August, allowing just one run in the entire month. Clippard, who came over at the non-waiver Trade Deadline from Arizona, followed in pursuit, allowing three runs (one earned) in August.
The two have struggled to carry that over in the season's final month, with Betances allowing a pair of runs on Sunday to push his September total up to 11 runs in 8 1/3 innings, while Clippard has allowed six runs in 10 1/3 September innings, including Sunday's game-winner.
The loss gave the Yankees nine in their past 11 games, but just two of those losses have been by more than three runs. While the offense has significantly cooled off in that stretch -- the Yankees snapped a 33-inning scoreless streak in the seventh inning on Sunday -- the ordinarily reliable relievers have also struggled over that period.
"It's been tough," Betances said. "Obviously we've been fighting, playing hard, but we've just been coming up short, I guess. There are a lot of close games, and it [stinks]. That's what you play for, to be in this position, and we haven't played our best the last week or so."
Betances' recent troubles have stemmed from allowing free bases, and the 28-year-old righty acknowledged as much on Sunday. Betances gave up a pair of walks and stolen bases on Sunday, including a botched pickoff in the bottom of the eighth. He has allowed 21 stolen bases on the season, without a single caught stealing.
"It's difficult for him," Girardi said. "There are some things that are tougher for him because of his size, but I'm going to take the good that he does, and we'll continue to work on it."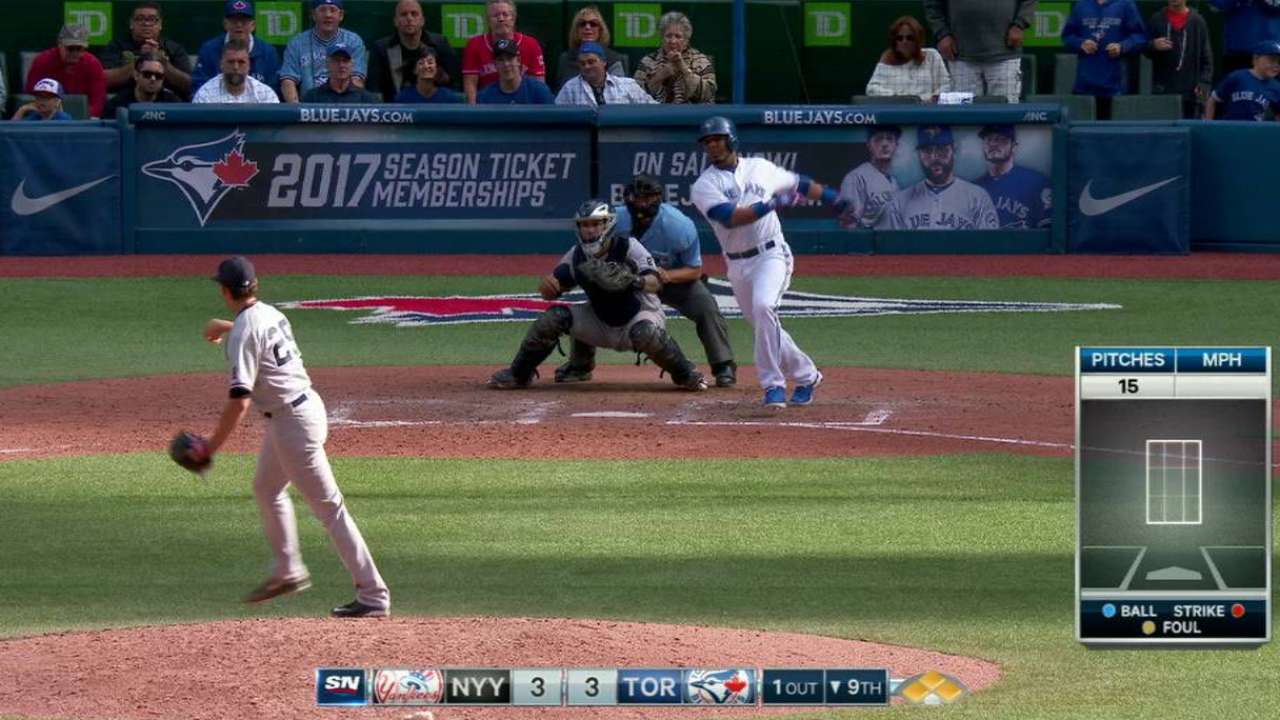 For Clippard, the outing represents the second consecutive night in which the 31-year-old surrendered the go-ahead run. Clippard allowed a three-run home run to Jose Bautista on Saturday, before inducing a slow grounder from Edwin Encarnacion that resulted in a walk-off hit on Sunday.
"Obviously I got the ground ball I wanted to from Encarnacion, but it's just in the wrong spot," Clippard said. "I was just trying to get a ground ball to get the double play, and once I saw it, I figured there was no shot to turn it. It's frustrating."
Alykhan Ravjiani is a reporter for MLB.com based in Toronto and covered the Yankees on Sunday. This story was not subject to the approval of Major League Baseball or its clubs.