Fifth inning goes awry for Reynolds, Giants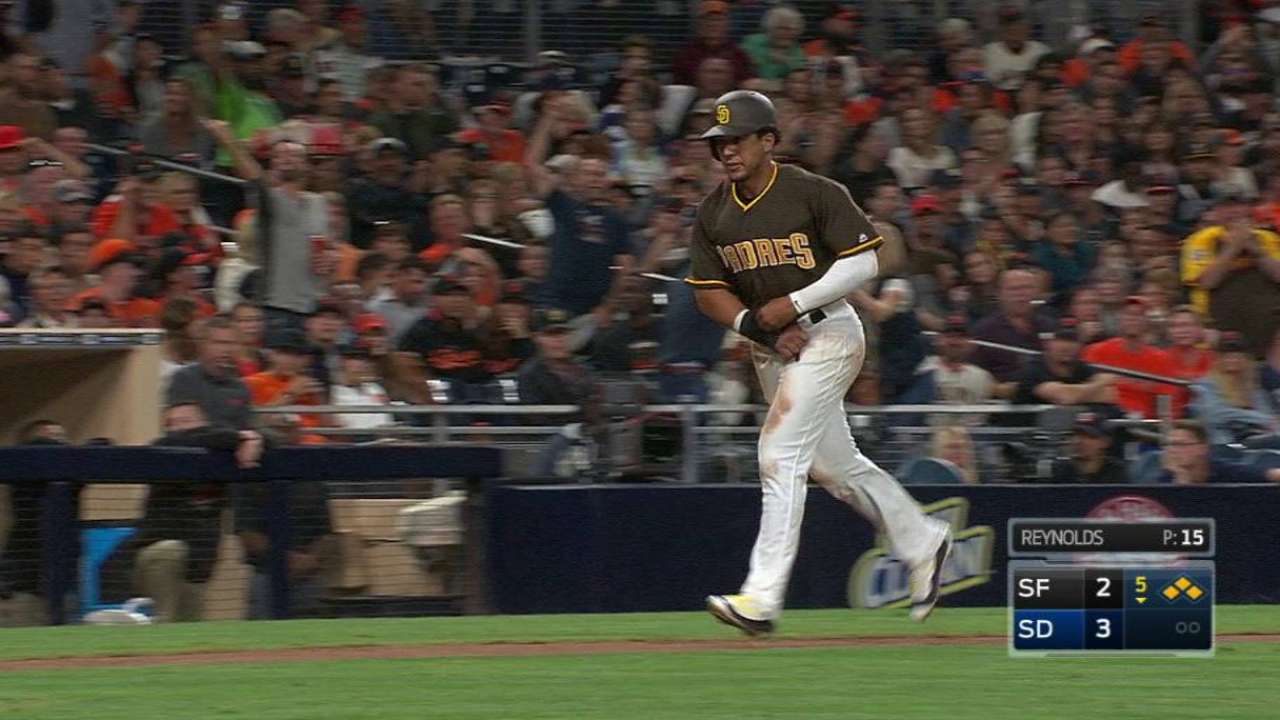 SAN DIEGO -- To say that Friday night's fifth inning didn't proceed as planned for the Giants was an understatement.
They scored twice in the top of the inning to shave the difference to one run. Then came the Padres' half of the fifth, which didn't end until they scored four runs to seal their 7-2 triumph over San Francisco.
The Giants expected the fifth to unfold much differently. After Buster Posey's double off the wall accounted for their scoring, they summoned left-hander Matt Reynolds, who had thrown 3 1/3 shutout innings in his previous three appearances. Though Reynolds was to face the top of San Diego's batting order, four of the Padres' first five hitters were left-handed, which promised to work in his favor.
But the Padres, not Reynolds, established control quickly. Jon Jay bunted for a leadoff single.
"I don't know if he recognized it," Giants manager Bruce Bochy said. "It looked like he could have had a play on that if he could have bounced off the mound. That's what started everything."
Said Reynolds, "I've faced him before and he's tried to bunt on me before. I think on the count [3-1], I wasn't totally prepared for it."
Carlos Asuaje doubled, prompting the Giants to intentionally walk Wil Myers. Then Reynolds unintentionally walked Ryan Schimpf to force in a run.
"That's unlike him," Bochy said of Reynolds. "He's a strike-thrower. That's why I like him out there."
Alex Dickerson's subsequent two-run single finished Reynolds and, essentially, the Giants.
Reynolds hadn't appeared in a game since last Saturday. But he refused to use that as an excuse.
"Our job is to prepare every single day like we're going to throw," he said. "Physically, I felt good tonight. I just had a tough time landing my breaking ball and put myself in some bad counts and some good hitters' counts that I don't normally do. I'm not going to blame it on anything other than I didn't get the job done."
Chris Haft has covered the Giants since 2005, and for MLB.com since 2007. Follow him on Twitter at @sfgiantsbeat and listen to his podcast. This story was not subject to the approval of Major League Baseball or its clubs.