Asuaje all smiles after first two big league hits
SAN DIEGO -- On the inside, Carlos Asuaje beamed from ear to ear.
But, standing on second base after his first Major League hit, his body language told another story. Asuaje -- who went 2-for-4 and played a pivotal role in two Padres rallies during Friday night's 7-2 win over San Francisco -- simply removed his elbow guard. He then adjusted his helmet and trotted toward first-base coach Tarrik Brock to drop off the protective padding.
Asuaje acted like he'd been there hundreds of times before. He hadn't.
"I tried to keep my wits about me as best I could," said Asuaje, whose smile had long since broken through during his postgame interview session. "I didn't want to seem all giddy ... but, man, inside it was really good."
Asuaje, ranked as the Padres' No. 20 prospect by MLBPipeline.com, tacked on a second double in the fifth -- a 102 mph missile to the right-center-field gap.
Making the night even more special, Asuaje's performance came in front of his entire family -- father, mother, sister and girlfriend -- who were in town for his first start Thursday night and will be in town through Sunday.
"Obviously I've been imagining getting that hit," Asuaje said. "I didn't think it would be a double, though. It was awesome, a great experience, and it was kind of a relief, really."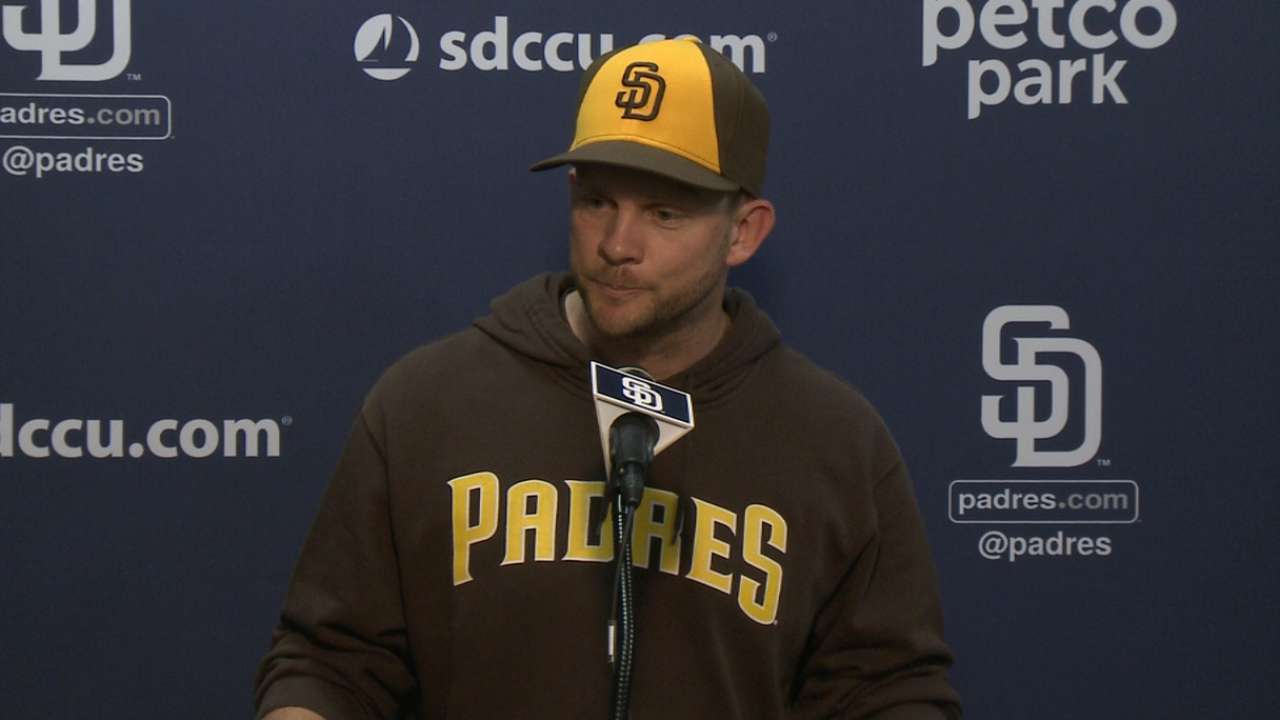 Friday may have marked Asuaje's first two-hit game as a big leaguer. But it wasn't his first two-hit game at Petco Park. In July's All-Star Futures Game, Asuaje went 2-for-2, delighting the hometown fans.
Including that game, Asuaje has now made three starts at Petco Park this season, and he's made a habit of hitting the ball hard.
Triple-A manager Rod Barajas, who has joined the Padres since El Paso's season came to an end earlier this week, says there's more of that to come.
"You see the stature, you don't see a whole lot of size," Barajas said. "But there's some whip in that swing. He hits the ball real hard. It can be a little surprising. Left fielders can't play him shallow, because he'll hit it over their head. He's a complete hitter who uses the whole field. He's a complete hitter, and he does whatever the pitch tells him to do."
Asuaje, who was acquired from Boston this past offseason in the Craig Kimbrel trade, batted .321/.378/.473 in 134 games for El Paso this season, good enough to earn Pacific Coast League Rookie of the Year honors.
It also earned him a callup to the big leagues Wednesday -- along with Hunter Renfroe, Manuel Margot and Austin Hedges, who combined to form El Paso's "Core Four," which led the franchise to its first Pacific Coast League title.
On Thursday, Renfroe notched his first hit. Friday, it was Asuaje's turn. And upon his arrival into the clubhouse, he was mobbed by his teammates.
"You love those first couple hits," said Padres manager Andy Green from the Petco Park interview room. Green was then forced to pause as a raucous celebration erupted from the adjacent clubhouse.
"I think guys are celebrating those first couple hits right now," he continued with a wry grin. "It's fun having some young guys up here. It brings life."
AJ Cassavell covers the Padres for MLB.com. Follow him on Twitter @ajcassavell. This story was not subject to the approval of Major League Baseball or its clubs.