Angels enjoy playing role of spoiler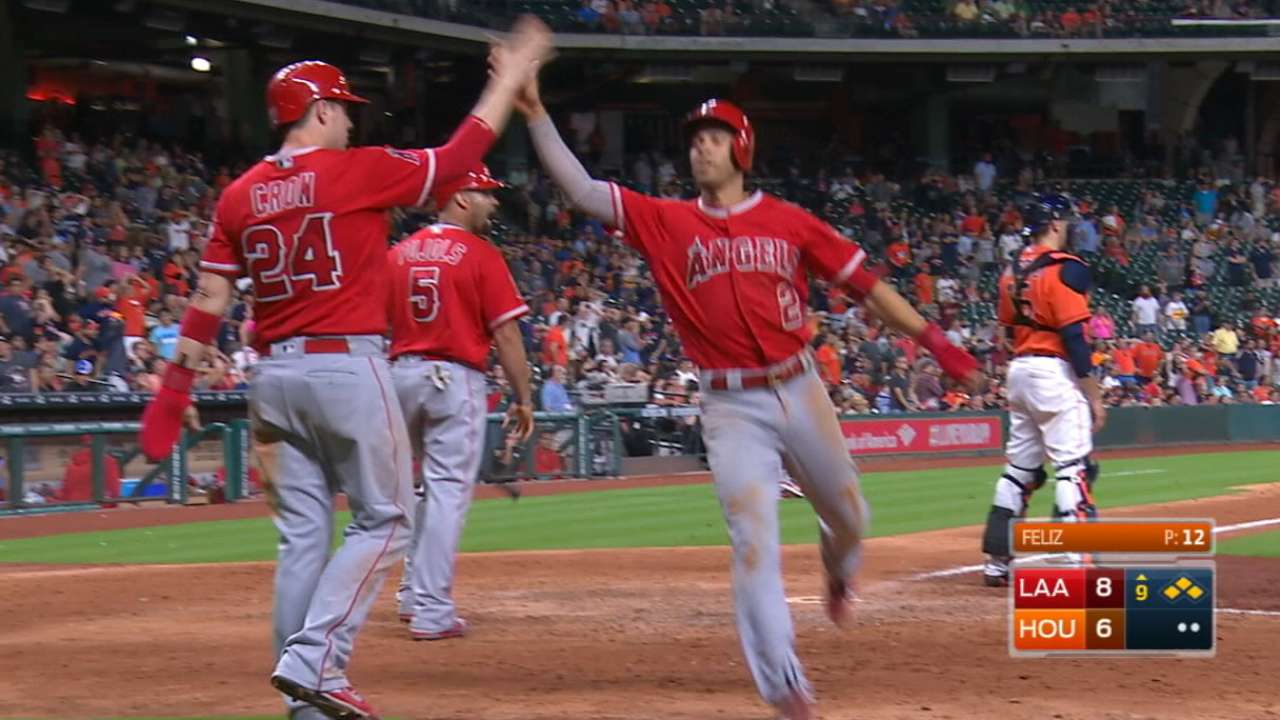 HOUSTON -- The Angels appeared destined for a loss, trailing the Astros by two runs entering the top of the ninth inning on Friday night at Minute Maid Park.
Then No. 9 hitter Cliff Pennington, who had gone 0-for-3 with two strikeouts, stepped into the box against Houston closer Ken Giles. Pennington lined a single to right, beginning the rally that propelled the Angels to a 10-6 victory.
"The first out is important for a closer," Angels manager Mike Scioscia said. "We pressured them with that first big hit."
Yunel Escobar followed with an even bigger hit, a two-run homer to left field that tied the score.
If the ball had been hit a little farther toward center field, it would have been in play -- and maybe not even a hit.
"We knew it would be close to going out," Scioscia said. "It can be an out."
After Kole Calhoun flied out, Mike Trout walked, then stole second without drawing a throw. That led the Astros to walk Albert Pujols intentionally. Pujols was already 3-for-4 on the night.
Up stepped C.J. Cron, who had doubled twice. He blooped a single to center, just out of everyone's reach, to score Trout with the go-ahead run.
"I was not sure it would [fall in]," Cron said. "Then I saw [Astros second baseman Jose] Altuve couldn't get it. But it was all I needed."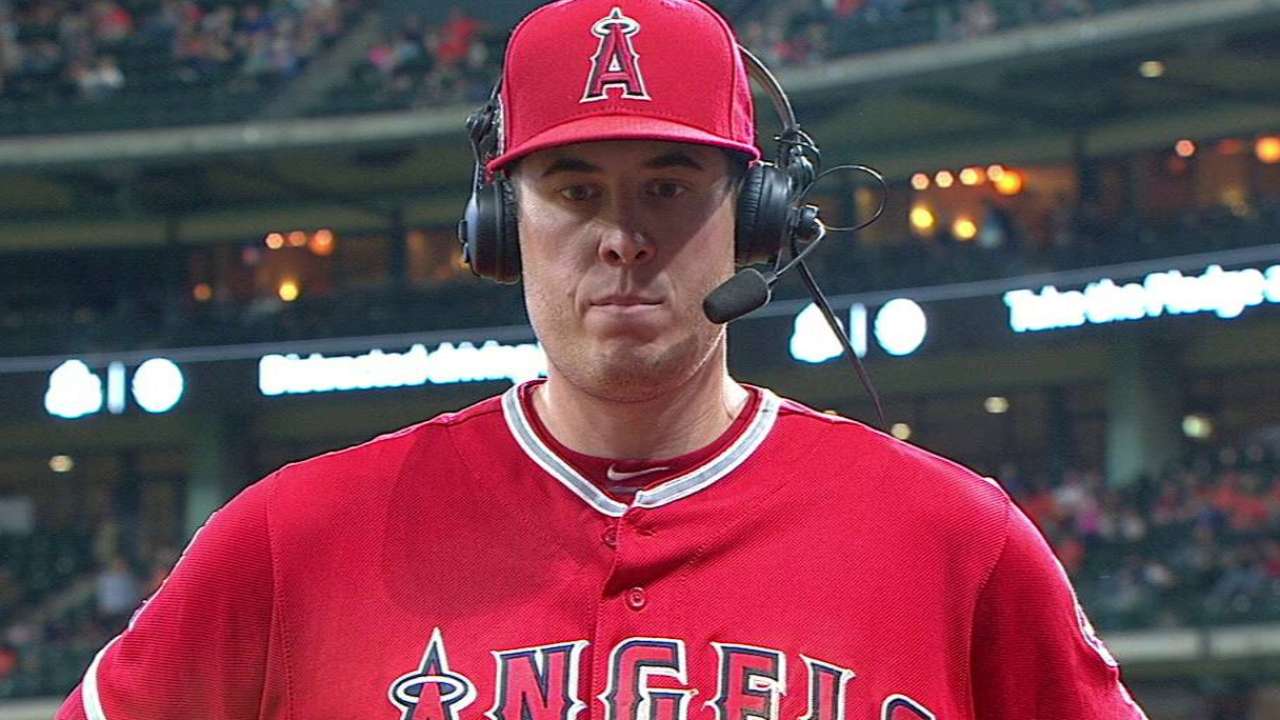 Pinch-hitter Rafael Ortega then finished the rally with a three-run double that gave the Angels a four-run cushion.
"It was fun in the dugout," Cron said. "We want to play spoiler. We want to be competitive. You saw that kind of fight tonight."
Scioscia doesn't care whether his team beats a contender or an also-ran.
"A win's a win," he said. "We're going to keep playing out there all the way [to the end]. I don't feel any consolation beating [a playoff contender]. Hopefully, we took a step forward tonight."
Angels starter Alex Meyer pitched 5 1/3 solid innings before giving up a single and two walks in Houston's five-run sixth.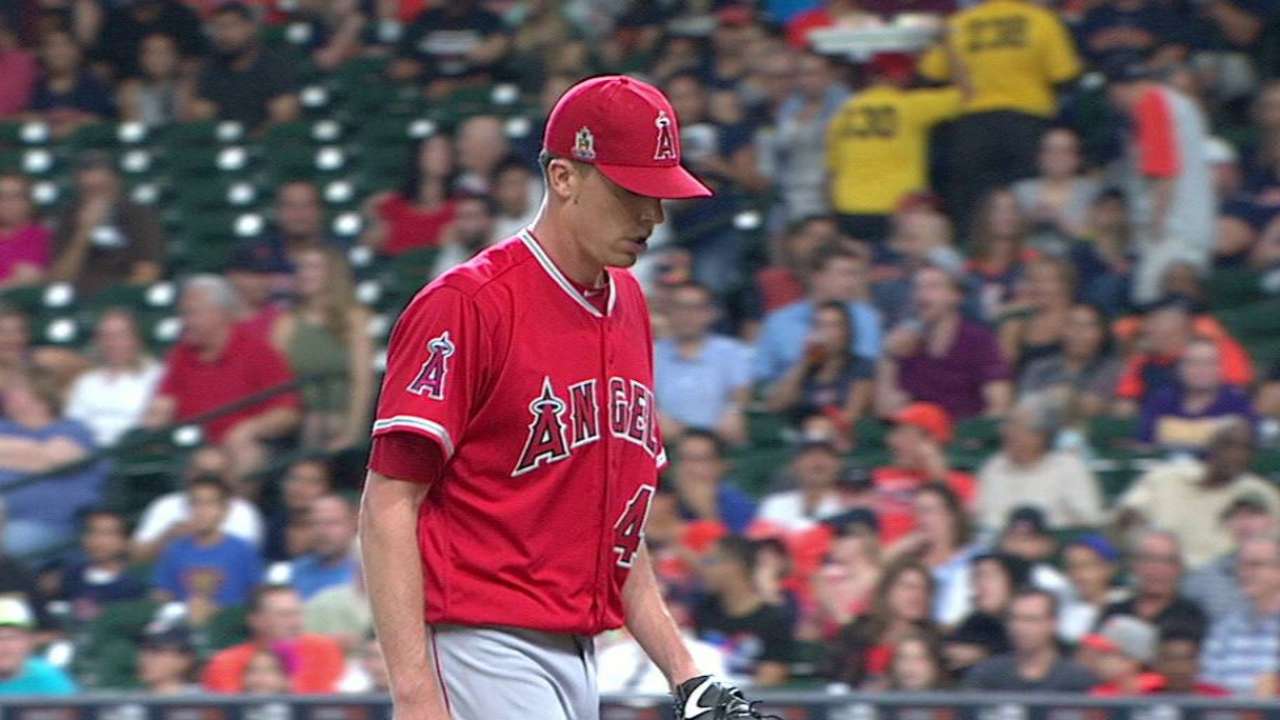 "I got ahead of guys," Meyer said. "I was talking to [Ricky Nolasco, who beat the Astros on Thursday night] about what he did. Being able to pitch right behind him [in the rotation] has definitely helped. He's a smart pitcher."
Scioscia thought Meyer -- who finished with 82 pitches -- tired in the sixth.
"I don't want to make any excuses," Meyer said. "The guys came back and picked me up."
Gene Duffey is a contributor to MLB.com based in Houston and covered the Angels on Friday. This story was not subject to the approval of Major League Baseball or its clubs.