Liriano whips up vintage performance vs. Yanks
Lefty goes six shutout innings, has impressed Blue Jays since trade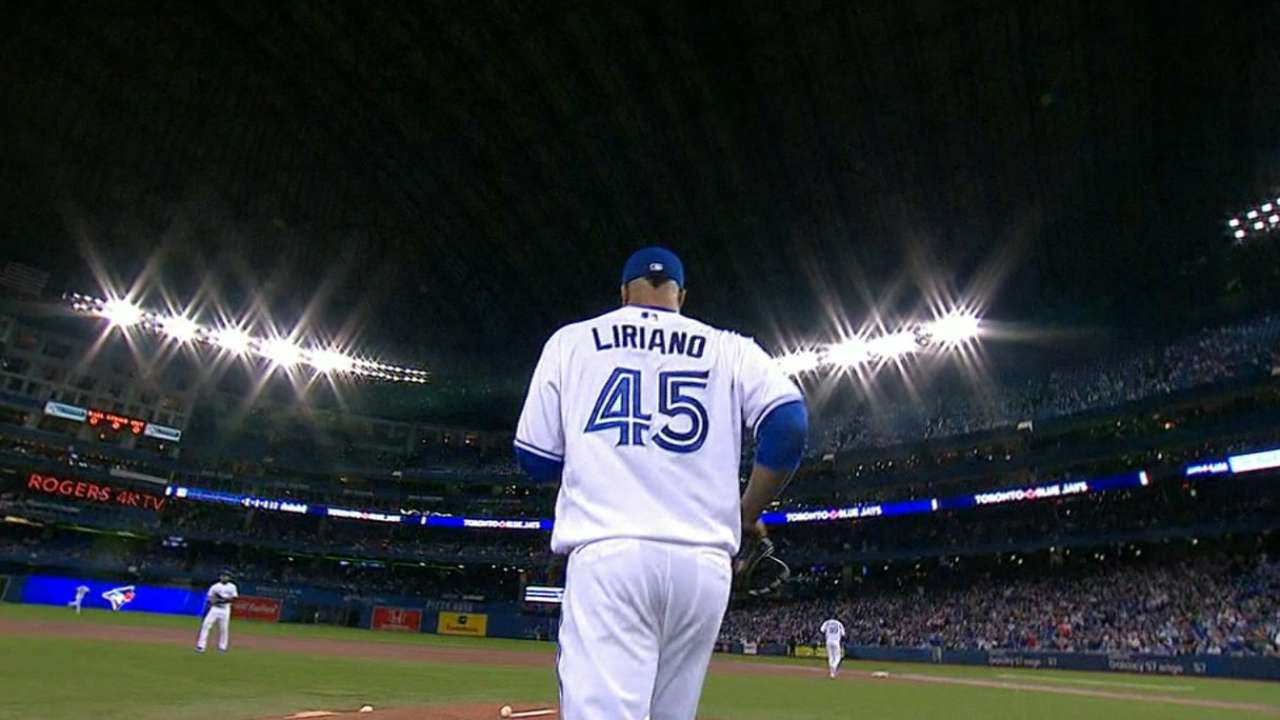 TORONTO -- Devon Travis was only 15 years old when Francisco Liriano became an instant star at 22 as a rookie with Minnesota in 2006. They're teammates now, but Travis vividly remembers admiring Liriano as he posted a 12-3 record and 2.16 ERA that year.
In the Blue Jays' 9-0 win over the Yankees on Friday night at Rogers Centre, Liriano's six shutout innings with six strikeouts conjured old memories for Travis.
"I probably told him, 'Wow,' about five times when he was done [with an inning]," said Travis, who's 25 now. "He's got some awesome stuff. I told him that's the Francisco Liriano I grew up watching."
That might have left Liriano feeling old, even though he's only 32. But he certainly brought some of that old magic to his start against the Yankees, allowing only three hits while nursing a 3-0 lead over six innings.
When Liriano joined the Blue Jays in an Aug. 1 trade, he came from Pittsburgh with a 5.46 ERA and an alarming propensity for walking hitters.
Blue Jays manager John Gibbons said he didn't know what to expect from Liriano, who became the sixth starter in Toronto's occasional six-man rotation. Gibbons hoped the left-hander would energize the Toronto pitching staff in the same manner as relievers Jason Grilli and Joaquin Benoit, two other veterans who benefited from a change of venue after trades.
"Things just took off for him," Gibbons said.
Indeed. Liriano has a 3.35 ERA in nine outings for the Blue Jays. In six of his seven starts, he has walked two or fewer batters and has five quality starts.
The trade reunited him with Russell Martin, his catcher with Pittsburgh in 2013-14, when he logged a 3.20 ERA over 55 starts.
"We're always on the same page," Liriano said. "We have a great communication. He knows how to mix the pitches. That's been helping me a lot lately."
Liriano's revival has also benefited the Blue Jays by allowing them to give extra rest to Aaron Sanchez, who has already exceeded his previous innings ceiling in his first full season as a starter. Sanchez (13-2, 3.12 ERA) is lined up to make critical starts against Baltimore and Boston in the final week of the regular season.
Liriano's only two walks against the Yankees came in the first inning and they loaded the bases with two outs. But he struck out Chase Headley to escape that jam.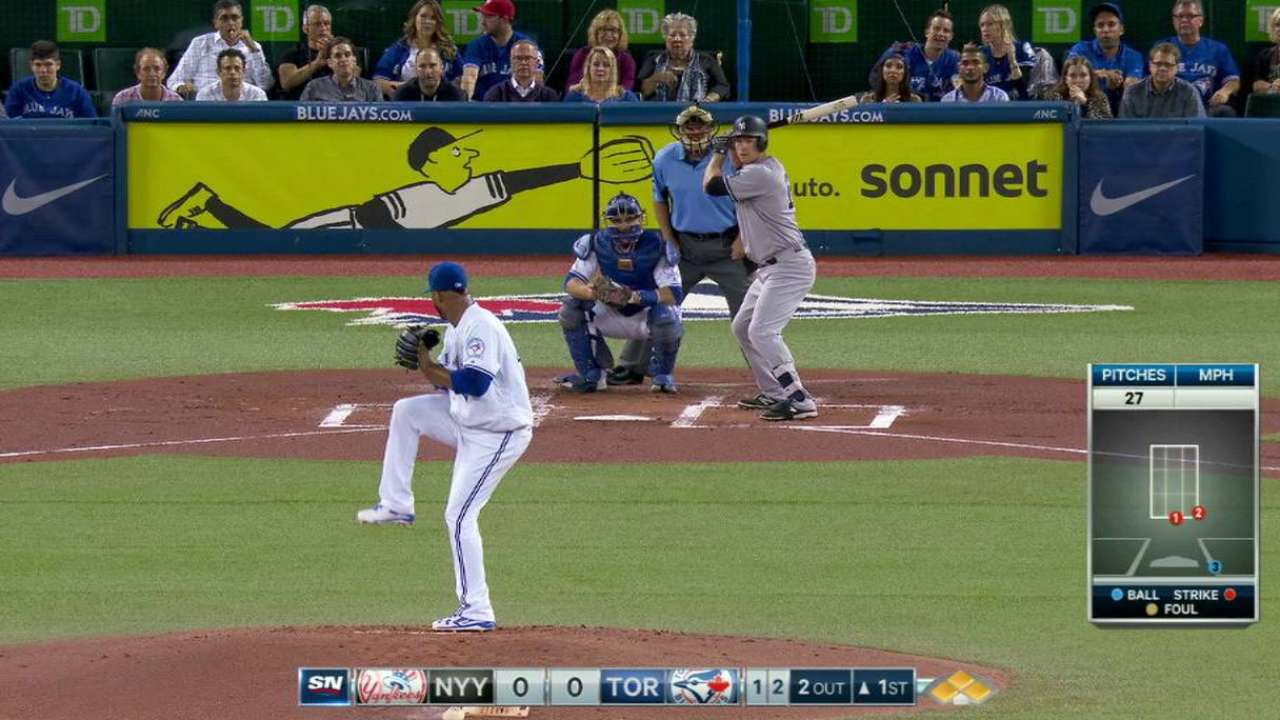 In the third, he wriggled out of a two-on predicament with nobody out by retiring Gary Sanchez, Billy Butler and Didi Gregorius in order.
After that, he cruised, retiring nine of the last 10 batters he faced.
"He's one of those guys that could always dominate teams," Gibbons said. "He really hasn't lost a whole lot."
John Lott is a contributor to MLB.com based in Toronto. This story was not subject to the approval of Major League Baseball or its clubs.