Bullpen delivers after Kazmir's quick exit
Dodgers lefty lasts just 1 inning in return from DL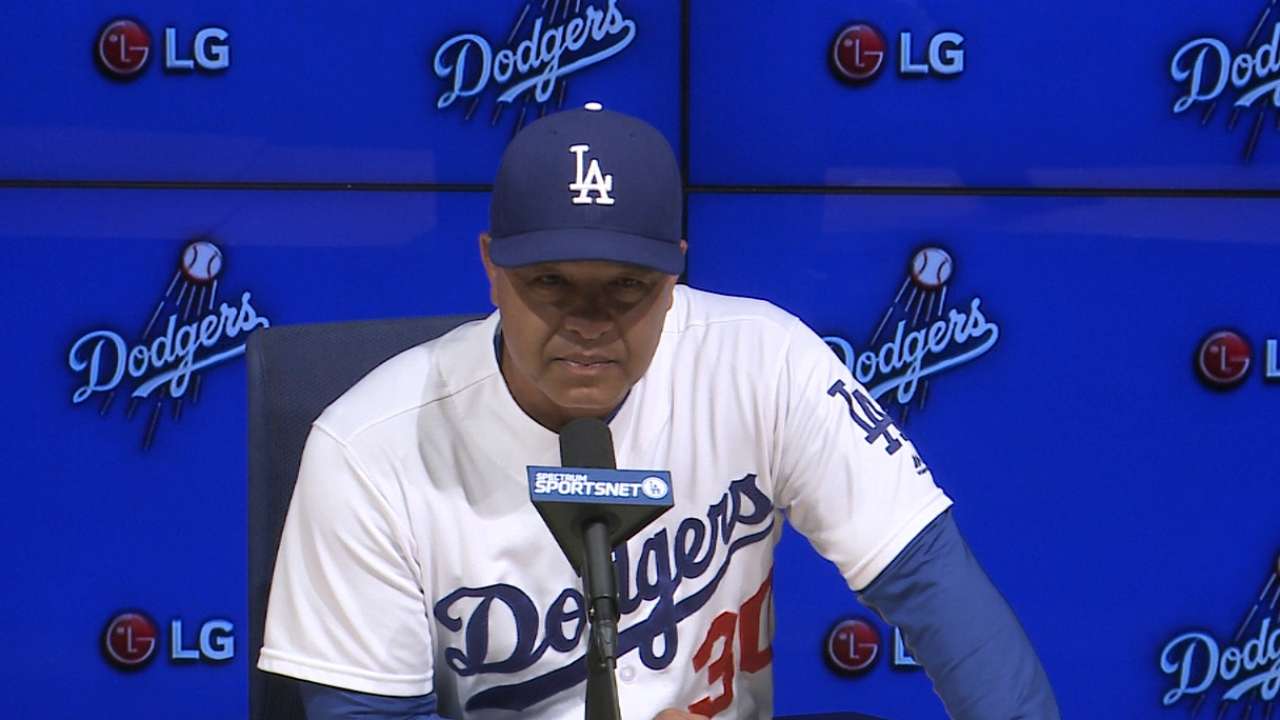 LOS ANGELES -- Scott Kazmir's first start back from the disabled list was cut short after the first inning due to right intercostal spasms, another roadblock as the veteran tries to make the postseason roster.
The southpaw was replaced by rookie Ross Stripling at the start of the second inning in Friday night's 5-2 win against the Rockies. Stripling went on to strike out four and allow two hits in three innings of long relief, with the bullpen totaling two earned runs in eight innings while striking out 11.
"There was something going on with his body, his ribcage area, just didn't feel like he could perform the way he's capable of," manager Dave Roberts said of Kazmir. "For him to be responsible enough in this game to pass the baton to Strip, I thought that was pretty unselfish of Kaz. I feel bad for him, he's been through so much, but it was good of Strip to give us three innings."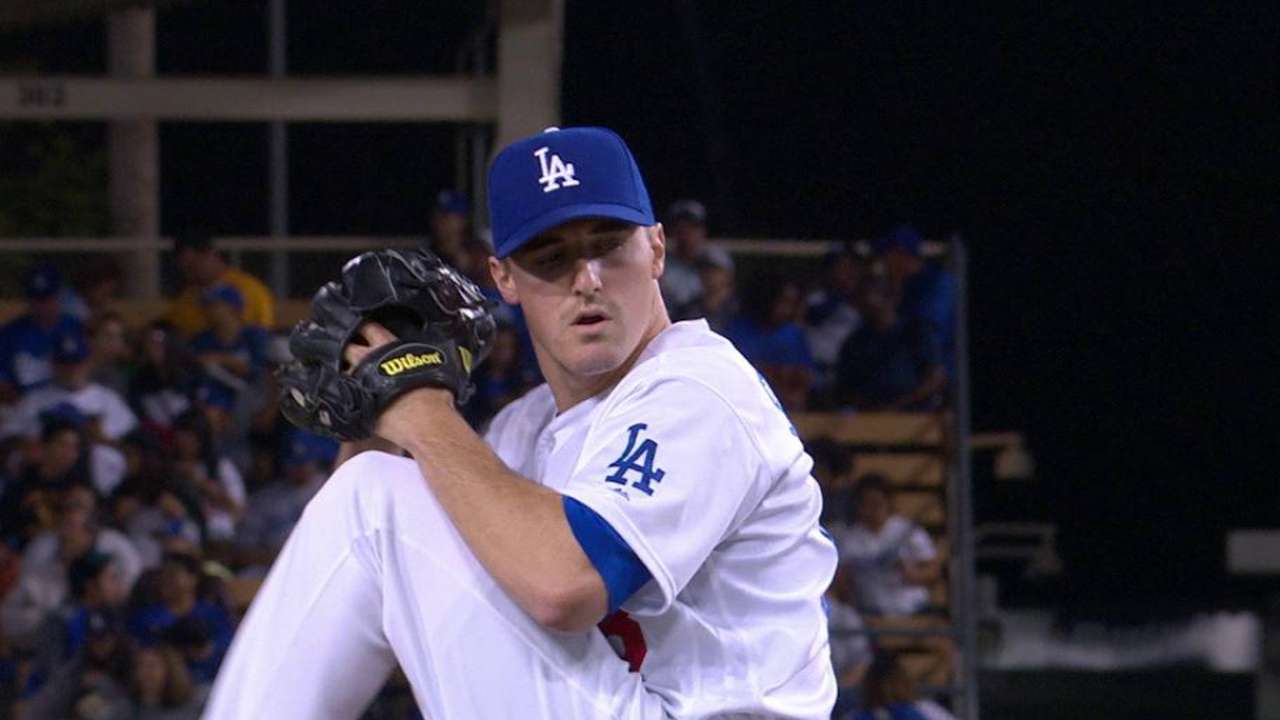 The first pitch of Kazmir's start was delayed by more than 20 minutes as the Dodgers' ceremony honoring Vin Scully ran long, resulting in a start time of 7:47 p.m. Kazmir said after the game that his right side started to tighten as he got up to warm up again, but was hesitant to blame the ceremony or call the spasms a setback. He also compared the spasms to a problem that cut short a rehab start with Triple-A Oklahoma City on Sept. 7.
Kazmir would now be a longshot make the Dodgers' postseason roster, as the veteran is competing with several other pitchers, most significantly Brett Anderson and Brock Stewart, for the fourth starter spot in the rotation.
Kazmir's last start came on Aug. 22 in Cincinnati, where he left the game with a thoracic neck injury that made it difficult to turn his head during his pitching motion. He also developed a blister on the ring finger of his pitching hand during a 60-pitch bullpen session on Sunday, but the pitcher had said that the blister would be a non-factor during his start.
It would be Stripling who got a playoff audition instead on Friday, as Roberts had said Wednesday that the club views him as a long reliever now for a potential postseason roster.
"It's been nice that I have now logged some innings out of the 'pen and been able to get used to it," Stripling said. "It's obviously very different than starting, I'm kind of doing more of a long role. I've enjoyed it. It's been a lot of fun. If it comes down to me doing it in the postseason, I'd like to do it."
The Dodgers have set a club record for relief innings in a season. They've now tossed 559 innings, exceeding the 2009 team's 551 mark.
Of those innings, 66 2/3 belong to closer Kenley Jansen, who got his 47th save Friday. Jansen has been on a rampage as of late, striking out 42 of 72 batters he has faced since Aug. 1. With him working as the anchor, the Dodgers have a group of relievers that has worked often, worked well, and is ready to continue working in the postseason.
"It's been the whole year. We're immune to it at this point," Jansen said. "We've never complained the whole year, so why start now?"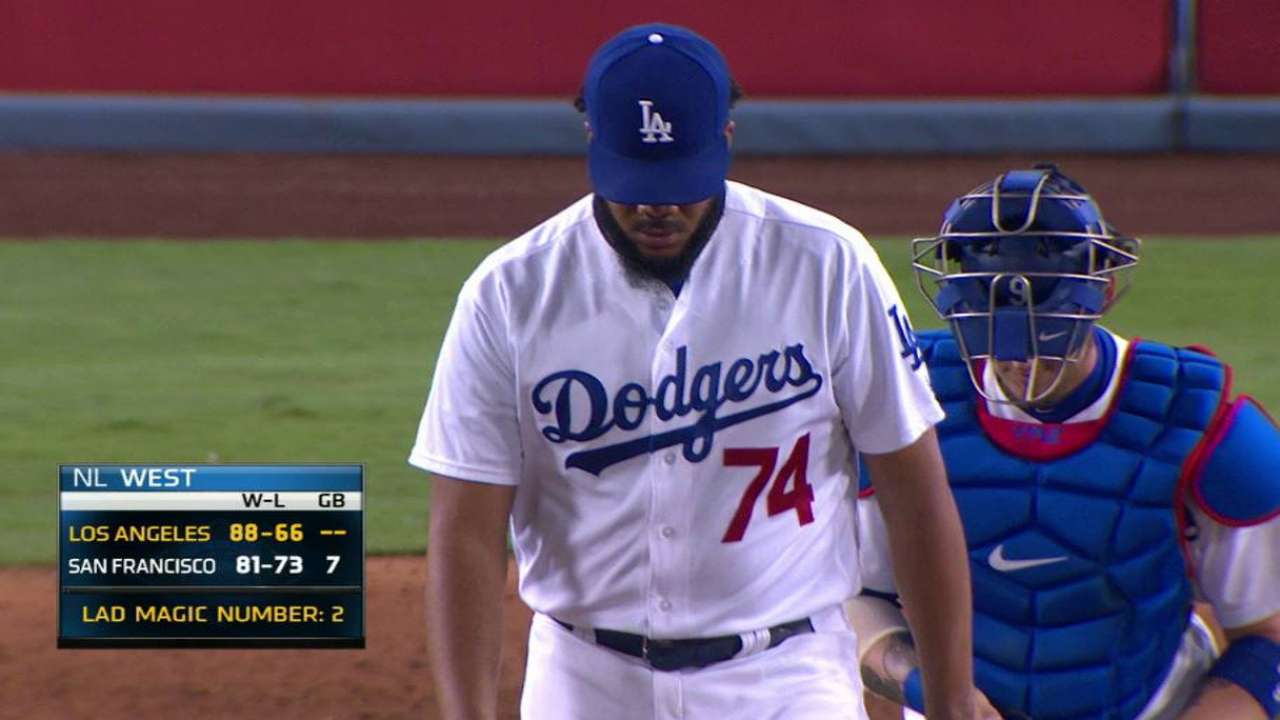 Jack Baer is a reporter for MLB.com based in Los Angeles. This story was not subject to the approval of Major League Baseball or its clubs.