Pirates delay Nats' party with walk-off in 11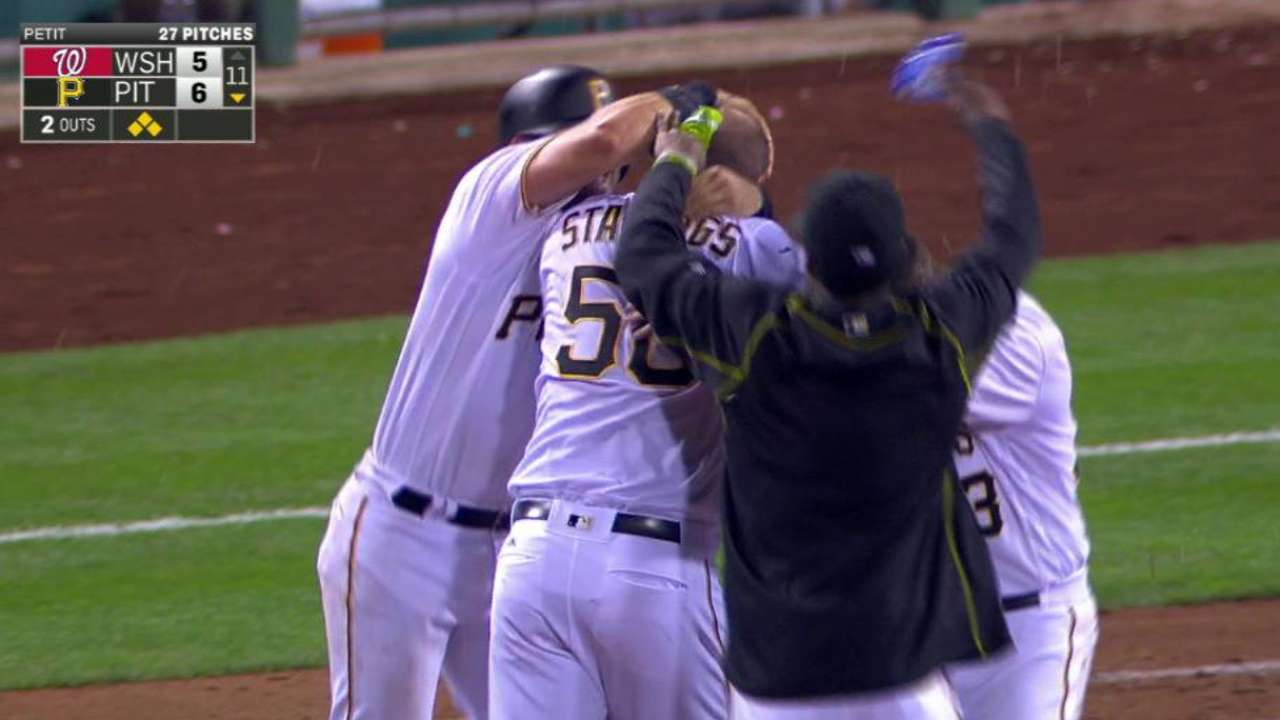 PITTSBURGH -- With the champagne chilling and their clubhouse prepared for a celebration, the Nationals couldn't seal the deal Friday night at PNC Park. About an hour after the Mets put the Nats' division-clinching party on hold in New York, the Pirates kept Washington from officially punching its ticket to the postseason. The Bucs cracked Mark Melancon, their former closer, then little-used September callup Jacob Stallings slapped a pinch-hit, walk-off single to left field in the 11th inning to cap a 6-5 comeback win over the Nats.
Stallings was the last man on the Pirates' bench, the 25th different Pittsburgh player used in the four-hour, 36-minute marathon. He had done the math earlier in the 11th inning, coming to the conclusion that the only way he'd hit -- the only way he'd see a big league field for the first time since June 21 -- was with the bases loaded and two outs. That situation presented itself against Yusmeiro Petit, and Stallings delivered his second Major League hit over Anthony Rendon's head.
"It was really cool," Stallings said. "The biggest disappointment from the first time I was up was I wasn't able to help them win a game. This time, helped them win, and obviously it's a big win for us, trying to make the playoffs."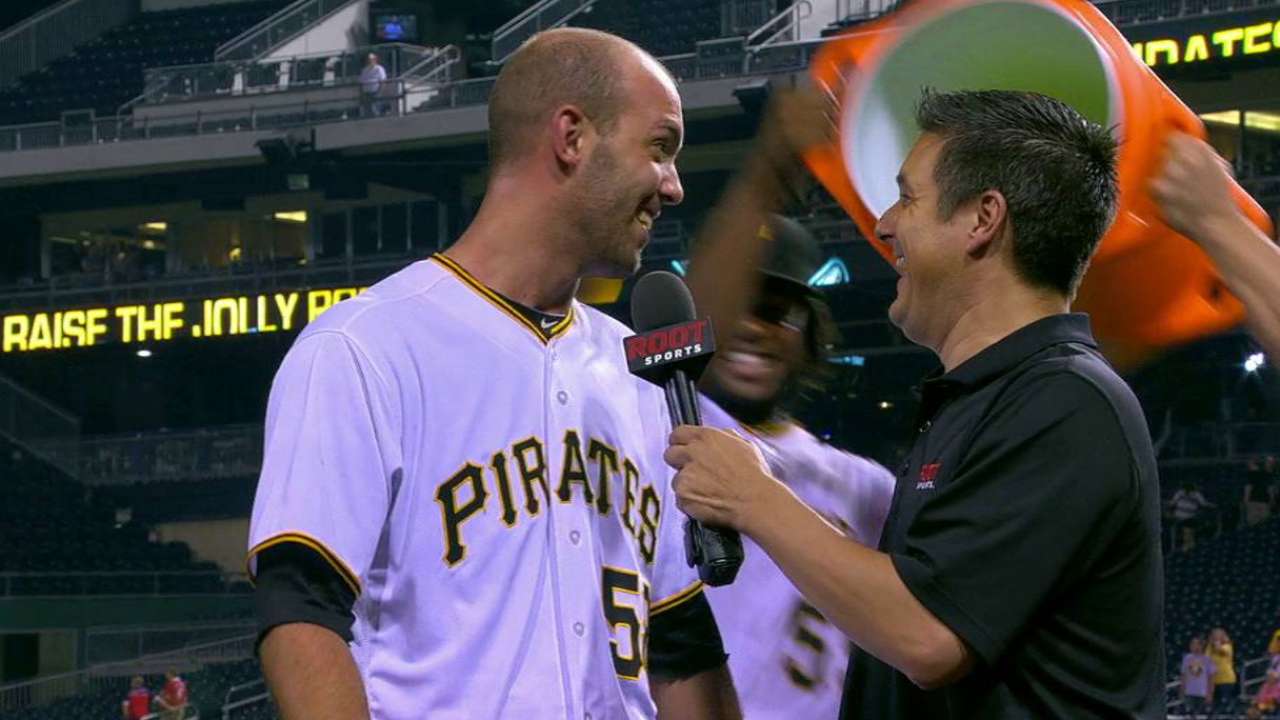 To officially secure their third National League East championship in five years on Friday, the Nationals had to beat the Pirates and the Mets had to lose. Even without clinching the division, the Nationals could have guaranteed themselves a spot in the postseason and at least a tie for the NL East title by beating the Pirates. Neither outcome played out for the Nats, so they will have to wait until at least Saturday -- a Washington win and a New York loss would do it -- to officially bring home their third NL East crown in the last five years.
By the time Melancon gave up a one-run lead in the ninth inning against his former team, the Mets had beaten the Phillies, 10-5. So the pallet full of adult beverages carted into PNC Park's visiting clubhouse went unopened.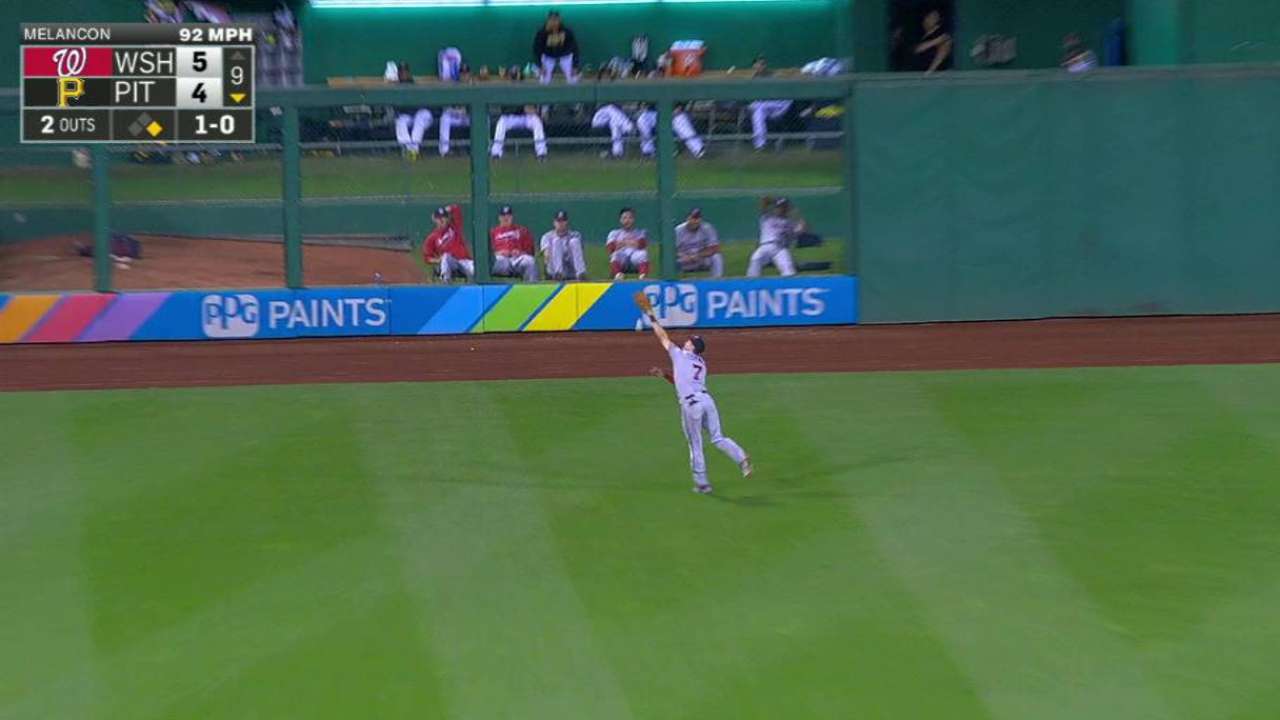 "You still got to win the game," Nationals left-hander Gio Gonzalez said. "It's unfortunate the situation that happened tonight, but turn the page and get ready for tomorrow."
The Pirates won for the eighth time in their last 11 games, keeping their fading postseason hopes at least mathematically alive. Rookie right-hander Jameson Taillon gave up three early runs but settled down after that, striking out seven in five innings. But Wilson Ramos hit a go-ahead solo homer off Antonio Bastardo in a two-run sixth.
Adam Frazier's sixth-inning sacrifice fly pulled the Bucs within a run. Then the Bucs rallied against Melancon, with Sean Rodriguez -- one of the Majors' hottest hitters the last two weeks -- delivering the game-tying blow, a line-drive double that sailed over Trea Turner's head in center field and brought home pinch-runner Pedro Florimon.
"I know what Mark's throwing like any other pitcher," Rodriguez said. "You just hope he throws it in a spot where you can do something, where you can drive it a little bit. He gave me a pitch I was able to do that with."
With Giants losing to the Padres, the Pirates pulled within 3 1/2 games in the race for the second NL Wild Card spot with nine remaining, improving to one game above .500.
MOMENTS THAT MATTERED
Still learning: For all the excitement Turner has brought in his short time with the Nationals, he still is learning to play center field. On the rookie's misplay in the ninth, manager Dusty Baker blamed the team for not positioning Turner deeper in the outfield on what should have been a no-doubles situation.
"He's a novice out there," Baker said. "Sometimes you're going to make mistakes out there; at least it's going to appear to be a mistake. I thought he had a beat on the ball. ... That wasn't his mistake, I think that was our mistake."
"I think I play fairly deep for the most part," Turner said. "But looking back at it, I think no-doubles was probably the situation to be in."
What a relief: Three relievers who weren't prominently involved in the Pirates' plans on Sept. 1 played a big role in Friday's bullpen showdown. Left-hander Zach Phillips struck out Bryce Harper with the bases loaded and two outs in the sixth. Phil Coke, who joined the team Friday afternoon following a Thursday trade, pitched a scoreless seventh. And veteran lefty Wade LeBlanc tossed a scoreless 11th, setting up the Pirates' game-winning rally.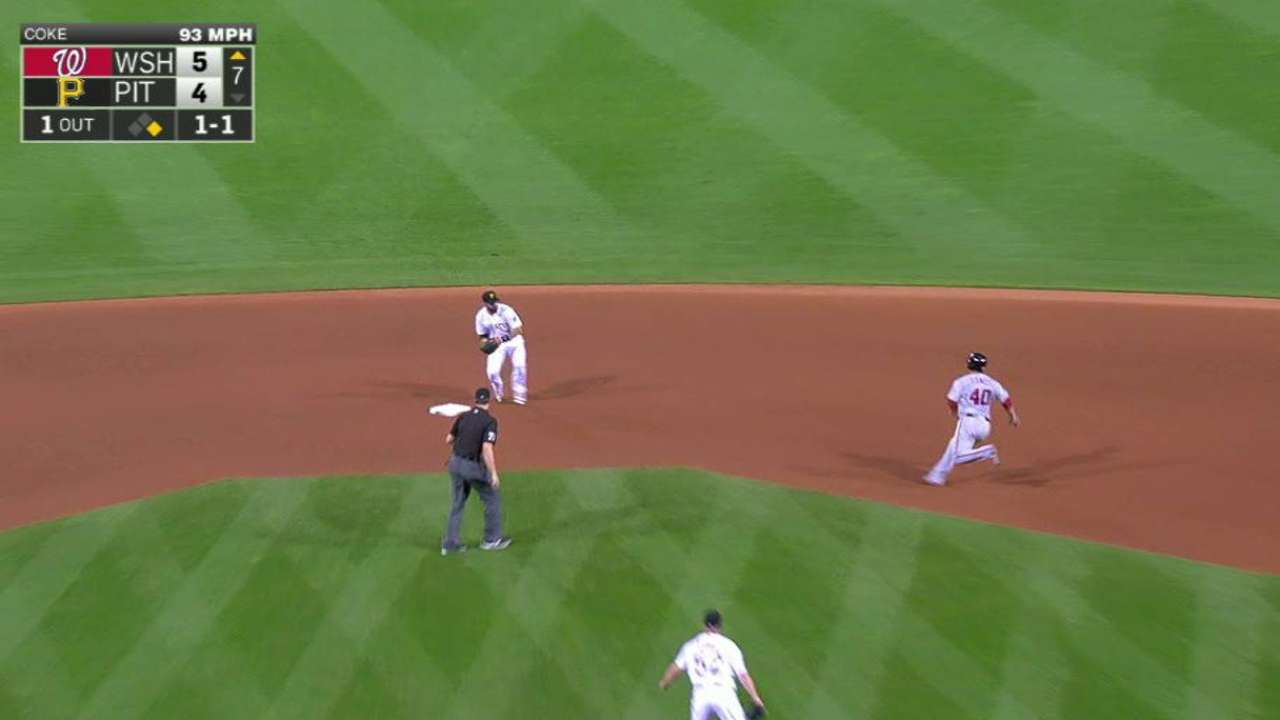 "That's your snapshot of a September, expanded-roster game," Pirates manager Clint Hurdle said. "They're ready to pitch and they're looking for opportunity."
Solid start for Gio: So much of the Nationals' playoff hopes ride on Gonzalez, who could be catapulted into the team's No. 3 starter spot if the injured Stephen Strasburg is not ready. Gonzalez turned in a solid outing against the Pirates, even if it was unlikely to increase the confidence of Nationals fans. He allowed three runs on five hits and three walks in five innings while striking out five. During the previous eight starts of this rocky season, Gonzalez averaged just five innings per start with a 5.63 ERA.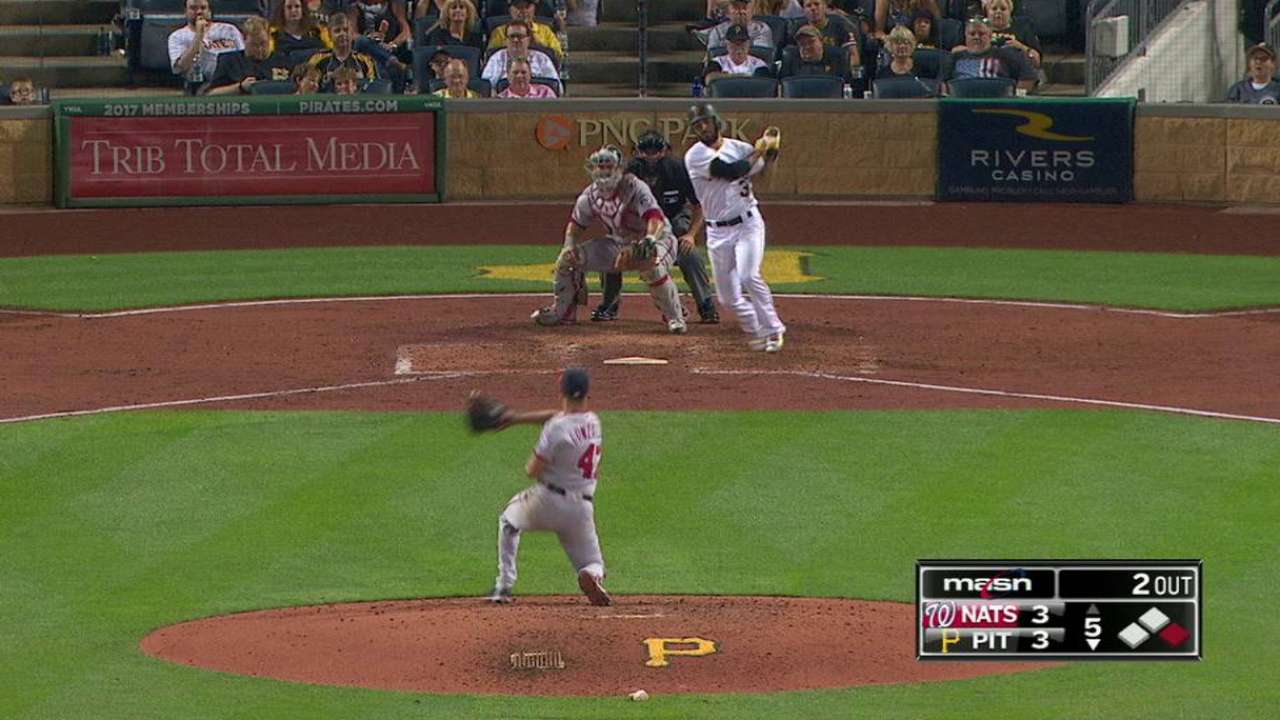 Early injury: Already dealing with a laundry list of injuries, the Pirates were dealt another in the first inning. Playing left field in place of Starling Marte, who's been sidelined more than two weeks by lower back tightness, Gregory Polanco slammed face-first into the wall while chasing Harper's double. Polanco was evaluated by a trainer and immediately left the game due to a left facial contusion. Adam Frazier moved from second base to left field, and rookie Alen Hanson entered the game to play second.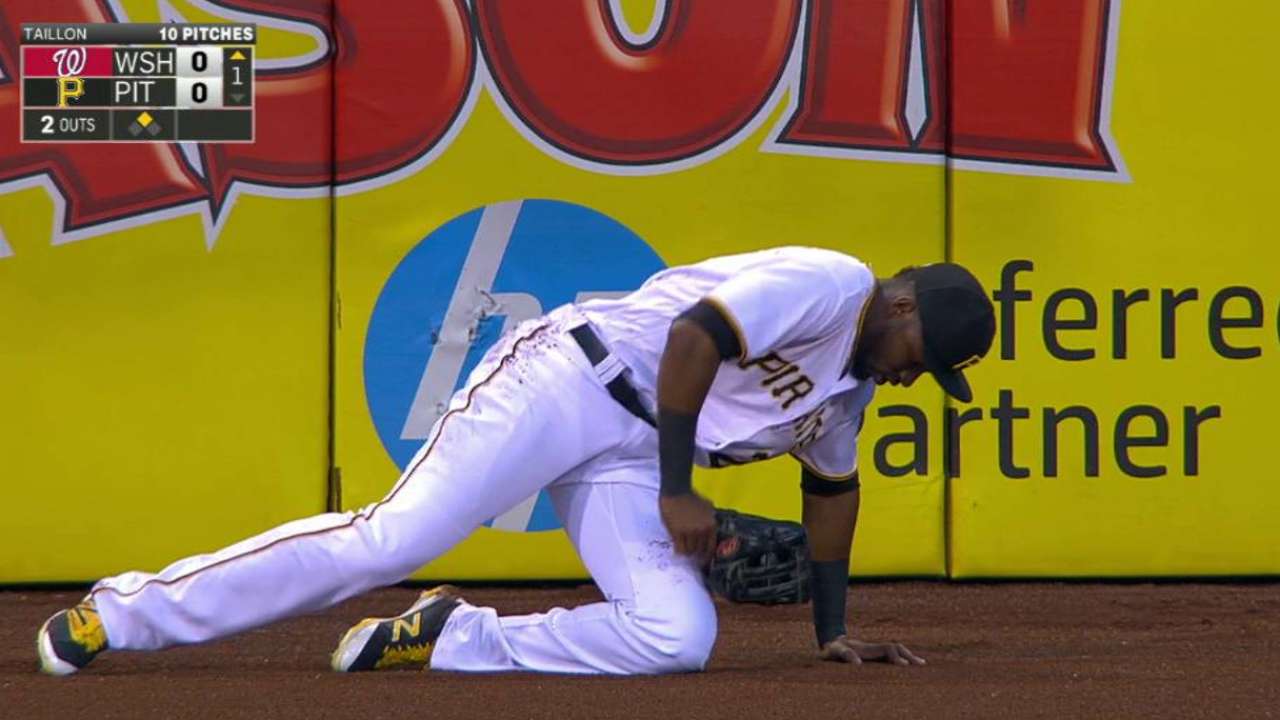 "It was a hard collision with the wall. We'll see how he's doing. He seems to be doing OK," Hurdle said. "It's not exactly the way you want to start the game in the top of the first inning."
QUOTABLE
"It was very cool. I didn't really know they put a montage up or anything like that, so it was very classy and very cool I got a standing 'O.' I wanted to tip my cap, but I didn't wanna mess up my mojo either; probably should have tipped my cap." -- Melancon, on his reception back in Pittsburgh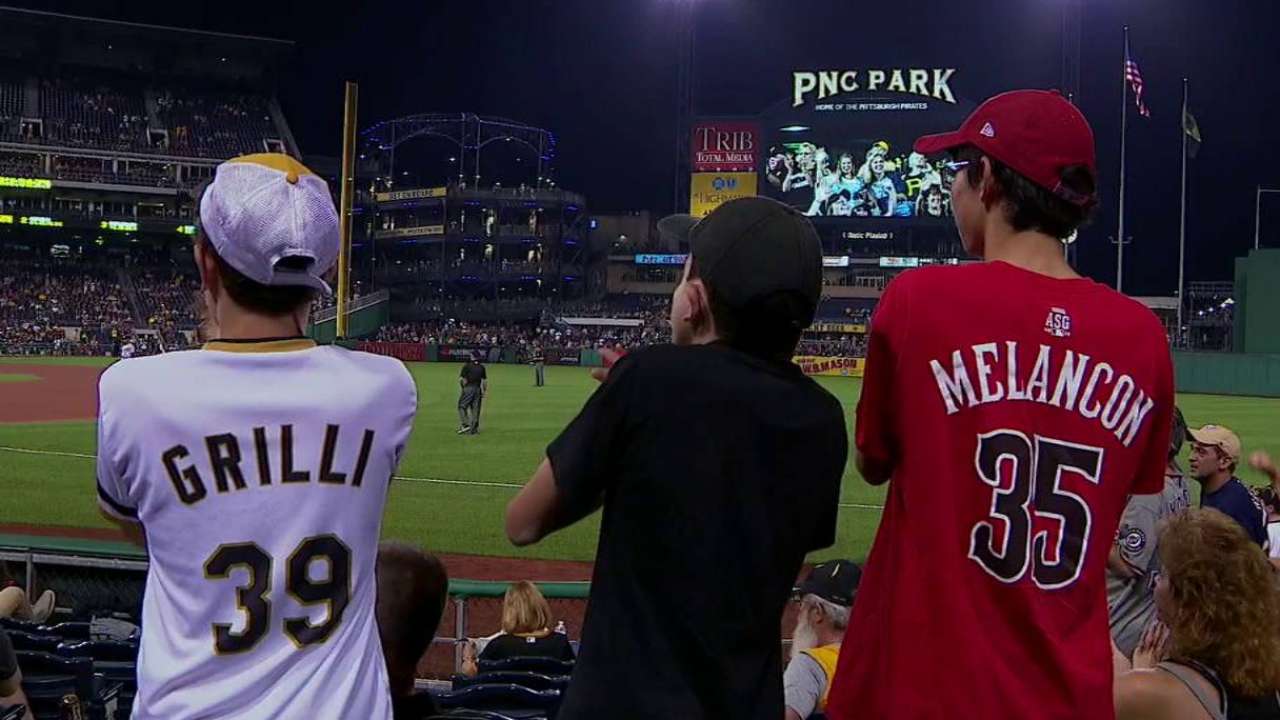 "It's hard to say it's weird, because competitively, even as friends, you still want to come out on top so you get some kind of bragging rights. It could go either way. It's good table talk, I guess."-- Rodriguez, on facing Melancon
SOUND SMART WITH YOUR FRIENDS
By striking out Anthony Rendon in the ninth inning, Pirates reliever Juan Nicasio extended his streak to 32 consecutive appearances with at least one strikeout. That is the longest such streak in the Majors this season and the longest since Aroldis Chapman whiffed at least one batter in 37 straight games in 2014.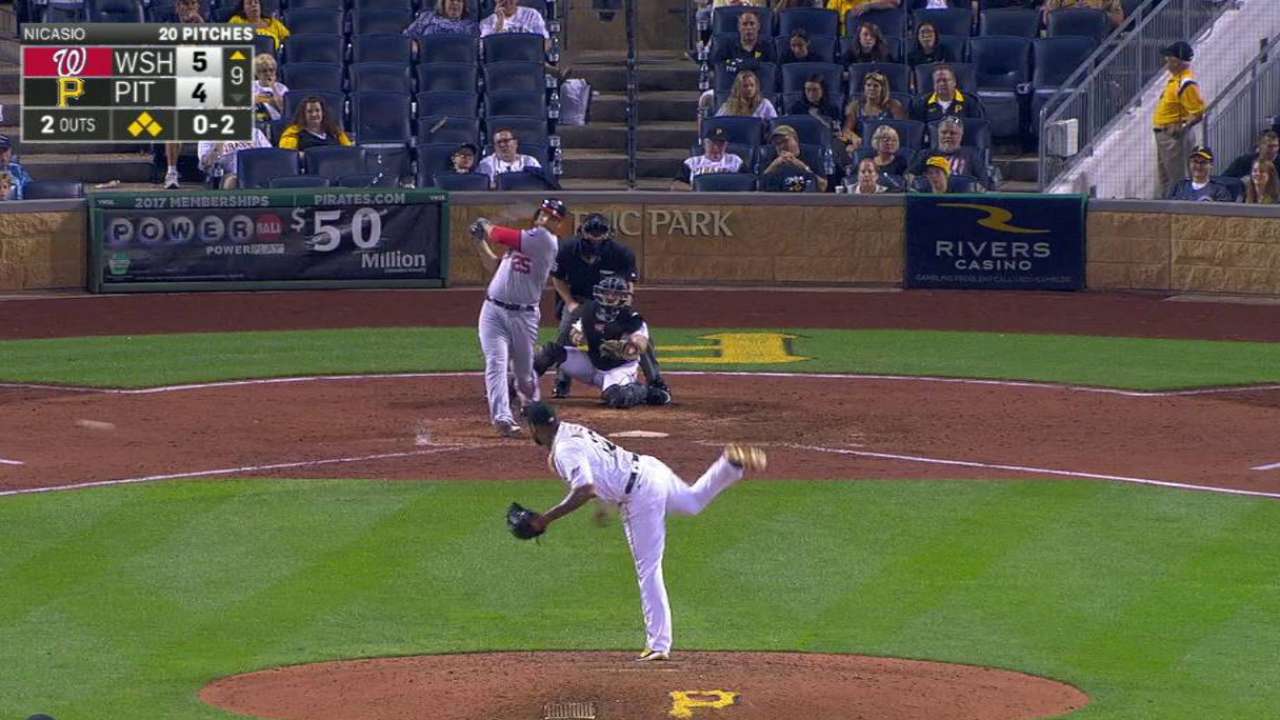 Andrew McCutchen's late-season surge continued as he led off the third inning with a triple to right-center field. The line-drive shot sailed past a diving Harper and rolled to the wall, giving McCutchen time to scamper around the bases. The triple, McCutchen's third of the season, extended his hitting streak to 11 games.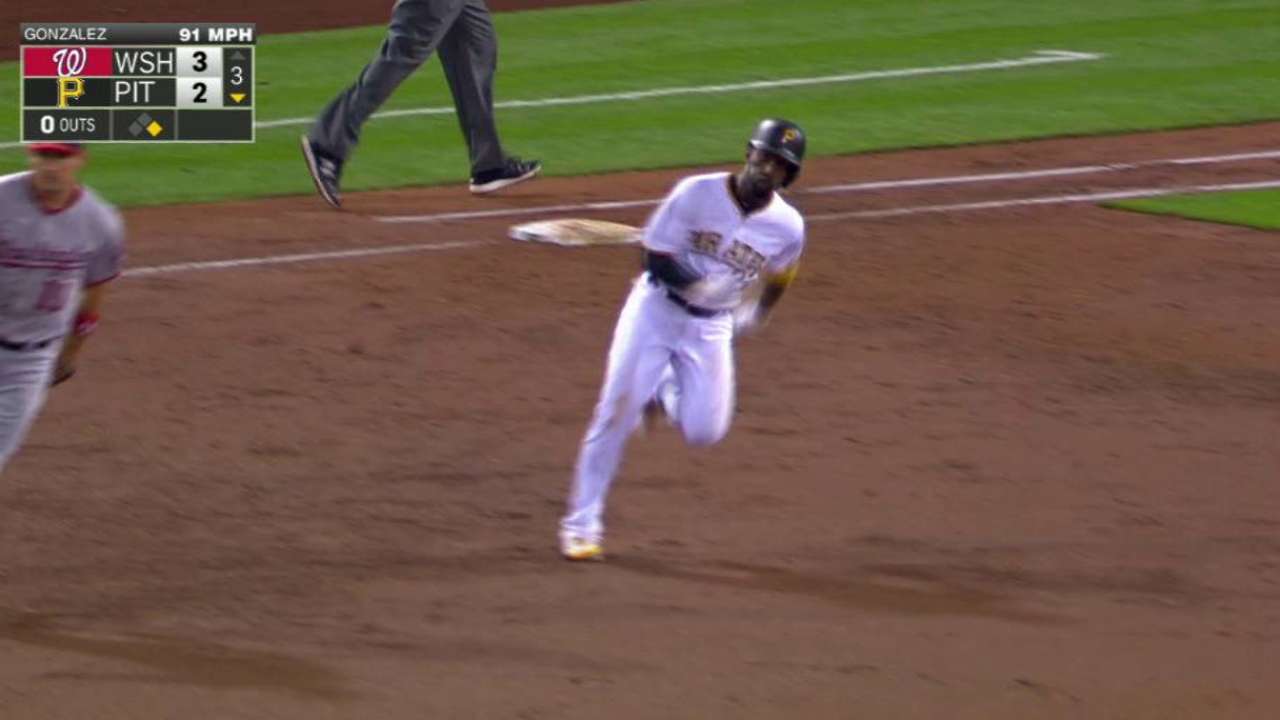 UPON FURTHER REVIEW
The Nationals used a challenge to cut down a key Pirates baserunner in the ninth inning. McCutchen singled and raced to second on Kang's tapper in front of the mound, and Ramos went for the out at second base. McCutchen was initially ruled safe, but Washington challenged the call. After a two-minute replay review, the call was overturned and McCutchen was ruled out.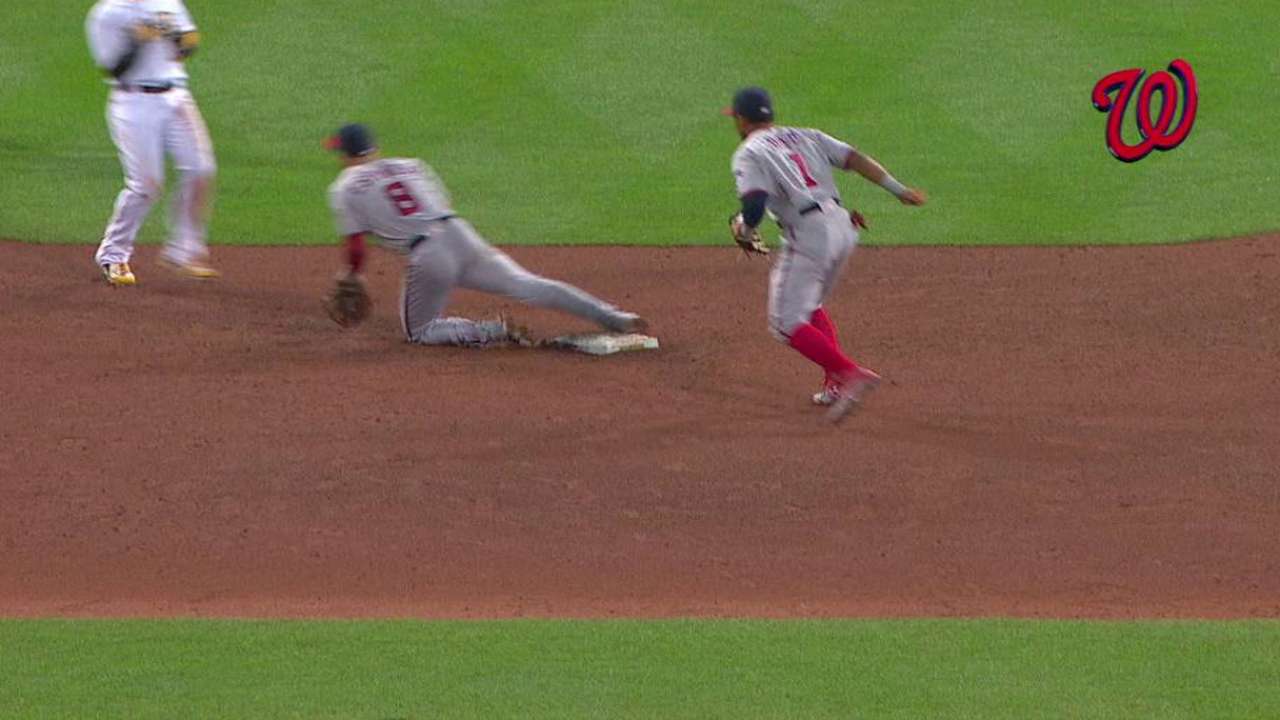 WHAT'S NEXT
Nationals With their magic number still at two, the Nats aim to move closer to the National League East title Saturday night at 7:05 p.m. ET at PNC Park. Right-hander Joe Ross (7-5, 3.48 ERA) will make one of his final two starts of the regular season, with hopes of building up his stamina in time for the postseason.
Pirates: Ivan Nova (12-7, 4.19 ERA) will make his 10th start for the Pirates on Saturday night at PNC Park. The right-hander has turned his season around since coming to Pittsburgh, going 5-1 with a 2.93 ERA, but he's coming off a rough start against the Reds in which he lacked his usual command down in the strike zone.
Watch every out-of-market regular-season game live on MLB.TV.
Adam Berry has covered the Pirates for MLB.com since 2015. Follow him on Twitter and Facebook, read his blog and listen to his podcast.

Jamal Collier covers the Nationals for MLB.com. Follow him on Twitter at @jamalcollier.

This story was not subject to the approval of Major League Baseball or its clubs.