Statcast of the Day: Buxton robs HR by leaps and astounds
Twins rookie showcases skills to snag Cruz's 410-foot shot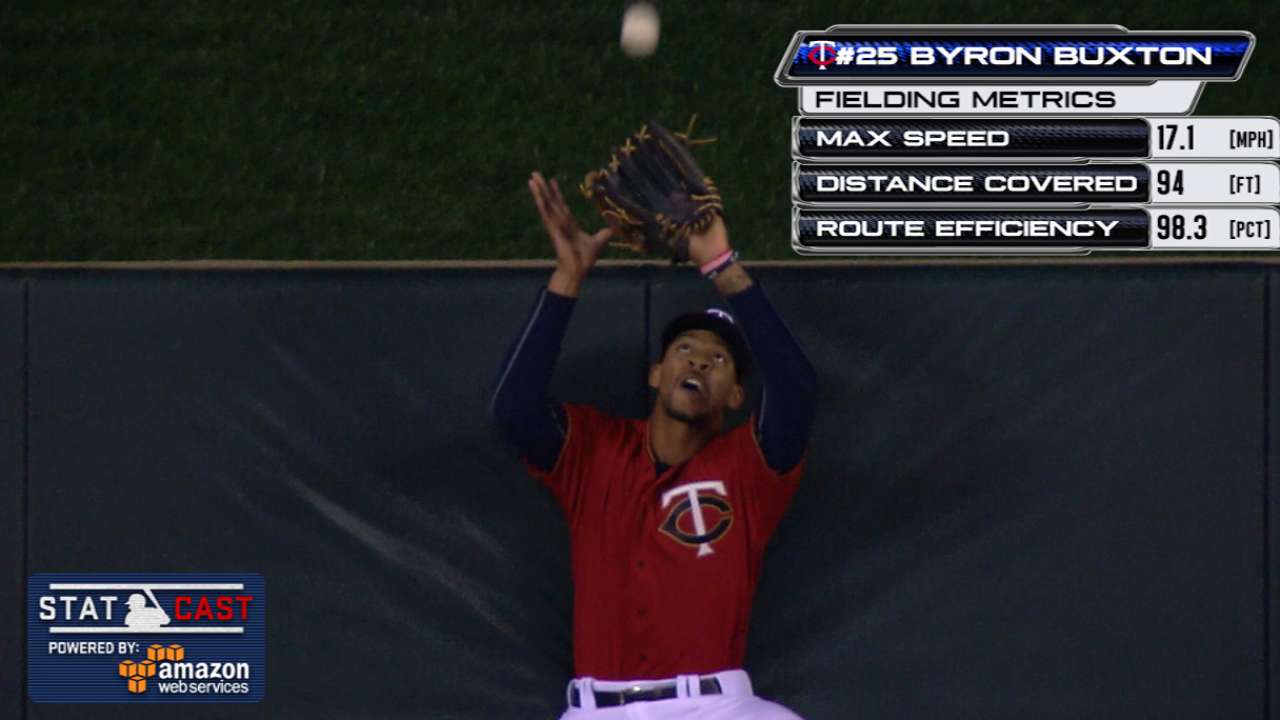 MINNEAPOLIS -- Highlight-reel catches have become a common occurrence for Twins rookie center fielder Byron Buxton, but he made one of his best catches of the season to rob Seattle's Nelson Cruz of a potential three-run homer in the third inning of the Mariners' 10-1 victory Friday night.
Cruz crushed a 2-2 fastball from right-hander Kyle Gibson to dead center, but Buxton raced back to the wall and made a leaping grab to end the inning. Gibson watched with awe from the mound and gave a fist bump after he saw Buxton came up with the run-saving catch.
"Unreal," Gibson said. "He saved the game and the night for the time being. He makes so many plays. Not that he made it look real easy, but he got back there so quick to make that play."
Buxton had a first step of 0.47 seconds, covering 94 feet with a route efficiency of 98.3 percent, per Statcast™. He also reached 17.1 mph, which is far from his top speed, as he reached 22.1 mph while making a diving catch against the Tigers on Tuesday.
Buxton wasn't playing Cruz particularly deep at 313 feet from home plate, as the average Major League center fielder has played Cruz at 322 feet from home. Cruz was unlucky, as the ball had an exit velocity of 103.4 mph with a launch angle of 27 degrees, according to Statcast™. Batted balls with similar traits have resulted in a .915 average this season, with 85 percent going for home runs. The ball went a projected 410 feet.
"When he hit it, I thought it was out of the park," Twins manager Paul Molitor said. "He ran a good route and got back there to make a good catch without having the wall knock the ball out of his glove. Kept it at 1 at that moment. Big play at that time."
Buxton nearly made another spectacular play in the fourth, when catcher Mike Zunino lifted a high fly into shallow left-center, but Buxton was unable to come up with the grab despite a diving attempt. It brought home the second run of the game for the Mariners, and Buxton apologized to Gibson despite it being a nearly impossible play to make.
"He plays so hard," Gibson said. "He came in after the fourth inning and was mad at himself he couldn't get to the Zunino ball. He apologized to me, but I don't know how many guys even come close to that ball and he's out there diving for it. He's a special player, and I think Twins fans are getting a pretty good taste of what the future looks like for him in center field."
Rhett Bollinger has covered the Twins for MLB.com since 2011. Read his blog, Bollinger Beat, follow him on Twitter @RhettBollinger and listen to his podcast. This story was not subject to the approval of Major League Baseball or its clubs.