Great win lands Britain in qualifier semifinal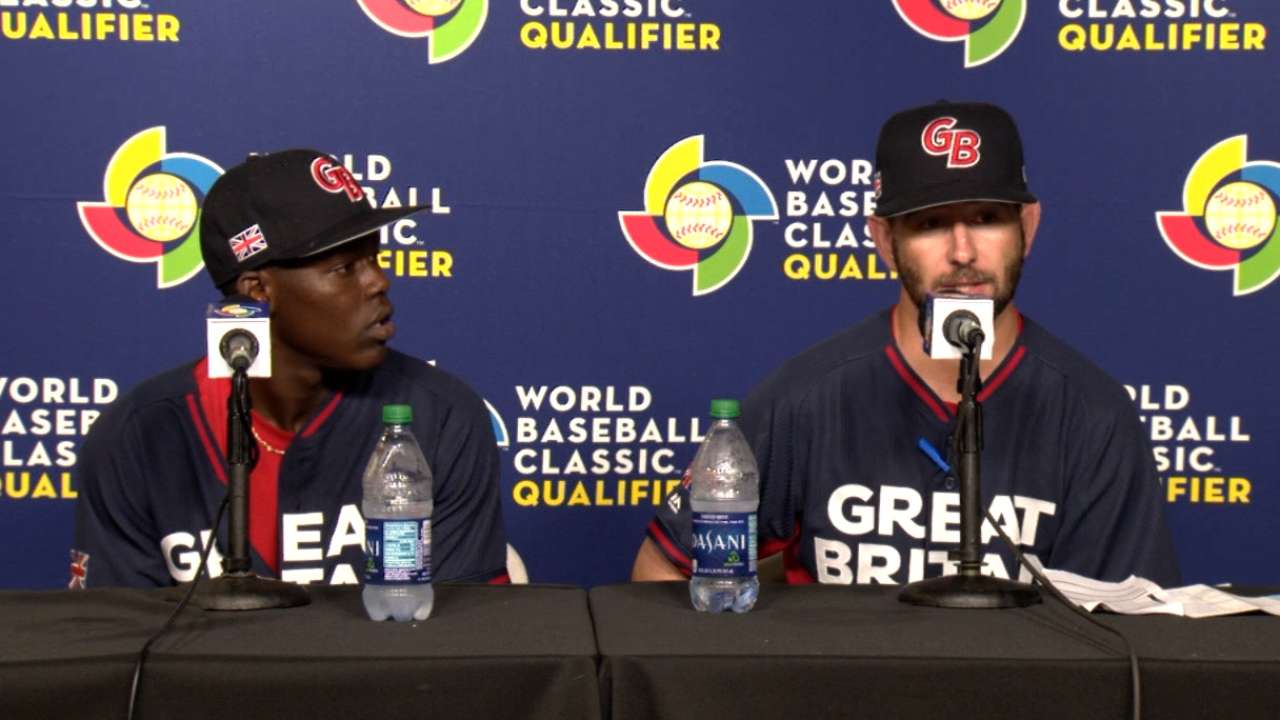 NEW YORK -- A night after a bullpen meltdown landed Great Britain in the loser's bracket, the team slugged its way back into the World Baseball Classic qualifier picture in Coney Island.
Great Britain used a six-run fifth inning to secure a 14-0 win over Pakistan and stay alive in the qualifying tournament, being held this week at MCU Park in Brooklyn. With the win, Great Britain advanced to Saturday's 8 p.m. ET semifinal game against Brazil, which lost to Israel in the winner's bracket final Friday afternoon. The game will be streamed live on WorldBaseballClassic.com.
"Even after [the way] yesterday ended, I was glad how the guys were prepared for today," Great Britain manager Liam Carroll said. "[Our confidence] just built and built and built."
World Baseball Classic coverage
The winner of Saturday's semifinal game goes on to face Israel in the qualifier final Sunday. The winner of that game earns a spot in the World Baseball Classic next March, when it will compete in Pool B in Seoul against host South Korea, the Netherlands and Chinese Taipei.
"We're trying to get to South Korea," said Great Britain shortstop Jasrado Chisholm.
That's a possibility for Great Britain once again after it eliminated Pakistan in Friday's shortened (seven-inning) contest. The Brits smacked 13 hits hits in support of starter Greg Hendrix and three relievers, as they look to qualify for the WBC for the first time. Brazil is the only country in this bracket that's ever qualified for a WBC.
"We looked at them, they are a really good team," Carroll said. "We need to continue to do what we've been doing all week, which is be ourselves and give our best effort."
The double-play combination of shortstop Chisholm and second baseman Albert Carthwright together had five hits, scored four times and drove in three runs to pace the Great Britain offense.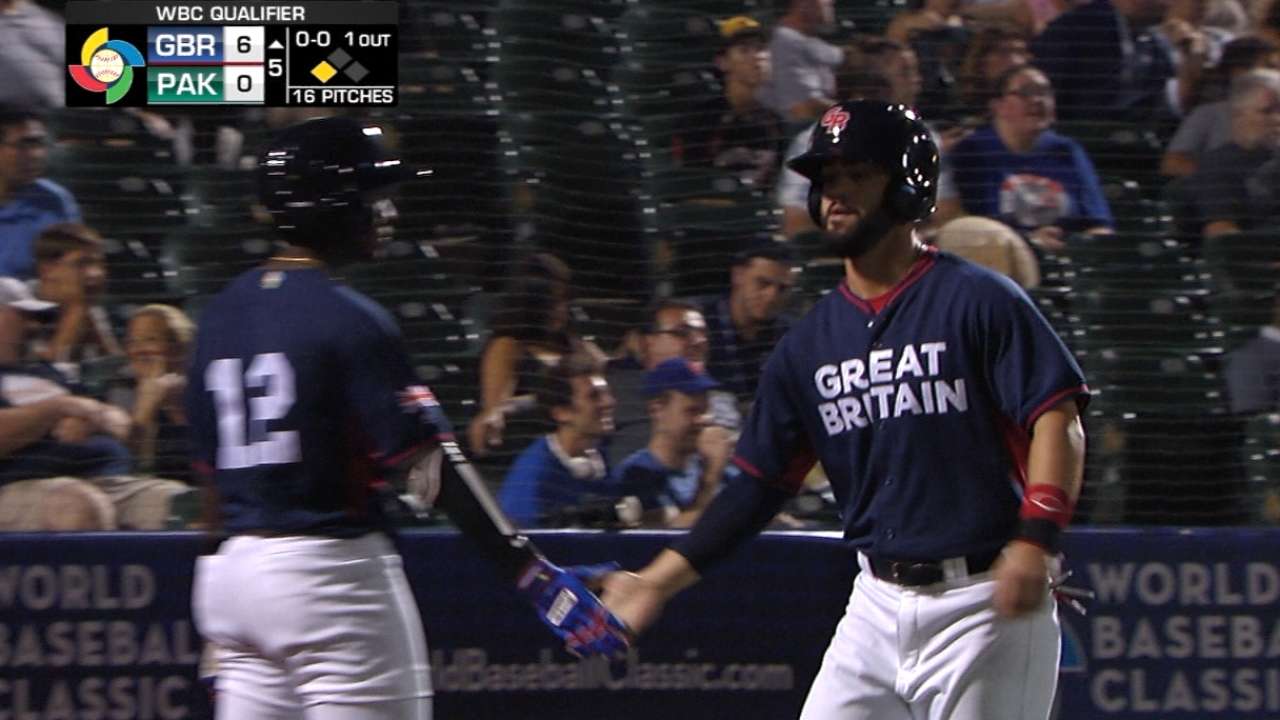 Carthwright, a former Mets and Astros Draft pick, hit a two-run triple that broke the game open in the fifth. Great Britain scored in every inning except the first. Eight Great Britain players hit safely and eight drove in at least one run, and the Brits walked eight times.
"When you win the freebie war and have quality at-bat percentage above 50 percent, you're going to win," Carroll said.
Hendrix, a southpaw who plays professionally in Germany, allowed a lone hit in four scoreless innings. Great Britain starters have yet to allow a run in 10 innings over their first two games of the tournament.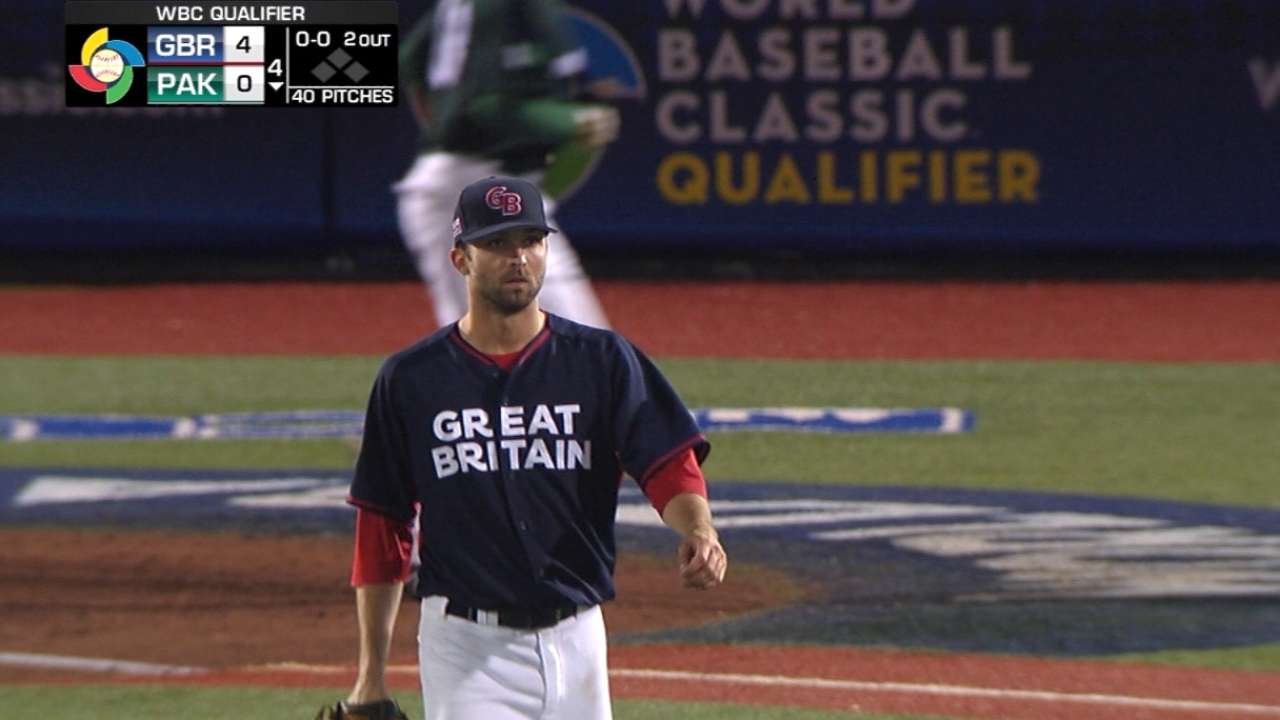 The loss ended a fruitless but inspiring qualifier for Pakistan, which was competing in North America for the first time. Baseball is merely 20 years old in Pakistan, where leagues are scarce and games are played on soccer grounds. Some of Pakistan's players experienced jetlag after a more than 24-hour travel day, and Friday's game was the second time the team had ever played under stadium lights. Pakistan lost to Brazil, 10-0, in its opening game.
"This was our first step," said Pakistan manager Syed Fakhar Ali Shah. "We are ready for the second step now. We've never been here before and we never played against those professional players. Now they know the difference between them and those players. That will help us a lot and help our youth in Pakistan."
"They have tools," Carroll said of Pakistan. "You can see that it's raw. But you can see guys throwing really hard, guys who are really quick and guys who can hit the ball. They have players. The hardest part is having the athletes that choose baseball. They'll be in pretty good shape."
Joe Trezza is a reporter for MLB.com based in New York. Follow him on Twitter at @joetrezz. This story was not subject to the approval of Major League Baseball or its clubs.