Eaton slams into wall after great grab, exits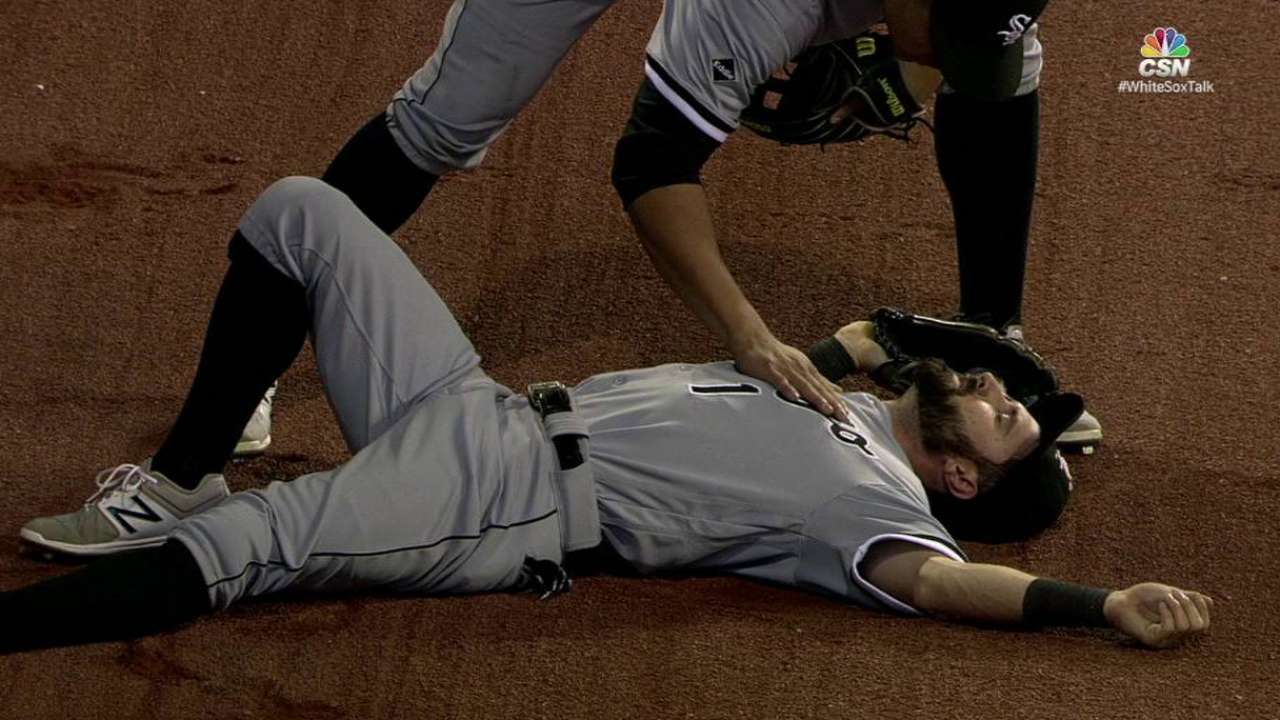 CLEVELAND -- Adam Eaton made a sensational catch to take extra bases away from Cleveland catcher Roberto Perez leading off the bottom of the sixth inning during the Indians' 10-4 victory over the White Sox on Friday at Progressive Field.
But the White Sox center fielder paid the price for his spectacular effort.
Eaton, who has been Gold Glove Award-caliber defensively in right field this entire season, raced back on Perez's drive and made the catch on the run without really being able to look the ball into the glove. Eaton's left shoulder slammed into the wall after the grab, jarring his head and sending him to the ground.
"He's pretty banged up," White Sox manager Robin Ventura said. "He hit it pretty hard. It was a nice play. Even going out there, I think it knocked the air out of him. He hit his hip and felt like he was locked up with his back.
"That's why it took so long on the ground. Even walking off, he felt a little stiffness."
With Eaton on his back in center, right fielder Avisail Garcia motioned for assistance from the dugout. Eaton eventually got to his feet under the guidance of White Sox head athletic trainer Herm Schneider and Ventura and was helped off the field by Schneider and second baseman Carlos Sanchez.
There was a little bit of a woozy look to Eaton, who was replaced by Leury Garcia. But Ventura didn't believe Eaton suffered a concussion.
"They are checking for it, but he seems fine and responds to everything. We are going to get him checked out and make sure," Ventura said. "He collided: a little bit of his shoulder. There's everything in there. He got it flush.
"A great effort. Running into walls is like his specialty. He's pretty good at it."
Scott Merkin has covered the White Sox for MLB.com since 2003. Read his blog, Merk's Works, follow him on Twitter @scottmerkin, on Facebook and listen to his podcast. This story was not subject to the approval of Major League Baseball or its clubs.