Great Britain meets Brazil for spot in qualifier final
Saturday's winner to face Israel for berth in 2017 World Baseball Classic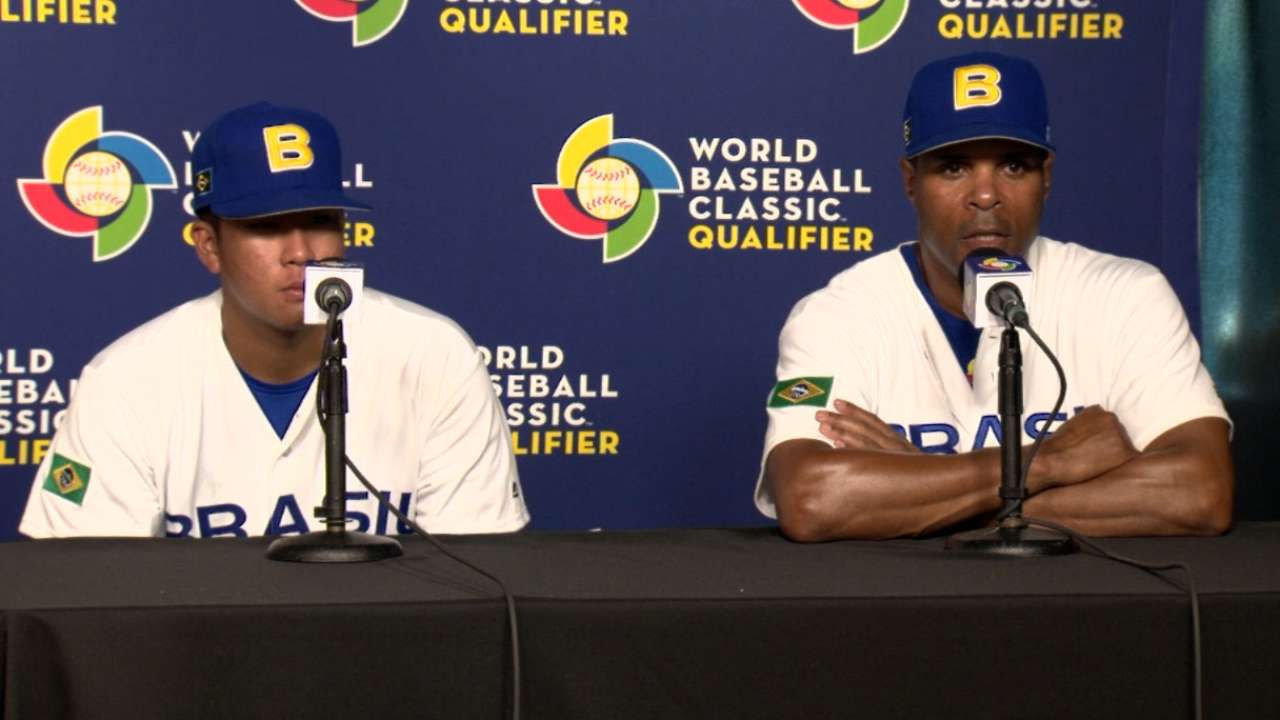 NEW YORK -- A date in the World Baseball Class qualifier final is on the line Saturday at 8 p.m. ET when Great Britain opposes Brazil in the semifinal game at MCU Park in Brooklyn. The game will be streamed live on WorldBaseballClassic.com.
Both one-loss teams will square off with an eye on Sunday's championship game against Team Israel, which advanced to the final with wins over both Great Britain and Brazil earlier in the week. Israel defeated Great Britain, 5-2, on Thursday, and Brazil, 1-0, on Friday.
That's how both teams ended up in the loser's bracket of the four-team, modified double-elimination tournament. Great Britain stayed alive by eliminating Pakistan with a 14-0 victory Friday night.
World Baseball Classic coverage
Because the tournament is run under modified double-elimination rules, Saturday's winner only needs to beat Israel (2-0) once Sunday to qualify for the World Baseball Classic next March. Sunday's winner heads to Seoul, South Korea, on March 7 to compete in Pool B against South Korea, the Netherlands and Chinese Taipei.
Brazil's strength has been its pitching so far in this tournament. Manager Barry Larkin's pitchers have allowed just one run in 16 innings, while the offense has been inconsistent. Brazil scored 10 runs on 13 hits against tournament newcomer Pakistan in its opening game, but was shut out on three hits by Israel in its second contest.
"The few opportunities to push runs across the board, we just couldn't do it," Larkin said. "We have to continue to pitch the way we're pitching, and when we have opportunities to score runs we have to score runs. Our pitches have really stepped up and gotten it done."
Brazil's roster features eight players currently affiliated with Major League organizations, and 21 players born in Brazil, where baseball participation is on the rise after the country's appearance in the 2012 WBC.
Great Britain, which has never qualified for the WBC, leads the qualifier in team hits, and has received two strong starting pitcher performances from lefties Michael Roth and Greg Hendrix. Great Britain is led by manager Liam Carroll and assisted by Trevor Hoffman, the National League's all-time leader with 601 career saves.
Carroll said he believes baseball is blossoming in England, where interest is increasing particularly in and around London, and that success in the qualifier can only fuel that excitement.
"We're seeing people on social media, they're fired up," Carroll said. "I talked a couple of nights ago about our mission -- to inspire, to develop, and perform. This experience certainly inspires."
Joe Trezza is a reporter for MLB.com based in New York. Follow him on Twitter at @joetrezz. This story was not subject to the approval of Major League Baseball or its clubs.