Kemp ejected in third for arguing strike call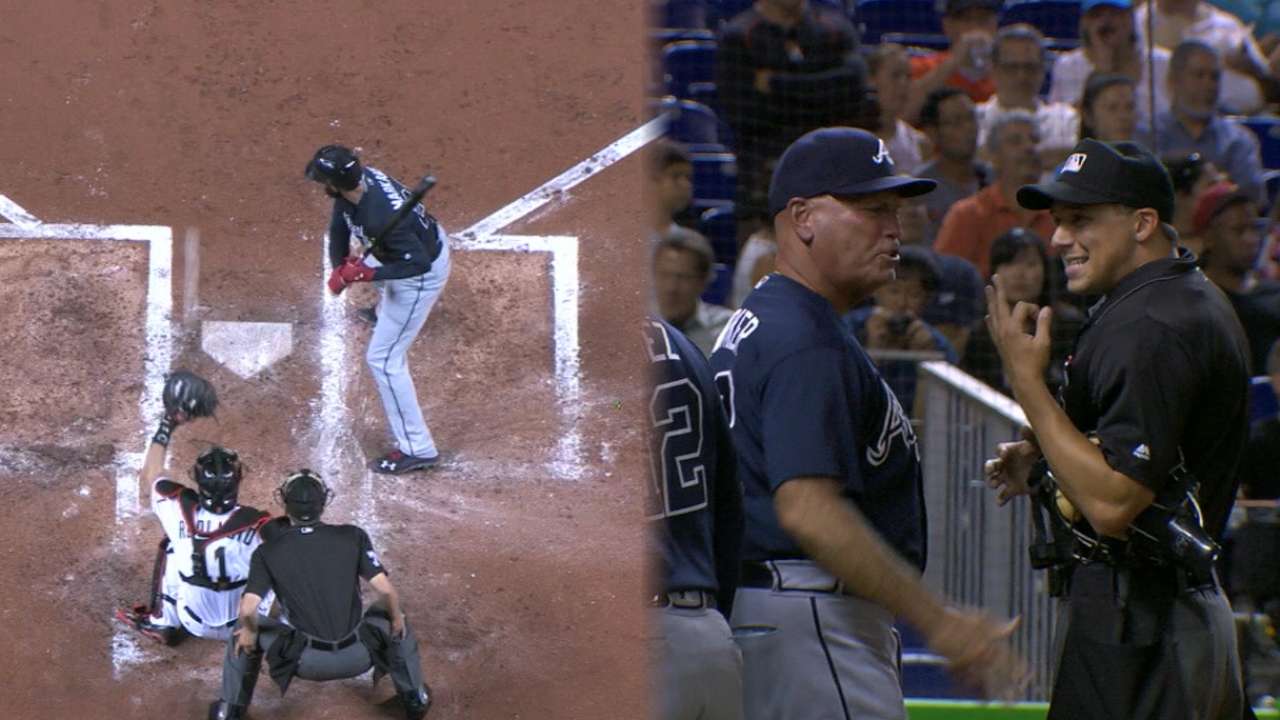 MIAMI -- Instead of adding to his September success, Braves left fielder Matt Kemp can now say that he spent a portion of his 32nd birthday stewing over the sequence of events that led him and manager Brian Snitker to be ejected during the third inning of Friday's 3-2 win over the Marlins.
"It's great to see a manager fight for his players and really have our backs," Braves third baseman Adonis Garcia said after delivering the game-winning hit in the ninth inning. "It definitely helped. I feel like it lifted our spirits a little bit."
Snitker rushed to Kemp's defense when the veteran outfielder was ejected by home-plate umpire Adam Hamari for arguing from the bench about a 3-1 pitch Andrew Cashner threw to Nick Markakis with two outs and the bases loaded.
As Markakis stepped out of the box and voiced his disagreement on the call made on a pitch that appeared to be high and outside, Kemp yelled something to Hamari, who then briefly stared into the Braves' dugout before Markakis flied out to left field to end the inning.
Immediately after Markakis was called out, Kemp continued and was tossed. Snitker was ejected after he approached Hamari to complain, while Kemp emerged from the dugout and had to be restrained from getting to the plate umpire.
The Braves are likely going to finish in last place in the National League East. But after winning seven straight and 15 of their past 23 games, they have avoided a 100-loss season and created some energy that they hope carries over to next season.
"I feel like our team is fighting for a playoff spot, and you can't be more appreciative of the way they fight for each other," Snitker said. "It got a little emotional there for a while. It's a competitive atmosphere, and why shouldn't it be? We're trying to win the game. I appreciate the guys' passion for what they do. These are guys I'll go to war with any time."
Marlins manager Don Mattingly acknowledged that both teams had a problem with Hamari's strike zone throughout the game.
"A lot of complaints,"Mattingly said. "I don't really know what to say about it, other than a lot of complaints. Usually, when you get both sides complaining, if both teams think it's bad, it's probably ... bad."
Mark Bowman has covered the Braves for MLB.com since 2001. This story was not subject to the approval of Major League Baseball or its clubs.