Coke joins Bucs as Schugel shut down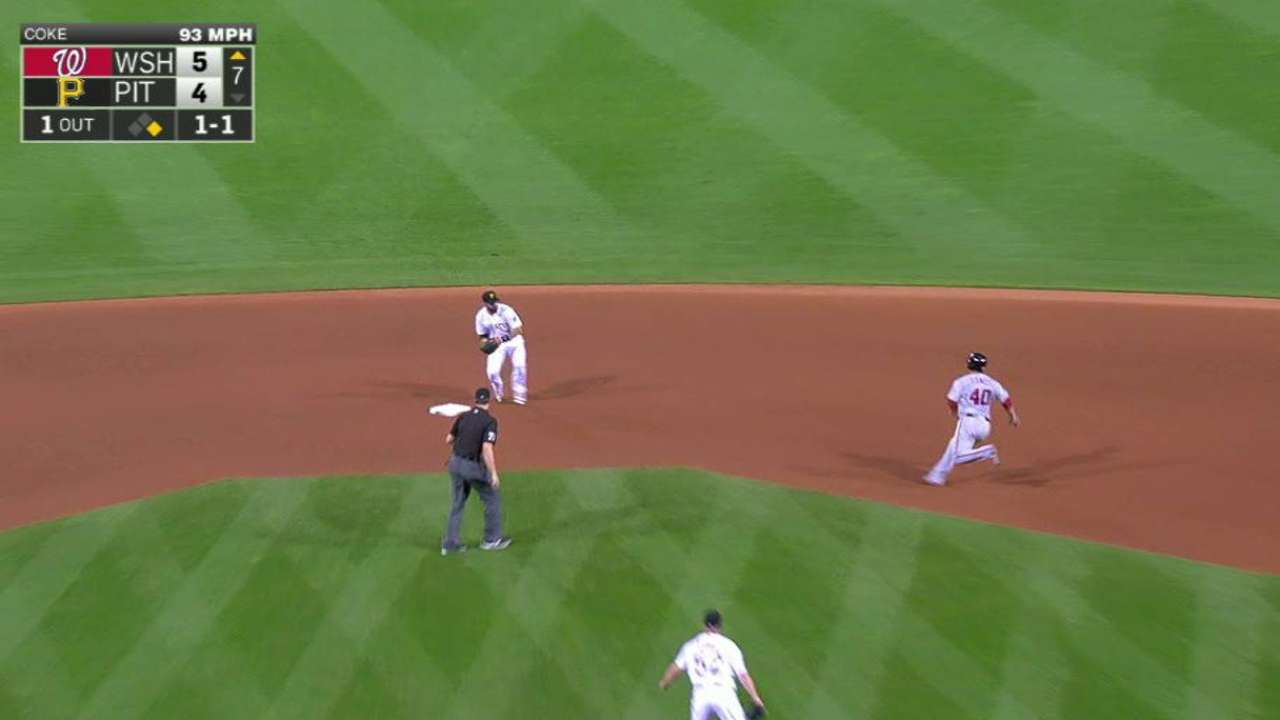 PITTSBURGH -- The Pirates shut down reliever A.J. Schugel on Friday, sending him to the 60-day disabled list with a right shoulder injury. The transaction made room on the roster for left-hander Phil Coke, who joined the club Friday after being traded by the Yankees a day earlier.
Coke will pitch out of the bullpen, capable of being a long reliever or lefty specialist. The Bucs have leaned heavily on their relievers this month, wearing down a group already thinned out by injuries (Schugel and Neftali Feliz) and a number of Triple-A starters not used to pitching on consecutive days.
Schugel had not pitched since Aug. 30. The rookie right-hander put together a 3.63 ERA in 52 innings over 36 appearances for the Pirates this season.
"We had volume out there for a while. We didn't have availability," manager Clint Hurdle said. "Now we've got a little more availability. That's why we brought [Coke] in."
Coke joined the Pirates after pitching all the way to the Triple-A championship game with the Yankees' Scranton/Wilkes-Barre affiliate. After catching an early flight back to Philadelphia the next day, Coke took a bus to Scranton, Pa., where he got a phone call from Yankees GM Brian Cashman while he was formulating offseason plans with his wife.
"Next thing I know, we're getting a phone call from Brian Cashman asking me if I was up for more baseball," Coke said. "My answer was, 'Yeah. Why?' He's like, 'Well, not with us.'"
Minor League awards
Pirates first baseman/outfielder Josh Bell was named the club's Minor League Player of the Year on Friday. He was recognized in a pregame ceremony at PNC Park alongside right-hander Mitch Keller, the club's Minor League Pitcher of the Year.
Keller and his parents made the trip to Pittsburgh from Cedar Rapids, Ia., to accept the award. Keller, the Bucs' No. 5 prospect according to MLBPipeline.com, went 9-5 with a 2.35 ERA, 138 strikeouts and only 19 walks in 130 1/3 innings between Class A West Virginia and Class A Advanced Bradenton this season.
"It's a huge honor," Keller said. "Couldn't thank them enough for giving me this chance to be here right now. Everything they've done for me has been huge. I can't thank them enough."
Stewart rejoins club
Catcher Chris Stewart returned to PNC Park on Friday after undergoing arthroscopic surgery on his left knee earlier this week. Stewart was relieved after avoiding more significant microfracture surgery and optimistic that he will return to full health after spending the next two months recovering.
Stewart said an examination by Dr. James Andrews revealed that his torn meniscus was more serious than the Pirates initially believed, and there was a chip in a bone around the knee that was "eating away" at his cartilage.
"Hopefully my knee works a lot better now," he said. "I knew before I was able to get through, but it was weak and I started compensating on other body parts. That was the reasoning for shutting it down, going in there to figure it out and look for the long-term instead of just the short-term."
Adam Berry has covered the Pirates for MLB.com since 2015. Follow him on Twitter and Facebook, read his blog and listen to his podcast. This story was not subject to the approval of Major League Baseball or its clubs.