Graveman validates excitement with no-no bid
Young right-hander perfect through 6 innings before Rangers rally for 3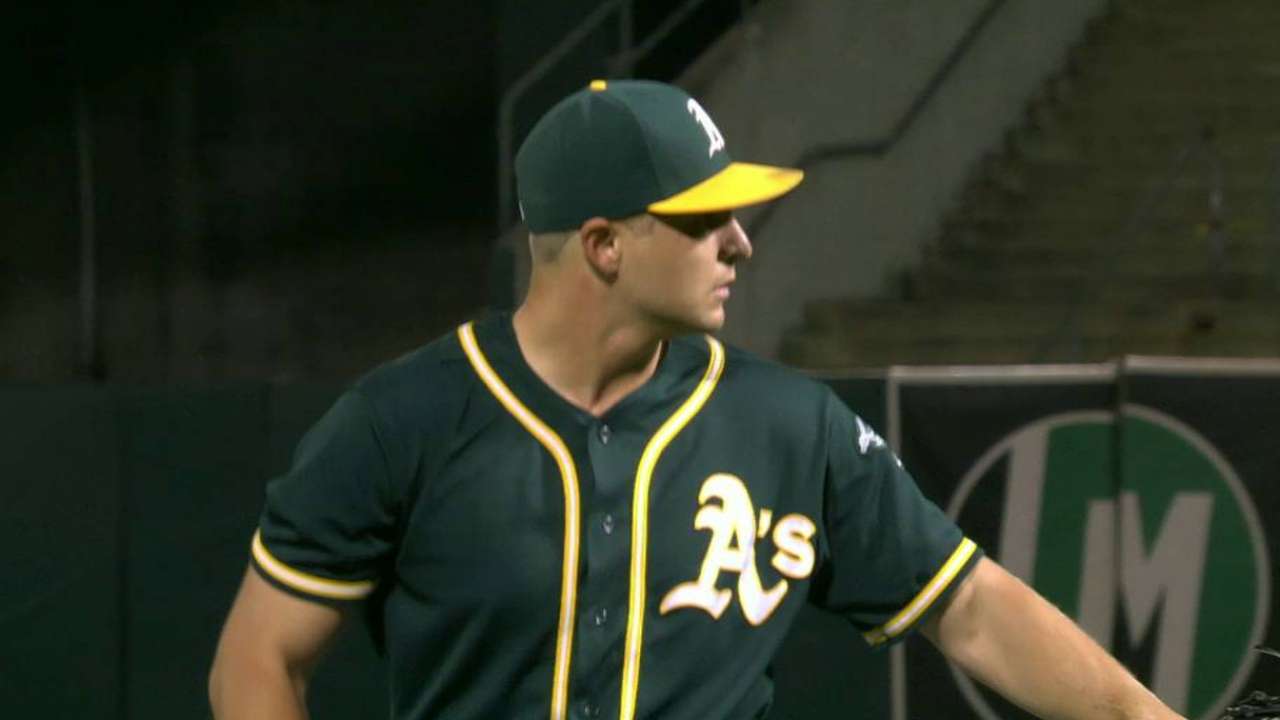 OAKLAND -- The contingent of young arms inside the A's clubhouse has sparked a lot optimism about the starting rotation's future lately. Kendall Graveman displayed why he has the potential to be an anchor of that unit Friday night, flawlessly cruising through the first six innings while not surrendering a single hit.
It was obvious to A's manager Bob Melvin what his young right-hander was nine outs away from completing.
But, as Melvin admitted, "it wasn't meant to be," as Graveman allowed base hits to three of the next four batters he faced, including a two-run home run to Adrian Beltre, in a 3-0 loss to the Rangers at The Coliseum.
"He made pretty much every pitch, certainly for a while there," Melvin said. "Just one breaking ball that stayed middle in, other than that he pitched great."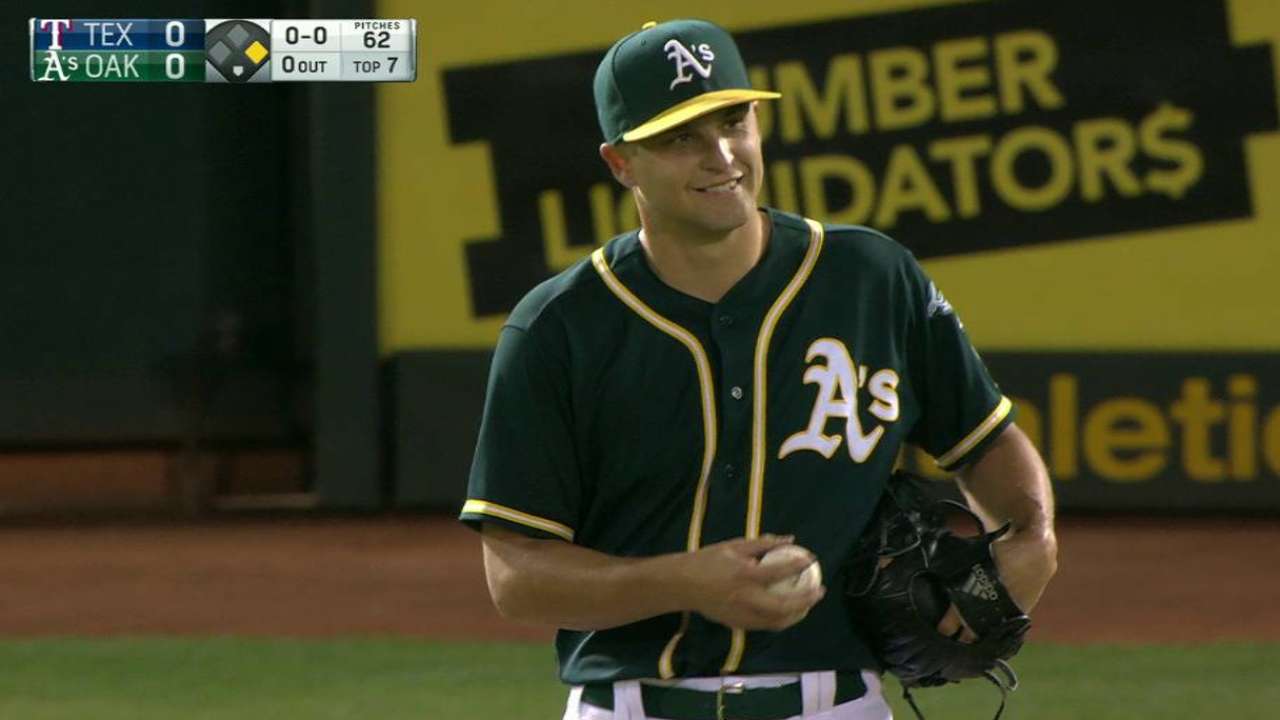 Graveman added "that you can't beat yourself up for one inning." Rather, viewing his most recent appearance as a whole -- which concluded with him allowing three earned runs in seven innings -- the second-year Athletic felt like he and catcher Stephen Vogt managed the game formidably.
"When we needed to go in we went in. When we needed to change speeds there, second time, we did and we got some ground balls," said Graveman. "I was happy we made an adjustment. [Mitch] Moreland's hit me hard the past couple games, we made an adjustment, got a couple ground balls from him. [Rougned] Odor, we made a couple adjustments on him."
Based on where he was locating his pitches, Graveman doesn't think he's had a better outing this year. He threw 12 first-pitch strikes through the first six innings and induced nine groundouts in the process. After allowing 12 earned runs in his two previous starts, he clearly turned a corner.
"It was pretty obvious," Graveman said about his perfect first six innings. "I think the biggest thing is when you've done that, what do you do? Do you keep doing the same thing to get him out or do you try something different? And that's where the mind game kind of comes in."
Graveman felt like he kept the same solid approach. But things unraveled quickly after Carlos Gomez chopped an infield single to end his perfect game bid. Three batters later, Graveman was staring at a three-run deficit after Beltre smashed his first legitimate mistake over the left-field fence.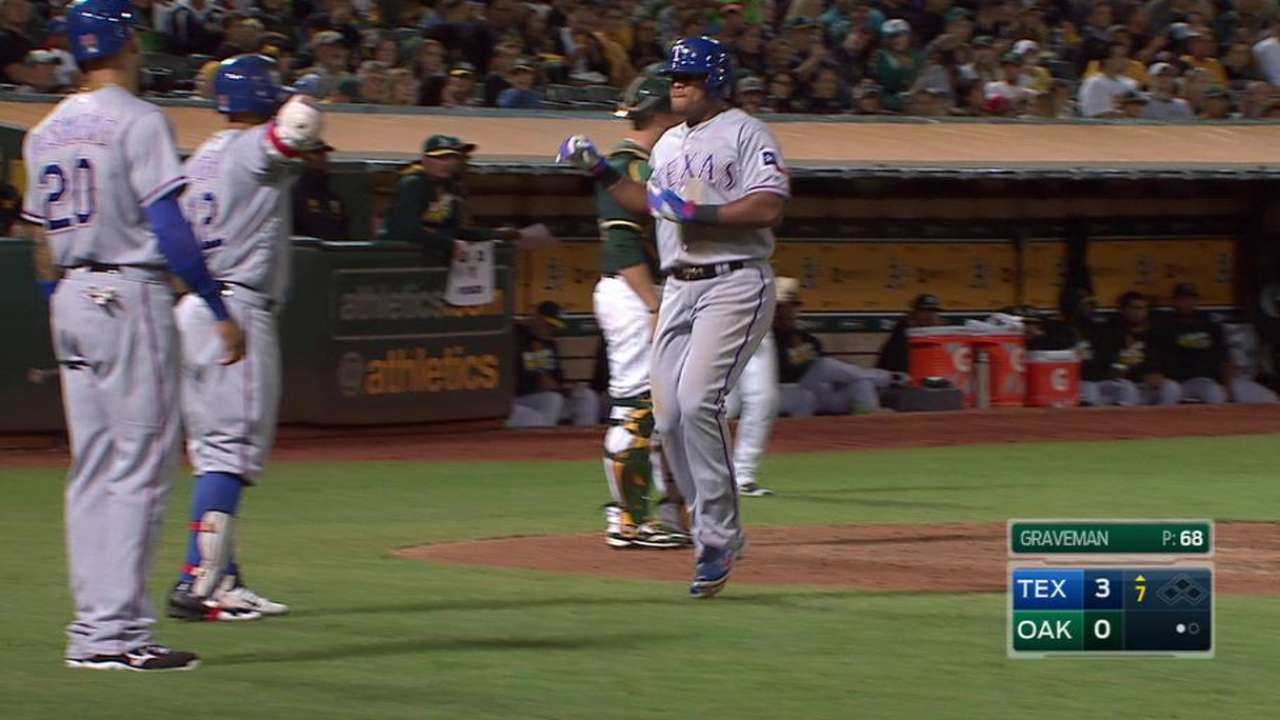 "He's played 100 years in the big leagues, that's what makes him tough," said Graveman. "He hits mistakes. He's seen pitches forever. He knows what do with them."
It left a sour taste in what had up to that point been his best start since he tossed 6 1/3 scoreless innings against the Red Sox on Sept. 4. Graveman now holds a pedestrian 5.28 ERA over his last five outings.
But while making his 30th start of his sophomore season Friday night, Graveman seemed to again showcase why the club is excited about its starting pitching potential.
Justin Wise is a reporter for MLB.com based in the Bay Area. This story was not subject to the approval of Major League Baseball or its clubs.