Blown save aside, Melancon has warm Pittsburgh return
Closer appreciates ovation as he tries to help Nats the way he aided Bucs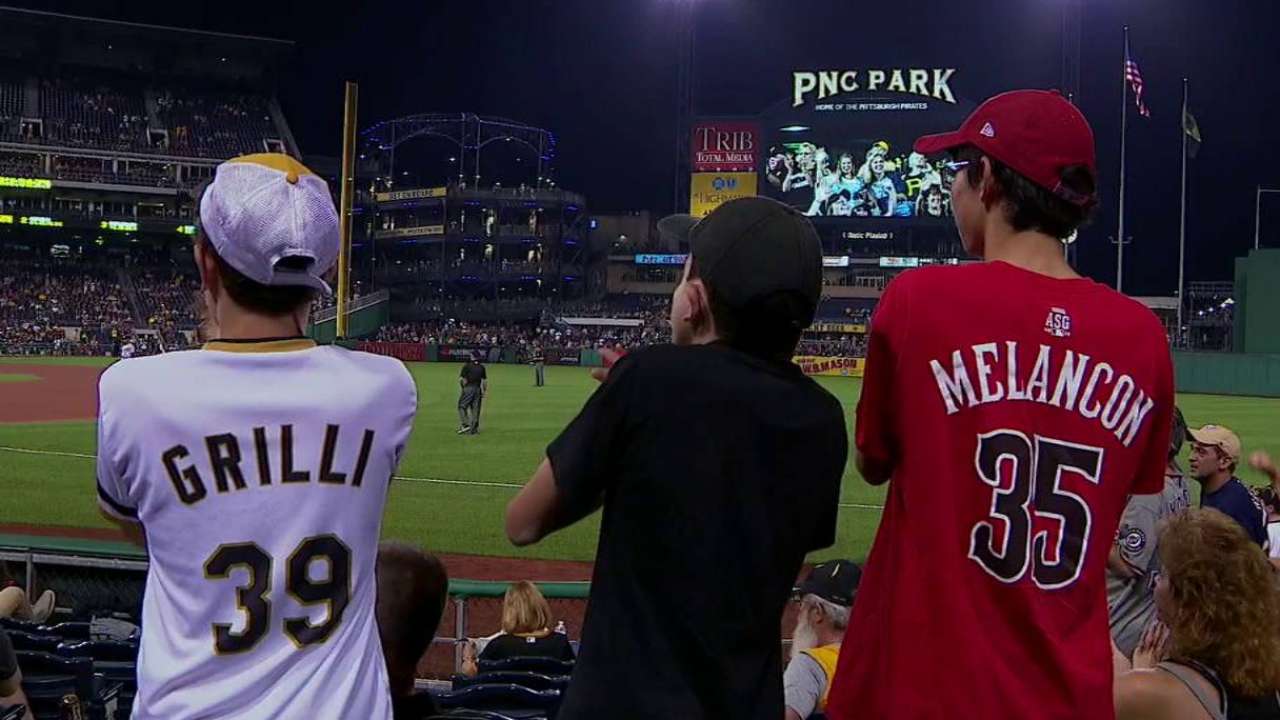 PITTSBURGH -- Mark Melancon admitted it was a little strange to be sitting in the visitors' dugout at PNC Park, wearing his red Nationals hoodie, for the first time since he was traded from the Pirates in July.
That weirdness carried over to when he took the mound in the ninth, when although they did not play his usual walkup song, "Thunderstruck" by AC/DC, he was greeted with a tribute on the video board and a standing ovation from the 29,513 fans in attendance. The Pirates' offense didn't treat him as nicely, rallying to hand Melancon his first blown save as a member of the Nationals during a 6-5 Pittsburgh win in 11 innings.
Still, before Sean Rodriguez's game-tying double, Melancon received a warm reception that made him grateful.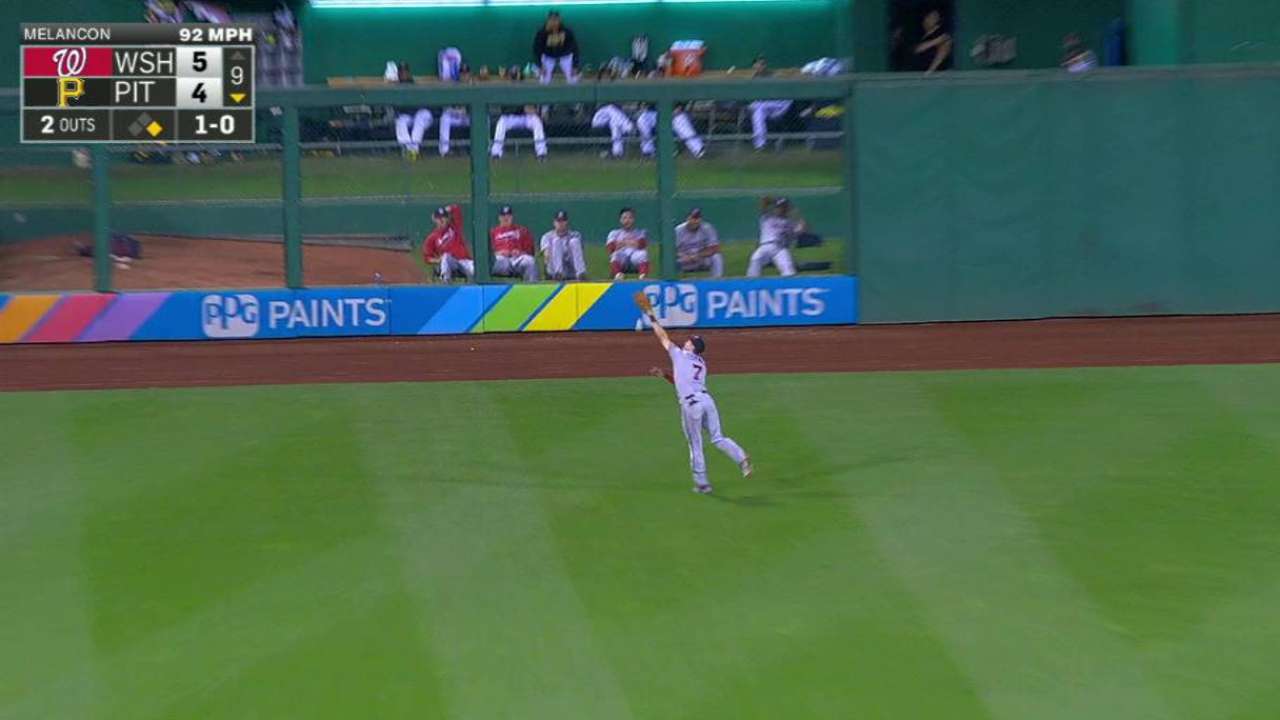 "It was very cool," he said. "I didn't really know they put a montage up or anything like that, so it was very classy and very cool I got a standing 'O.' I wanted to tip my cap, but I didn't wanna mess up my mojo either; probably should have tipped my cap."
Prior to the game, Melancon caught up with a few of his old teammates, who met him outside of the Nats' clubhouse. But perhaps the strangest part of it all was that Melancon returned here with the Nationals on the verge of clinching the National League East. Washington's magic number is two, making it likely Melancon and Co. would clinch a playoff spot during this three-game series.
"That is kind of ironic," Melancon said. "I don't even know. I'm a National now, so it's going to be fun. I'm looking forward to it. Just ironic, I guess."
Melancon was a core member of the Pirates teams that helped revive this baseball city. In 3 1/2 seasons in Pittsburgh, he emerged as one of baseball's premier relievers while leading the Bucs to the postseason in three consecutive seasons.
"I felt like that what was so special about here, 20 years of losing and then we got three years in a row," Melancon said. "This year looked like it had a real good shot -- but yeah, I feel like that's what made this time so special, along with a lot of people. When you do well, you tend to get closer, and those moments become things that you remember forever."
With the Pirates hanging on the fringes of playoff contention and Melancon a free agent at the end of the season, they traded him to the Nationals on July 30 in exchange for left-handers Taylor Hearn and Felipe Rivero. Since then, Melancon has been exactly the kind of stabilizing force in the ninth inning Washington desired. In his first 24 games with the Nationals before Friday night's blown save, Melancon had posted a 1.99 ERA and a 0.927 WHIP, with 22 strikeouts and just three walks while converting his first 12 save opportunities.
His transition into the Nationals' clubhouse has been smooth as well.
His teammates rave about his preparation and routine. And while Melancon usually does not spend much time in the clubhouse, he chooses to go about his business quietly, getting his work done before games and immediately going to work out after games.
"From the time we heard he was coming, we opened arms and said, 'Hey, this guy is going to help us win ballgames,'" right-hander Shawn Kelley said. "We knew he was going to solidify some things at the back end and really make our jobs easier, just knowing we got to get him the ball. It's a good feeling to know you got a guy back there that you can get the ball to."
"He's had a great effect on everyone," manager Dusty Baker added. "This guy knows how to pitch. He's fearless and he's very confident, but a quiet confidence."
Jamal Collier covers the Nationals for MLB.com. Follow him on Twitter at @jamalcollier. This story was not subject to the approval of Major League Baseball or its clubs.