Tigers working Rondon into late-inning spots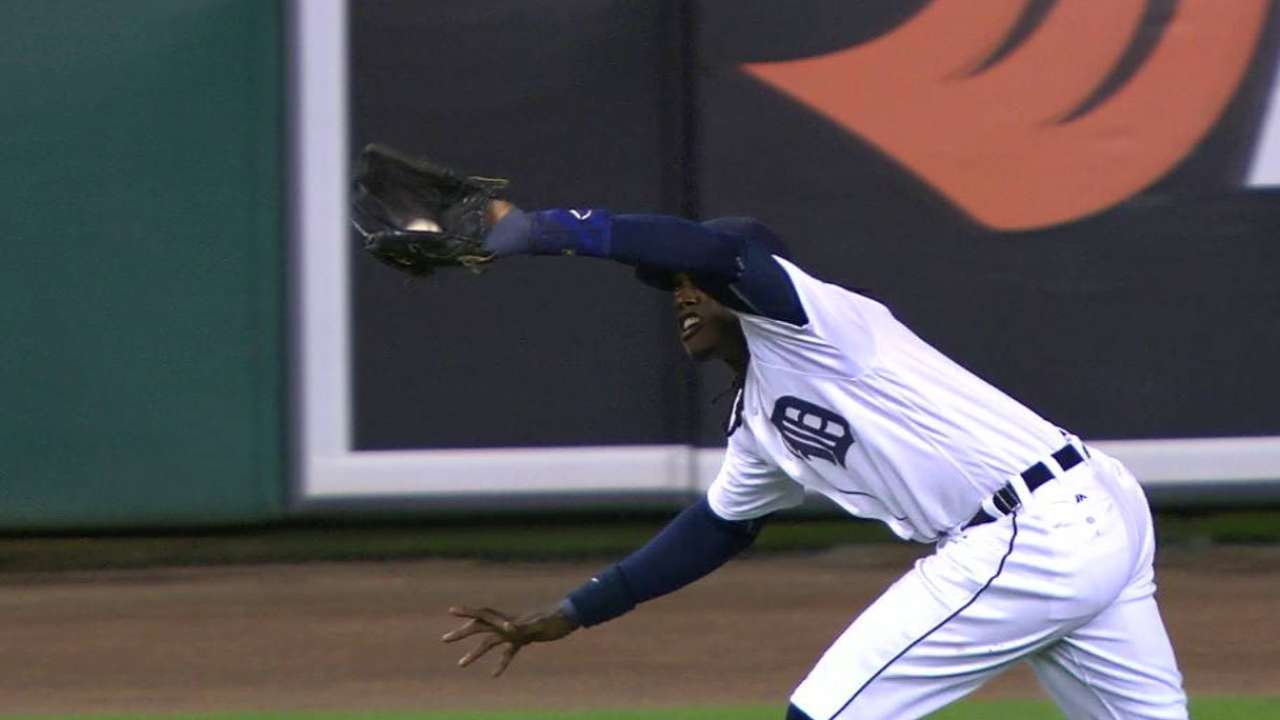 DETROIT -- The last time Tigers reliever Bruce Rondon pitched in a big game at Target Field with a postseason race in the balance, he helped clinch an American League Central title, striking out the middle of the Twins' lineup in order in the eighth inning on Sept. 24, 2013.
That was almost three years ago to the day. It was also his last outing that season. His elbow issues, which had sidelined him for three weeks before that, flared up again, and kept him out of the playoffs, a loss that haunted Detroit in the AL Championship Series amidst two Red Sox comebacks. Rondon had Tommy John surgery the following spring.
On Thursday night, Rondon struck out the Twins in order again in the eighth, albeit after a leadoff walk. It didn't clinch anything, but the two-run lead he protected ended up vaulting Detroit into position for the second AL Wild Card spot. It also earned Rondon possibly a little more currency in what has become a changeable late-inning mix ahead of closer Francisco Rodriguez.
"He's pitching in the eighth inning a little bit more," manager Brad Ausmus said, "so I guess in that sense, yeah."
Rondon pitched several games at Target Field last year, but for a Tigers team that was out of contention and looking at options. He pitched three consecutive games at Minnesota in September as part of his audition as closer before Ausmus made a change. Shortly after, Rondon was sent home due to subpar effort level.
It has taken a while for Rondon to pitch his way back into big late-inning situations. But with Shane Greene having an up-and-down stretch run and Justin Wilson trying to battle through a full season after arm issues earlier in the year, Rondon is getting his chance.
Statistically, Rondon has put up a very good late-season stretch. The big right-hander entered Friday's series opener against the Royals having allowed three runs on 12 hits over 17 1/3 innings since the beginning of August, while walking six and striking out 22. He stranded six of eight inherited runners in that stretch.
Rondon's fastball velocity is slightly down from last year, but command of it seems to be up. His strike percentage is markedly improved. His slider has become more than a throwaway pitch for him, including back-to-back called third strikes to Kennys Vargas and Robbie Grossman to close out Rondon's inning on Thursday night.
"I'd rather not see the leadoff walk," Ausmus said. "But yeah, [it was big] to get three strikeouts and get out of the inning, and allow us to use K-Rod for three outs instead of four."
While Ausmus isn't making any big declarations or projections for Rondon, the fact that he has crept into more eighth-inning situations ahead of Mark Lowe, who has shown improvement in low-leverage situations over the second half following a miserable start to his Tigers tenure, is notable. It might not bring back Rondon's old role as closer of the future, not with Joe Jimenez, the club's No. 5 prospect, according to MLBPipeline.com, on the horizon. But Rondon is doing his best pitching-wise to earn trust again.
Jason Beck has covered the Tigers for MLB.com since 2002. Read Beck's Blog, follow him on Twitter @beckjason and listen to his podcast. This story was not subject to the approval of Major League Baseball or its clubs.