Mechanics could be key to Shaw's durability
Reliever sets team record with 4th season of 70 games or more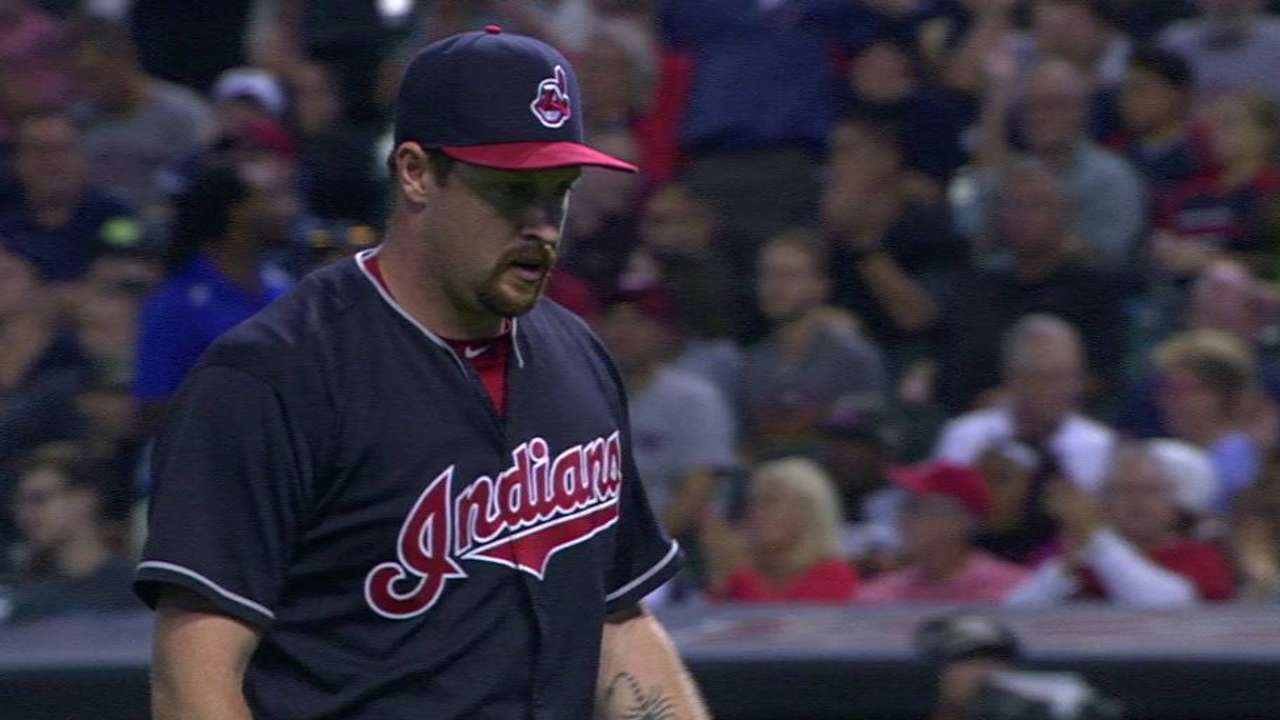 CLEVELAND -- Bryan Shaw can often be spotted with a football in his hands. It might zip through the clubhouse to a teammate or be carried out to the field for a round of catch. This is not purely an exercise in leisure for the Indians' setup man.
Indians pitching coach Mickey Callaway noted that Shaw's throwing mechanics for his cutter are similar to how a quarterback flings a football. Tossing the pigskin around is a way for the right-hander to maintain a feel for his signature pitch, and perhaps one of the secrets behind Shaw's incredible durability.
"Football players don't have a ton of injuries in their elbow," Callaway said on Friday afternoon. "Quarterbacks -- it's not a huge issue for them. Everybody else is throwing behind the baseball, pronating it a lot. Shaw's kind of throwing it more like a football."
Callaway admitted his take was more speculation than anything, because no one really had a concrete answer as to what makes Shaw able to pitch so often. During Indians manager Terry Francona's tenure, Shaw has been not only the most-used arm in the Tribe bullpen, but the pitcher turned to more often than any other in the Major Leagues.
Over the past four seasons, Shaw has piled up 297 appearances, representing the most games for a Major League pitcher in that span. The righty also leads the Majors in games (361) dating back to 2012, which was his final season with the D-backs. Shaw has notched at least 70 outings in four consecutive campaigns, giving him the most such seasons in Indians history.
Shaw is one of only 14 active pitchers to have at least four seasons with 70 or more appearances.
"One, you've got to be good," Francona said of Shaw's heavy workload. "Two, you've got to be resilient. To me, it's something that -- that's why I probably do get protective of him, because he takes the ball when a lot of other pitchers may not take the ball. There's something to be said for that. And he's throwing harder now than he was at the beginning of the year. It's amazing to me."
Bryan Shaw's velo has steadily climbed this season. The setup man has 0.70 ERA in past 29 games, and 0.90 ERA since Miller came on board. pic.twitter.com/C5qk5QdxJr

- Jordan Bastian (@MLBastian) September 23, 2016
Shaw's 94.4-mph average on his cutter this season is the highest in a year over his career, and a dramatic rise from his average (92.8 mph) in 2015. The righty averaged 94 mph in April this season, but he has seen his average pitch speed tick up to 94.7 mph in September. Along the way, Shaw has been increasingly effective as this season has worn on.
Back on June 14, Shaw took the loss after a rough outing in Kansas City, marking the third straight game in which he allowed at least one run. After the outing against the Royals, Francona was asked if he was considering alternatives for the eighth inning. The manager emphatically answered: "I don't want an alternative."
Since Francona spoke those words, Shaw has turned in a 1.36 ERA over 43 games, spanning 39 2/3 innings. Over his past 29 games, dating back to a four-run meltdown on July 18 in Kansas City, Shaw has posted a 0.70 ERA with 24 strikeouts in 25 2/3 innings.
Overall, Shaw has a 3.05 ERA in 73 games, in which he has 66 strikeouts and a .226 opponents' average in 65 innings.
"He's got a rubber arm," Callaway said. "I think his mechanics have a lot to do with it, how he throws the ball and how healthy he stays. ... There's a lot of slinging going on, so he's throwing with a lot of upper body, which you wouldn't teach most people. But I think it just kind of carries his arm along for the ride, so he doesn't get as sore."
Jordan Bastian has covered the Indians for MLB.com since 2011, and previously covered the Blue Jays from 2006-10. Read his blog, Major League Bastian, follow him on Twitter @MLBastian and listen to his podcast. This story was not subject to the approval of Major League Baseball or its clubs.