Longoria headlines Rays' annual award winners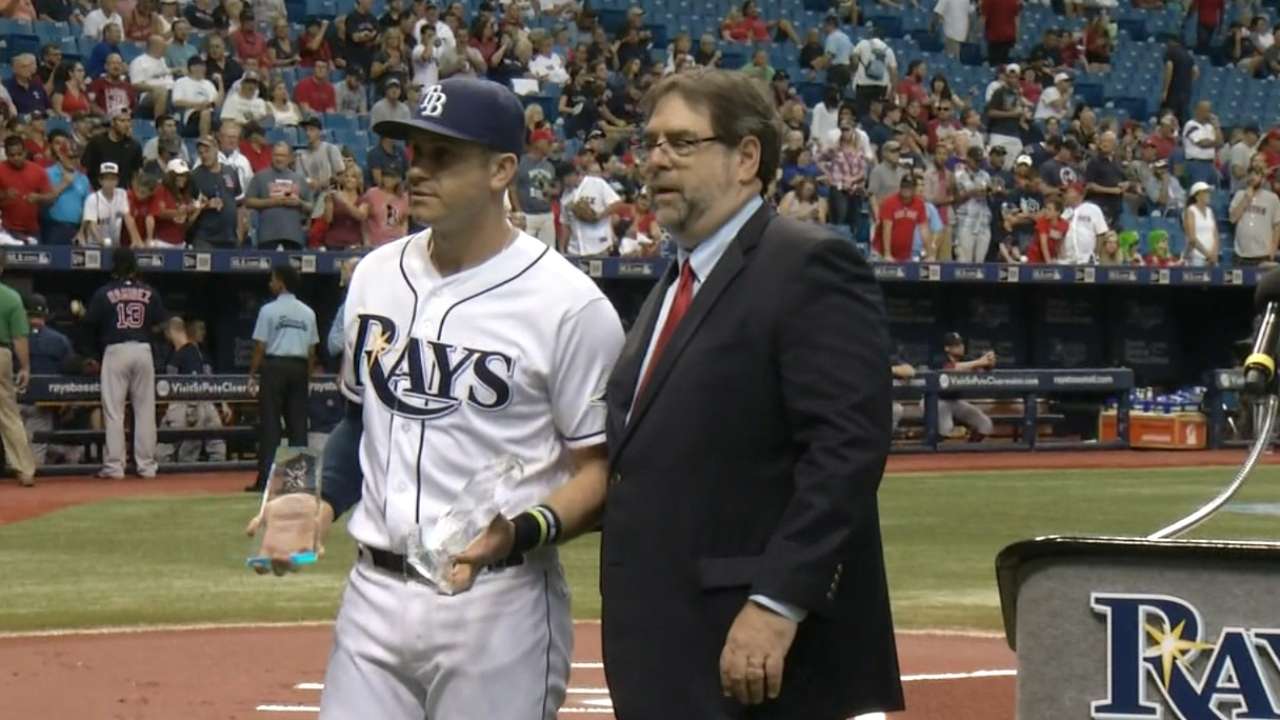 ST. PETERSBURG -- On Friday, the Tampa Bay Chapter of the BBWAA announced its annual team awards at the Clutch Hitters Luncheon.
Evan Longoria was honored with the Don Zimmer Award, given to the most valuable Rays player; as well as the Paul C. Smith Champion Award, given to the player who best exemplifies the spirit of true professionalism on and off the field. The veteran third baseman has now won both awards twice.
The Minor League award winners were also announced at the luncheon.
First baseman Casey Gillaspie was named Minor League Player of the Year, right-hander Brent Honeywell was named Minor League Pitcher of the Year and outfielder Zacrey Law was named the Erik Walker Community Champion.
The following players werre named MVP for their respective Minor League teams: Austin Pruitt (Triple-A Durham), RHP; Jake Bauers (Double-A Montgomery), 1B/OF; Greg Harris (Class A Advanced Charlotte), RHP; Michael Russell (Class A Bowling Green), IF; Travis Ott (Class A short-season Hudson Valley), RHP; Eleardo Cabrera (Rookie-level Princeton), OF; Jesus Sanchez (Rookie-level Gulf Coast Rays), OF; Ronaldo Hernandez (Dominican Summer League Rays 1, Rookie), C; and Sabriel Polanco (Dominican Summer League 2, Rookie), OF.
Outfielder Jake Fraley was named the Baserunner of the Year, right-hander Joe Serrapica was named Reliever of the Year and catcher Nick Ciuffo was named Defensive Player of the Year.
The winners were honored during a ceremony prior to Friday night's game Rays-Red Sox contest at Tropicana Field.
Bill Chastain has covered the Rays for MLB.com since 2005. This story was not subject to the approval of Major League Baseball or its clubs.